Things to Do in Montgomeryville
---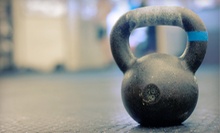 Workouts of the day change each session and feature intense, full-body exercises such as air squats, medicine-ball tosses, and sprints
---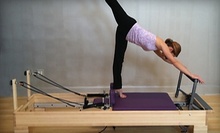 Weights, props, standing exercises, and conventional mat work test muscles in a Pilates class tailored to intermediate and advanced clients
Use Thursday 7:30am - 10:30am
---
Recommended Things to Do by Groupon Customers
---
Have some fun with your friends by recreationally hunting other humans (a sport made popular by Mel Brooks's Blazing Saddles) with today's Groupon: $20 gets you entry, a full day of play, rental equipment (semi-auto paintball marker, hopper, face mask, goggles), and free CO2 and N2 refills (a $30 value), as well as 200 paintballs (a $12.80 value) at Poco Loco Paintball in New Hanover. Your Groupon is good for Sundays in October and November, and Saturdays and Sundays from December on. Fulfill fantasies of expertly evading crossfire as you infiltrate enemy territory and annihilate the opposition faster than Reverend Johnson threatened to leave town after discovering that the sheriff has been murdered. Or just spatter strangers with neon splotches. Poco Loco is designed with both novices and expert players in mind, so you don't need years of mercenary training or a Blu-ray copy of Blazing Saddles to try it out.Follow @Groupon_Says on Twitter.
134 Kurtz Rd.
Schwenksville
Pennsylvania
US
Sportations connects amateur adrenaline jockeys to certified professional adventurers, drawing from a nationwide network of aeronauts and speed demons to introduce habitual pedestrians to the wonders of skydiving, ballooning, hang gliding, and stock-car racing. Thrill seekers can zipline across a forest canopy, hollering like Tarzan or taunting nearby birds until they agree to race. Helicopter tours ferry patrons skyward over landmarks and cityscapes, whereas paragliding adventures get up close and personal with blue skies and clouds. For most sports, Sportations accommodates groups of any size, from physics classes empirically proving gravity's existence to solo ballooning supervillains declaring dominion over all they see.
1200 N Ridge Rd.
Perkasie
Pennsylvania
US
Golf is a sport of physical precision and aerial dynamics, won and lost upon the pendulum of your swing. Use today's Groupon to brush up on your golf physics and practice blasting balls with your refined stroke. For $30, you get a 30-minute video swing analysis (normally $50) and large bucket of balls ($10) from Par Breakers Golf Academy, a $60 total value. This comprehensive indoor golf facility is a short 30-minute golf-cart trip from Philly in Oaks.
99 Brower Ave., 2300
Oaks
Pennsylvania
---