Tours in North Las Vegas
---
Tour Rewards Deals - Use Anytime
---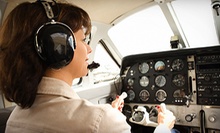 Technicians spruce up airplanes with detailing, aircraft modifications, and skydive-door installation
---
Recommended Tours by Groupon Customers
---
The experienced air chauffeurs of Heli USA Airways—an FAA-certified air carrier—chaperone adventurers into the sky aboard luxurious Agusta 119 jet helicopters. Daily departures from the Las Vegas Atlantic Air terminal put each pilot's 10,000 hours of flight experience to use with tours of the Grand Canyon and the Las Vegas strip, during which the captain's narration illuminates famous landmarks, such as stunning ancient rock formations and the elegant Trump Hotel's crowning toupee. Overnight and weekend getaway packages grant guests unobstructed views of Vegas's sprawling luminescence as choppers hover toward the historic Grand Canyon Ranch Resort, a 165-square-mile ranch outfitted with custom-built log cabins, dining facilities, and old-fashioned western entertainments, such as lassoing televisions. Tours are available in several languages, including English, French, Japanese, and Spanish.
245 E Tropicana Ave., Suite 120
Las Vegas
Nevada
702-736-8787
Quality Tours of Las Vegas brings the Hoover Dam, the Grand Canyon, and Hollywood crashing at the feet of the city of lights through immersive sightseeing tours. Their fleet of luxury SUVs and luxury vans helps the company live up to its name, carting curious tourists around natural wonders and Hollywood mainstays such as the Grand Canyon, Hoover Dam, and the Warner Bros. studios. These tours offer guests a chance to experience such popular sights through photo opportunities, on-site lunches, and interviews with Alfred Hitchcock's silhouette.
3131 Las Vegas Blvd.
Las Vegas
Nevada
855-229-2049
The tour leaders at Guided Vegas Tours inject bits of geography, local folklore, and levity into their exploratory treks through the famous desert city and its surrounding areas. The company's menu of adventures offers two-hour experiences as well as 15.5-hour day trips, picking up and dropping off tourists at their hotel on the Strip. Their tour vehicles can accommodate up to six people for memorable drives on Route 66 to picnic at the Grand Canyon or hear the fascinating stories behind the Hoover Dam's historic construction. Additionally, locally focused tours take strolls down the Las Vegas Strip that highlight the wonders of the main drag such as the Bellagio's 27-foot chocolate fountain and nougat-filled blackjack dealers.
3400 Las Vegas Blvd. S
Las Vegas
Nevada
702-509-1488
Based in Las Vegas, Comedy on Deck Tours began escorting sightseers on tours of nearby natural wonders in 2003. The company stands out among other tour companies by employing big personalities as tour guides. Many of the tours are led by professional standup comedians who lend levity to walks along the top of the Hoover Dam and paddleboat rides on Lake Mead. After catching their breath, chuckled-out tour takers have complimented the guides for seamless weaving of history, geography, and family-friendly punch lines.
3300 S Las Vegas Blvd.
Las Vegas
Nevada
US
---