Things to Do in Plymouth
---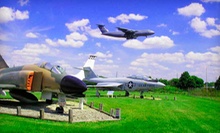 Twenty-four restored aircraft from different stages of aviation history are on display, ranging from B-17s to F-100s and commercial aircraft
---
Recommended Things to Do by Groupon Customers
---
The menagerie of inflatable stations at Concord Bounce test the seemingly limitless energy of their young patrons within a climate-controlled atmosphere. Inflatable pirate ships and castles stimulate the imagination as their inhabitants play and socialize. An 18-foot slide, inflatable tee-ball field and air-filled obstacle course help children to develop motor skills and eliminate the need for parents to drench daily exercise in applesauce. As their children frolic, adult visitors can smile quietly to themselves knowing that the staff cleans and sterilizes the sock-friendly structures before each playtime. Alternately, they can supervise from within the play area or entertain themselves with arcade games, television, and free WiFi.
617 E Plymouth St.
Bremen
Indiana
574-546-4396
Nick Kant and Heather Adams wanted the already extraordinary feeling of free fall to be even more incomparable for their customers. The couple devised a skydiving business that could be exhilarating not only for the jumpers but for their family and friends. At Skydive Great Lakes, nonskydivers are welcome to cheer on their flying pals in drop zones designed for spectators, who can view a live video feed from onboard the aircraft. Nick's skills as an aerial videographer allow clients to capture every moment of an inaugural tandem dive, from the initial jump-off to the inevitable midair arguments with Peter Pan. Flying out of Goshen, ground-school grads can board a yellow Pilatus Porter plane that fits up to 10 jumpers. Heather and Nick are the only enthusiasts in the country who launch skydivers from a Sikorsky S-55 helicopter, which hovers over drop zones on select weekends.
16988 Goshen County Rd. 40
Goshen
Indiana
574-975-7770
Hart City Scuba's team of dive masters and instructors turn mere waders into full-blown explorers of the aquatic world. They achieve that through group and private scuba programs such as open water diver, rescue diver, and conversational mermaid. In addition, they can mend any dive gear gone awry and fill tanks with fresh O2.
21807 State Rd. 120
Elkhart
Indiana
574-264-3528
When deciding what toys and games to stock at Imagine That!, owner Marlene says, "I ask myself, 'Can they get this at Toys"R"Us?' And if they can, I don't get it." Marlene, who has an extensive background in child development, prefers games that ask for strategy skills and toys that develop deductive reasoning. "You see those players who are just driven to win," she says, "But that's not fun." Marlene likes games that level the playing field and invite everyone to have fun while using their brains. She has paired such games with everyone from 18-month-old babies to seniors who can still remember when jigsaw puzzles were chiseled from spare wooden teeth.
Marlene began with making crafts and learning activities for her own children, but as soon as she broke out the art supplies, the neighborhood kids started emerging from their prairie-dog holes. Inspired by her youthful following, Marlene began an interactive crafts stall at the farmer's market. She expanded from her 8'x12' stall 15 years later to the 11-room Imagine That!, where little hands find paints and easels, clever toys, and miniatures for furnishing dollhouses or entertaining well-trained gerbils.
"They come from all over, even Canada," Marlene says of her dollhouse miniatures' customers. In addition to myriad miniatures and walls filled with toys and games, Imagine That! has craft rooms, a puppet area, and a chamber filled with whirligigs. The whirligigs also blossom in front of the rainbow-hued shop itself, beckoning passersby to stop in and explore.
707 N Main St.
Mishawaka
Indiana
574-254-1600
---