Things to Do in Plymouth
---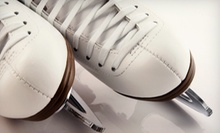 NHL-sized ice rinks host open-skate sessions, skating lessons, and hockey leagues
---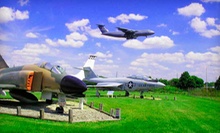 Twenty-four restored aircraft from different stages of aviation history are on display, ranging from B-17s to F-100s and commercial aircraft
---
Recommended Things to Do by Groupon Customers
---
Artist Mike Buszuwski wanted to create "an inspirational place for kids to come and explore art." Thus, Painting Fun Spot was born. He and his artistic staff equip artists of all ages with all the necessary supplies—nontoxic, USA-made plaster pieces, paints, sealants, and paintball guns—to create colorful sculptures in a relaxed, kid-friendly studio complete with booster seats and pint-sized aprons. Vibrant walls and an undersea mural inspire creativity during studio time, summer camps, and parties and help budding artists bestow blank plaster canvases with hand-painted masterpieces.
Painting Fun Spot also hosts painting fun art classes, during which instructor Tonya Warnke Buszuwski, a professional artist with works in collections throughout the U.S., instructs adults in the finer points of pigment placement. She leads students step by step through a selected canvas work, capturing the tranquility of an impressionistic Tuscan countryside, the bold hues of a cross, or a trio of tulips playing poker with a basset hound.
10361 Illinois Rd.
Fort Wayne
Indiana
The menagerie of inflatable stations at Concord Bounce test the seemingly limitless energy of their young patrons within a climate-controlled atmosphere. Inflatable pirate ships and castles stimulate the imagination as their inhabitants play and socialize. An 18-foot slide, inflatable tee-ball field and air-filled obstacle course help children to develop motor skills and eliminate the need for parents to drench daily exercise in applesauce. As their children frolic, adult visitors can smile quietly to themselves knowing that the staff cleans and sterilizes the sock-friendly structures before each playtime. Alternately, they can supervise from within the play area or entertain themselves with arcade games, television, and free WiFi.
617 E Plymouth St.
Bremen
Indiana
574-546-4396
When deciding what toys and games to stock at Imagine That!, owner Marlene says, "I ask myself, 'Can they get this at Toys"R"Us?' And if they can, I don't get it." Marlene, who has an extensive background in child development, prefers games that ask for strategy skills and toys that develop deductive reasoning. "You see those players who are just driven to win," she says, "But that's not fun." Marlene likes games that level the playing field and invite everyone to have fun while using their brains. She has paired such games with everyone from 18-month-old babies to seniors who can still remember when jigsaw puzzles were chiseled from spare wooden teeth.
Marlene began with making crafts and learning activities for her own children, but as soon as she broke out the art supplies, the neighborhood kids started emerging from their prairie-dog holes. Inspired by her youthful following, Marlene began an interactive crafts stall at the farmer's market. She expanded from her 8'x12' stall 15 years later to the 11-room Imagine That!, where little hands find paints and easels, clever toys, and miniatures for furnishing dollhouses or entertaining well-trained gerbils.
"They come from all over, even Canada," Marlene says of her dollhouse miniatures' customers. In addition to myriad miniatures and walls filled with toys and games, Imagine That! has craft rooms, a puppet area, and a chamber filled with whirligigs. The whirligigs also blossom in front of the rainbow-hued shop itself, beckoning passersby to stop in and explore.
707 N Main St.
Mishawaka
Indiana
574-254-1600
---