Restaurants in Prairie Village
---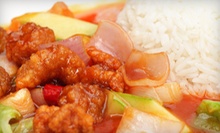 Signature pan-fried dumplings, mussels in black-bean sauce, and traditional noodle soups, all free of MSG
---
Recommended Restaurants by Groupon Customers
---
"Sleek and shiny and glamorous" is how the Pitch's Charles Ferruzza described Cafe Trio in a 2009 article reviewing the eatery's at-the-time new location, although his praises didn't stop there. He also doled out compliments about Executive Chef Leon Bahlmann's European-inspired food, which earns a rating of very good to excellent from Zagat.
In the glow of paper lanterns, colorful paintings crafted by local artists hover over plates of pecan-crusted diver scallops and hand-cut tenderloin fillets, which diners can enjoy while gazing out at the fountain and trees of Mill Creek Park. Outside, an expansive deck—open year-round—offers alfresco dining through the warm summer months, as well as unobstructed views of the resident snowmen of Country Club Plaza throughout the winter.
4558 Main St.
Kansas City
Missouri
816-756-3227
Authentic techniques are the key to French recipes. Understanding this, Chef Emmanuel Langlade honed his cooking skills in Marseille, France, before opening Aixois Bistro with his wife more than a decade ago.
Amid suspended orb lights and rustic, wrought-iron chandeliers, French flavors prepared by chef Pascal Larcher delight palates at all hours. As morning light spills through enormous windows, the staff brews fresh coffee to pair with piping-hot croissants for early-bird visitors. Lunchtime guests sample favorite French sandwiches, from the classic croque-monsieurs to the egg-crowned croque madames. For dinner diners, the kitchen dishes up an elegant menu that includes two varieties of moules frites (mussels with pommes frites), as well as seafood, steak, and oven-roasted chicken. Afterward, traditional desserts such as crème brûlée topped with fresh berries cap off meals and keep sweet teeth from rebelliously biting tongues.
251 E 55th St.
Kansas City
Missouri
816-333-3305
Husband-wife team Colby and Megan Garrelts met in Chicago at the five-star, five-diamond TRU. After traveling to Las Vegas and Los Angeles, the culinary duo opened Bluestem Restaurant, using it as launch pad for their explorations into progressive American cuisine. Locally grown produce joins with sustainable seafood and meat in their recipes—lauded by the James Beard Foundation and Zagat. And the menu makes every dinner a multi-course story, where smoked lamb belly with barbecue spice precedes beef with fermented grains and whipped bone marrow, before themed desserts pair strawberries with angel-food cake for a perfect ending.
In Bluestem's lounge, guests sink into a more relaxed dining environment, sampling such plates as hanger steak frites and garlic pomme frites while sipping wines and craft cocktails. Whether perched in the lounge, at the hardwood bar, or at an ironed tablecloth, simple elegance abounds. Small table lamps cast warm, homey glows or exposed brick walls that allow diners to work on perfecting their chewing technique.
900 Westport Rd.
Kansas City
Missouri
With a more casual dining experience, The Grille by Piropos in Parkville sets itself apart from its fine-dining sister establishment Piropos Restaurant. Nestled high in the hills of historic Parkville, it sits above the landscape, allowing diners to take in visions of Park University's beautiful gothic architecture or watch as the sun sets and the moon rises in the evening. Not only a restaurant for special occasions, it is also a favorite spot for everyday casual dining.
This vista-induced amnesia, however, doesn't tend to last very long, as the aromas of South American–inspired food soon draw diners' attention to the new casual-dining menu's signature dishes from Venezuela, Mexico, and Argentina. This cuisine makes itself at home inside the dining room, where large, colorful murals and lavish wood furnishings give the restaurant an upscale, rustic ambiance. The outdoor patio, meanwhile, features views of the horizon and a fireplace, meaning at a certain time and from a certain angle, the sun is setting into the fire.
1 W First St.
Parkville
Missouri
816-741-9800
Pho 2's chefs send taste buds on a tour of Southeast Asia charted by a menu of family recipes hailing from Thailand, Laos, and Vietnam. Diners can start meals by sharing fresh spring rolls, ladling cups of spicy tom yum soup, or conducting blindfolded taste tests with papaya salad prepared either Thai-style or Laos-style. A rainbow of red, green, and yellow curries decorates tables alongside noodle dishes such as pad thai. Vietnamese coffee and thai iced tea sweeten palates, and, on weekends, Pho 2's chefs re-create authentic Southeast Asian desserts.
401 S Parker St.
Olathe
Kansas
US
913-393-5440
When diners arrive at Frida's Contemporary Mexican Cuisine, they glide across sleek hardwood floors toward plush booths and tables surrounded by coral-hued walls and modern hanging lights. Amiable staff members whisk colorful dishes topped with regional spices and seafood toward their waiting taste buds. After filling their bellies with the authentically Mexican fare, guests can lounge in the bar area, harnessing enough low-alpha brain waves via nine big-screen high-definition TVs to properly digest a meal.
7200 W 121st St.
Overland Park
Kansas
US
913-897-0606
---