Things to Do in Rocky Point
---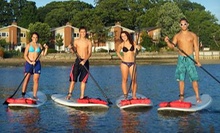 Use Friday 8:00am - 12:00pm
---
Recommended Things to Do by Groupon Customers
---
The Survival Race's 5-kilometer track challenges racers to navigate a gauntlet of mud-laden terrain. Staggered waves of 300 runners each conquer military-style obstacles, wade through murky water, and slide through muddy trenches before reaching the finish line to celebrate at a shindig awash with delicious eats and smitten swamp monsters. Afterward, a Facebook album aids online nostalgia by showcasing dirt-caked athletes and their marshy feats.
3186 Sound Ave.
Riverhead
New York
Colleen Barrow has spent her entire lifetime seeking out and memorizing the coordinates of the most scenic sights dotting British Columbia's Southern Gulf Islands. Rather than trapping them in a photo album or enormous snow globe, the local explorer shares her finds with guests through ITT Wilson's Tours. By partnering with Wilson's Transportation, Barrow coordinates luxury bus tours to castles, lighthouses, botanical gardens, and wineries. With many of the tours, guests receive a midday meal such as rustic oven pizza served at an apple-orchard picnic site, or mutton legs aged to perfection in a castle's meat cellars.
1074 Pulaski St.
Riverhead
New York
US
Settle traffic arguments by challenging an opposing driver to a duel on Boomers!'s speedy go-carts. Or just cruise solo, banking curves and outdriving total strangers in a wild day of rubber-burning and dust-eating. For crashtastic thrills, climb aboard a bumper boat and drift on the waterscape, floating amok and gleefully broadsiding fellow captains. A bit of the briny seeps into Boomers!'s mini-golf range, where it creates a sparkling blue hazard to complement the verdant greens. Finish the day with a feeling of accomplishment that comes only from climbing Boomers!'s big, giant rock wall. The 32-foot climbing surface has a variety of handholds and different climbing options, so explore them all with the three climbs. Be sure to check Boomers! Medford's hours before heading out.
655 Long Island Avenue
Medford
New York
Brightly colored pennants embellish the ceiling at Port Jeff Bowl, but bowling skills demonstrated in the lanes below are what attract attention. Players hurl balls toward pins for fun or team up with peers to play in one of many leagues, divided by age and whether or not a player is tall enough to ride a roller coaster. On Tuesday nights from 9:30 to midnight, athletes enjoy an unlimited amount of fun during Bottomless Bowling. And after hours spent satiating competitive impulses built up over years of being benched during tag, patrons can quench thirsts and appetites with a beer and bite at Splitz Sports Bar. The alley also hosts parties and private events for up to 200 guests, which lets partygoers pair play with pizza, soda, or buffet fare in the 11th Frame Lounge.
31 Chereb Ln.
Port Jefferson Station
New York
631-473-3300
Hampton Luxury Liner ferries its passengers around in a lavish motorcoach that boasts five flat-screen TVs, complimentary WiFi, and an on-bus library. The luxury buses travel to destinations ranging from the Hamptons to Atlantic City, with specific stops at wineries, resorts, and casinos. Reclining leather seats with space for laptops and maximum leg extension typify the cushy interior, and each road cruiser also comes equipped with a snack bar, library, and refrigerator, useful for storing steaks to distract the thousands of chasing dogs such a luxurious bus usually attracts.
5000 Express Dr. S
Ronkonkoma
New York
631-537-5800
Inline 1 Sports Center's 3,600-square-foot fun park is divided into four dynamic zones—a bounce house, an extreme skate park, a mini-golf course, and an indoor sports center—giving kids a chance to try their hand at a variety of activities and play. The safety-minded staff keeps eagle eyes trained on little ones and teenagers as they flit through the facility.
Inline 1 Sports Center's locally inspired mini-golf course sends players of all ages through a nine-hole labyrinth, in which they must putt past the yellow plane at MacArthur Airport, through Mount Sinai High School, and under the Stony Brook Post Office. The skate park's 11-foot vertical ramp and rails invite adrenaline junkies to test their skateboarding and inline-skating skills. Meanwhile, the facility's bounce house engages little ones with air-filled slides and obstacle courses, and the sports center houses volleyball courts, soccer fields, and field hockey to inspire friendly competition.
In between challenging kick flips and exhilarating volleyball games, the staff welcomes players to refuel at the onsite Cuzzin's Smoothie Cafe and Grill. Inline 1 Sports Center also opens its doors to kids' parties, tournaments, field trips, and summer camps, in addition to open play.
269 Rte. 25A
Mt. Sinai
New York
631-474-2900
---