Things to Do in Sioux Falls
---
Recommended Things to Do by Groupon Customers
---
Swiss army knives are famed for the many vital tools hidden in the nooks and crannies of their surprisingly small exterior; Star Performance Complex takes a similar approach to educating kids in fitness. Their instructors offer swimming, gymnastics, tae kwon do, and dance lessons to tykes who enjoy competitive athleticism. They also provide day and night care that combines structured activity with open play in their fun gyms, which feature not only gymnastics equipment but inflatable play houses. Other teachers focus on team sports, training kids to work together in softball, soccer, and cheer. All of this – excepting the swim lessons – takes place in their single, colorful facility full of squeaky hardwood, soft mats, and all the equipment a kids needs to build a strong body.
815 E 33rd St.
Sioux Falls
South Dakota
The Ballroom is the dancing brain baby of Denise Aamlid, who graduated with a dance minor in 1981 and has been helping folks two-step their way through life ever since. Friday-night open dances include 20 minutes of instruction on the dance style of the week, anything from swing and the cha-cha to the tango and waltz. Following the introductory lesson, you and your partner will dance to handpicked tunes for an hour and a half, providing a full night of lively dancing fun. Partners don't change at Friday-night open dances, so you won't have to worry about wrapping your arms around the neighborhood garbage can filled with baby raccoons. The card you'll get with this Groupon can be used by more than one person; it allows both you and a partner to get in for the reduced rate. Check the schedule to find a date that works for you.
5009 S Western Ave. , Suite 230
Sioux Falls
South Dakota
Landshark Scuba is one of South Dakota's only Professional Association of Diving Instructors–certified centers; the facility has been educating landlocked locals in the diving arts since 2005. With the Discover Scuba class ($35), novice divers will be introduced to scuba diving within the safe and relatively shark-free confines of Landshark's pool (a $5.35 pool fee is included with this deal). Diving basics will be covered by Landshark's staff of friendly and experienced masters of maritime mobility. Should you choose to pursue further diving instruction at Landshark, credit from this beginner's class will count towards your PADI Open Water certification.
5208 W 12th St.
Sioux Falls
South Dakota
Four Midwestern locations bear the Crossfire Paintball name, together covering more than 200 acres of natural wooded terrain and open battlefields peppered with logs and drain-pipe bunkers. During typical high-speed, team-based battles, soldiers splat each other with watercolor-tipped spears and biodegradable balls filled with nontoxic paint as they attempt to capture the enemy's flag. Just as games for small groups and birthday or bachelor parties boost camaraderie among friends, corporate outings foster vital interoffice skills such as problem solving, quick thinking, and coordinating ties with colorful shirt stains.
101 N Harlem Ave.
Sioux Falls
South Dakota
605-361-5200
Consult the arena seating chart and choose one of the following seating sections and price points:
5000 S. Minnesota Ave.
Sioux Falls
South Dakota
All manner of monsters prowl the halls of the Sioux Falls Jaycees Haunted House. Sadistic clowns smile from shadowed corners, herding visitors into a blood-spattered room where a ghoul in a straitjacket waits. Strobe lights and fog convince the senses that they've entered an otherworldly dimension or a very dusty camera, concealing the ghastly robotics and props lurking around each bend—such as a leering, demonic child named Hex. Though the attraction seeks to terrify, its ultimate goal is far more altruistic: ticket profits go to the Sioux Falls Jaycees, a community-service group whose volunteers don masks and gallons of fake blood to staff the entire house.
4000 W 12th St.
Sioux Falls
South Dakota
605-215-1031
---
---
Things to Do Deals - Recently Expired
---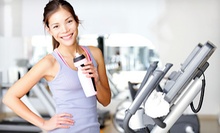 24-hour gym provides unlimited access to cardio and strength machines, tanning beds, and group fitness classes
---
---