Things to Do in Southbury
---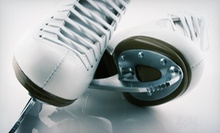 Families spend an afternoon skating around the icy arena and break to snack on popcorn and hot chocolate
---
Recommended Things to Do by Groupon Customers
---
Jim, the owner and operator of Extreme Paintball, bought his first paintball marker––a Nelspot 007––more than 20 years ago. Shortly after discovering his passion, he toured the country on a National Professional Paintball League team, retiring after 11 years to open Extreme Paintball. Nowadays, Jim and his staff work to introduce new players to his preferred method of paintball: woodsball. Contrasting with bunker-based speedball, woodsball is played in the natural outdoors, such as in the woods or at the bottom of the ocean.
At Extreme Paintball, Jim's three vast courses are designed around different scenarios with thematic obstacles scattered throughout to enhance the experience. The tank course carries the scars of war as crashed planes and the wrecked husks of tanks litter the battlefield, and the Vietnam course is shrouded in the area's densest foliage, finally making use of all the artificial trees populating the region. Jim's team rotates the courses throughout the year to preserve the environment and create an ever-changing battlefield.
476 Boyden St.
Waterbury
Connecticut
203-596-7502
In the past 40 years, the Southern Litchfield Hills of northwestern Connecticut have seldom stood without an echo of laughter or music. That's because Woodbury Ski Area keeps them pulsing with skiers and snowboarders during winter months and warm-weather revelers and concertgoers throughout the summer. Tubing slides run down the hills throughout the summer, along with zorb balls—inflatable spheres that carry passengers to the bottom in 45 seconds.
Woodbury Ski Area's president Rod Taylor, who competed as a member of the U.S. Ski Team, maintains the facility with the same drive he used to become the national downhill ski champion and record holder for clearing 222 feet in the Glendale Jump contest. While helping to keep adrenaline levels high, Rod ensures the facility hosts more laid-back cultural events with concerts on the Woodbury stage. Past shows have featured legends including The Wailers, Fela Kuti, and UB40, as well as Muddy Waters, The Band, Bonnie Raitt, and Earl Scruggs.
785 Washington Rd.
Woodbury
Connecticut
203-263-2203
In their dedication to educating the pilots of tomorrow, Image Aviation Services only employs flight instructors who have graduated from top-level aviation institutions. Those instructors pass on their winged wisdom on in numerous training packages, including certification programs for aspiring sport and private pilots. Meanwhile, each of the aircraft in Image Aviation's fleet features the industry's latest avionics. The company ensures the utmost safety in its planes, too—they hire only certified mechanics for maintenance and require leashes on all pet rocks making the flight.
288 Christian St., Suite 108
Oxford
Connecticut
203-267-6017
Jump!Zone's indoor playgrounds envelop kids aged 2–12 in an inflatable world filled with challenging obstacle courses, fun slides, and cardio-boosting bounce houses. While navigating the plush courses under the watchful eyes of air-filled dinosaurs and superheroes, kids burn off extra energy and participate in activities that may help develop motor skills. Jump!Zone's energetic staff supervises all play as kids climb on pirate ships and trampoline inside princess castles. Specific inflatables may vary by location but often include towering bounce houses shaped like fire trucks or octopi as well as party rooms, games, pizza, soda, and other festive fare. The bouncy center also hosts birthday parties, fundraisers, and special events.
855 Lakewood Rd.
Waterbury
Connecticut
US
---