Things to Do in Southbury
---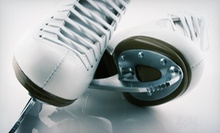 Families spend an afternoon skating around the icy arena and break to snack on popcorn and hot chocolate
---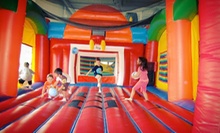 Kids bound over inflated obstacle courses, slides, and bounce castles while parents watch nearby; toddler area contains age-appropriate toys
---
Recommended Things to Do by Groupon Customers
---
Lifelong paintballers Glen Kapostas and Eric Schreiber founded Yankee Paintball with the aim of introducing new people to their favorite sport on a safe and fair playing field. Their 50 acres of paint-strewn battlegrounds include five different fields, each with a distinct layout and environment. Inflatable obstacles are scattered throughout the Airball Field, the layout of which changes every few weeks to enhance replay value. The 10-acre Castle Field—the largest of the bunch—spans the length of a small hill. Its battlegrounds light up with multi-colored crossfire during team games in which players crouch in bunkers, take shelter behind trees, and hide in the crowded nests of woodland critters.
571 Quaker Farms Rd.
Oxford
Connecticut
203-906-9622
Jim, the owner and operator of Extreme Paintball, bought his first paintball marker––a Nelspot 007––more than 20 years ago. Shortly after discovering his passion, he toured the country on a National Professional Paintball League team, retiring after 11 years to open Extreme Paintball. Nowadays, Jim and his staff work to introduce new players to his preferred method of paintball: woodsball. Contrasting with bunker-based speedball, woodsball is played in the natural outdoors, such as in the woods or at the bottom of the ocean.
At Extreme Paintball, Jim's three vast courses are designed around different scenarios with thematic obstacles scattered throughout to enhance the experience. The tank course carries the scars of war as crashed planes and the wrecked husks of tanks litter the battlefield, and the Vietnam course is shrouded in the area's densest foliage, finally making use of all the artificial trees populating the region. Jim's team rotates the courses throughout the year to preserve the environment and create an ever-changing battlefield.
476 Boyden St.
Waterbury
Connecticut
203-596-7502
In their dedication to educating the pilots of tomorrow, Image Aviation Services only employs flight instructors who have graduated from top-level aviation institutions. Those instructors pass on their winged wisdom on in numerous training packages, including certification programs for aspiring sport and private pilots. Meanwhile, each of the aircraft in Image Aviation's fleet features the industry's latest avionics. The company ensures the utmost safety in its planes, too—they hire only certified mechanics for maintenance and require leashes on all pet rocks making the flight.
288 Christian St., Suite 108
Oxford
Connecticut
203-267-6017
---