Things to Do in Stanton
---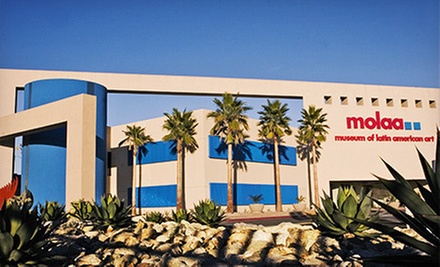 ---
Recommended Things to Do by Groupon Customers
---
A shiny fleet of fuel-efficient Sea-Doo GTI watercraft lines the dock of Balboa Water Sports, ready to conquer the California coastline anytime of the year. Savvy staffers help customers become aqueous explorers, renting out gleaming white jet skis, stand-up paddleboards, and other modes of transport. On popular guided rides, sea lions romp on the shore as watercraft skim along past Corona del Mar, Crystal Cove, and Emerald Bay. Tours also stretch as far south as Laguna Beach, where sea riders often spot adolescent dolphins playing mischievous games such as Marco Polo and spin the bottlenose.
600 E Edgewater Ave.
Newport Beach
California
949-723-5387
At the Center for Living Peace, bright-orange mats unfurl amid orchids, grasses, and rays of sunlight in preparation for Smiling Monkey Yoga, in which kids unwind with deep breaths, joyful movements, and mind-centering exercises. To help kids build strength and flexibility, the studio's founders and teachers, Patrice Simon and Amy MacConnell, intersperse traditional yoga poses such as wheels, locusts, and trees with games that hone social skills and coordination. Deep inhalations and exhalations direct kids inward, where they unlock wisdom about themselves and their relationships with others. In addition to fueling self-exploration, these breaths can be applied in their daily lives to help them cope with conflict and defuse stressful encounters with teachers, bullies, or the Boogey Man and his big scary dog. Children aged 3 and younger may experience yoga during Baby and Me classes, where parents melt tension and forge friendships through a series of relaxing poses.
4139 Campus Dr.
Irvine
California
949-854-5500
The idea for Newport Pontoons started in the same place it ended: the water. As the business's founders spent their leisure time in Newport Harbor, they noticed that countless others shared their love for relaxing aboard watercraft. But typical rental boats were often too confining, restricting each person to his or her seat. Hoping to remedy this situation, the entrepreneurs tested numerous boat designs and one dolphin with a couch strapped to its back until they assembled a fleet of vessels that stood apart from those of competitors.
Each of Newport Pontoons' easy-to-drive pontoon boats enables a floating party along the harbor waters. The decks allow ample room to socialize, grill out, or gaze at waterfront properties through 360-degree windows. Newport Pontoons also caters boat outings with sandwiches and cheese platters, saving customers the work of fishing for lost shoes.
Newport Pontoons' rates fluctuate throughout the week and depend on the type of boat.
3101 W Coast Hwy., Suite 222B
Newport Beach
California
949-631-3333
The instructors at Seventh Chakra Yoga view their teachings as a pressure valve through which students can release life's tensions. As artists, pastors, and community leaders, they have come from diverse backgrounds to imbue the studio with a uniform aura of positivity. The studio specializes in Kundalini yoga and meditation through breathing techniqes, sound and gong therapy and mantra healing. They don't acknowledge higher or lower levels of yoga experience in their pupils, preferring to focus on self-improvement over competition, and draw from several modalities to plan their classes. Their inviting approach helps guests to realize connections between mind and body, which can minimize stress and give the brain a break while the liver takes over for a while.
In addition to classes that encompass postures and meditation, the staff leads sessions for expectant mothers, children, and aspiring Kundalini teachers. They can also transport their lessons outside of the studio, visiting offices to improve at-work wellness and planning scenic retreats to India.
19171 Magnolia St., Suite 14
Huntington Beach
California
US
714-965-7770
Ships in the harbor rock in the breeze, their masts gesturing into the sunny sky as patrons slip across the water from Wayward Captain Paddleboards, located at the Balboa Fun Zone in Newport Beach. The wave-top transports, which originated on tropical islands, measure up to 12-feet long and sport a special hull that boosts stability and speed. From 10 a.m. until dusk, riders mount the floatables and learn basics in lessons or rent paddleboards to cruise out onto the harbor to see the piles of water that form during low tide. As the sky's palette fades into pinks and oranges on sunset tours, paddles splash gently against the water's surface and races launch fleets of riders out onto the waves.
600 E Bay Ave.
Newport Beach
California
949-371-9555
With pristine Newport Bay as the backdrop, more than 250 luxurious vessels and yachts from an array of exhibitors will be on display at the Lido Yacht Expo. Here you'll see boats ranging from sport fishers and sailboats to cruisers and catamarans, and all of the boats are available for purchase. Yacht purveyors and sailing-based companies from all over the west will converge at the picturesque bay, ranging from San Diego's South Coast Yachts to Marina del Rey's Blue Pacific Boating. The 33-year-old expo also has booths with boating gear and complimentary shuttles to and from offsite parking lots.
Lido Marina Village
Newport Beach
California
US
949-660-6150 x214
---