Restaurants in Toledo
---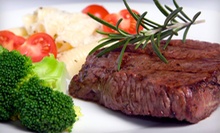 Elegant entrees, such as house-made chorizo quesadillas and venison tenderloin, served in a casual dining room at Kensington Court hotel
---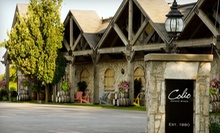 Guests tour winemaking facilities, followed by a tasting flight featuring premium wines
---
Recommended Restaurants by Groupon Customers
---
After graduating from the University of Toledo, HoChan Jang and Prakash Karamchandani decided to leave their mark on the area in the form of Balance Pan-Asian Grille, a grassroots Asian-American restaurant. They believe that every restaurant should be like theirs—one that serves from-scratch, healthy food made from fresh ingredients, noting that if customers wanted a microwaved meal, they wouldn't go out to eat. The duo named the restaurant Balance as a reference to their flavorful bowls, which contain a balance of proteins, carbs, and vegetables.
In the kitchen, Head Chef Jang, who worked for years at his parents' traditional Chinese restaurant, heats up the wok to create fusion recipes such as pulled-pork and ginger tacos, pulled-pork fried rice, and Chinese five-spice or Indian tandoori chicken wings. He also cooks vegetarian and vegan dishes built on brown rice, salad greens, and tofu. Jang and his staffers often design their seasonal menus using organic, farm-to-table ingredients, and they eschew any produce or proteins that are classified as genetically modified organisms or that have been handled by robots at any point during the harvesting process.
514 The Blvd.
Maumee
Ohio
419-893-9999
Exposed wood beams and shoji-screen-like latticework re-create the atmosphere of a traditional Japanese house inside Koto Buki's dining room. The cuisine also keeps it authentic—ramen noodles, curry rice, stir-fried veggies, and teriyaki sauce serve as the base for a choice of meats, and shy vegetables hide inside fried batter in tempura dinners. Like the butlers who prepare Richie Rich's Christmas gifts to his pet shark, chefs expertly slice and wrap dozens of sushi choices, from traditional slabs of sashimi on beds of rice to inventive specialty rolls with names such as Crazy Boy, Ninja, Vegas, and Kiss of Fire.
5577 Monroe St.
Sylvania
Ohio
419-882-8711
JB's Sarnie Shoppe's owners, Gareth and Bruce, helm a bustling kitchen where fresh bread, baked in-house twice daily, embraces a cavalcade of hearty sandwich fillings. Guests can build their own sandwiches, referred to as sarnies, with wholesome ingredients, such as Boar's Head meats, thick slices of cheese, and housemade roasted-red-pepper spread. The menu ventures beyond the breaded with cobb salads and creamsicle smoothies, and names items using slang from overseas: "sarnie" (sandwich), "crisps" (chips), "biscuits" (cookies), and "cookies" (biscuits). Outside of the shop, it caters any event that has at least five people capable of chewing.
4195 Levis Commons Blvd.
Perrysburg
Ohio
Carrying on the tradition of his father Labib Hajjar, a restaurateur who opened the original Poco Piatti location on Monroe Street, Elias Hajjar and his wife Joy have created a welcoming new space where locals can experience Mediterranean cuisine. Diners choose from Greek classics including moussaka, Italian-inspired dishes such as prosciutto crepes with basil and homemade sundried-tomato sauce, or Middle Eastern-style kabobs with swordfish or beef tenderloin. The owners have designed the interior to resemble a Spanish villa—the mural above the bar colorfully depicts rolling Mediterranean hills, and a stone oven churns out freshly baked pita bread or lights the miniature Olympic torches of waiters jogging by.
Since 1996, Labib has given back to the community as the co-chairperson of Share our Strength's Taste of the Nation Toledo, an annual food and wine event that, according to The Toledo Blade, raised more than $100,000 to help fight childhood hunger in 2011. Elias also follows in his father's community-minded footsteps by electing to source his ingredients from local suppliers.
3155 Chappel Dr.
Perrysburg
Ohio
The recipes at Rosie's Italian Grille have spanned oceans and generations to appeal to present-day senses with aromatic Old World fare. Born in Montelepre, Sicily, Rosie immigrated to the United States in 1924, bundling with her a cache of culinary treasures mapped from mother to daughter. When the first Rosie's Italian Grille opened on Sylvania Avenue, her three sons asserted that the hardest part of the entire enterprise was "translating her recipes."
Today, executive chef Eric Kish continues to translate and update Rosie's culinary blueprints, marrying traditional and modern influences in a menu that boasts fine steaks, award-winning pizzas, seafood flown in from the Florida Keys, and fresh-baked desserts lauded for their presentation by the Toledo Blade..In the 27 years since the original Rosie's opened, guests have delighted in not just the food, but the Tuscan-themed setting illuminated by flickering candlelight, which is more romantic than the flickering of a tableside cardiograph.
606 N McCord Rd.
Toledo
Ohio
419-866-5007
Mexican dishes both classic and newly invented sizzle on the signature plates at OK Patron Fajita Bar. The name OK Patron, which translates to "OK, boss," belies the restaurant's dedication to customer service. American specialties accompany the Mexican dishes featured on the lunch buffet each afternoon, along with chicken, steak, vegetable, shrimp, and scallop fajitas. Family recipes serve as the blueprint for dishes such as tortilla soup, which pairs crispy tortillas with garden vegetables, cheese, and a cure for the fear of soup.
27393 Helen Dr.
Perrysburg
Ohio
---