Things to Do in Trenton
---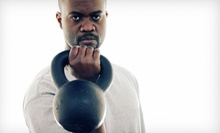 CrossFit classes blend strength training, plyometrics, gymnastics, and unconventional exercise to create a new Workout of the Day every day
---
Recommended Things to Do by Groupon Customers
---
Midnight Productions stages professional theater performances with an emphasis on special effects and technical splendor. This commitment to impressive displays of lighting, sound, and scenery characterizes the company's annual productions, which include a run of Jesus Christ Superstar and a thrilling haunted house in Newtown.
881 Highland Rd.
Newtown
Pennsylvania
Rather than focusing on one angle of its state's history, the New Jersey State Museum encompasses four: archaeology, fine arts, culture, and natural history. Since 1895, the American Association of Museums–accredited complex's staff has been dedicated to expanding field research and, more recently, public-school outreach. These efforts have culminated in collections of more than 2 million archeological specimens, 2,000 ethnographic artifacts, 12,000 works of art, and 13,000 state cultural artifacts. These pieces pique viewer curiosity in themed exhibits, exploring periods in local art, relationships between native Americans and European settlers, and the state flower's childhood diaries.
The archaeology collections—assembled by museum staffers and university archaeologists—highlight textiles, beads, and hide works from Delaware Indians and other North American–natives. The fine art collection assembles works by American modernists and abstract artists. Massive Trenton-made furnishings, Civil War–flags, and maritime artifacts populate the cultural exhibits.
Though focused on history and art, the museum also immerses visitors in science with its 150-seat planetarium, which dazzles eyes with images of the solar system, faraway stars, and astronaut training during shows. Audiences witness traditional sky projections and laser-created programs comprised of 6,000 stars on the ceiling of the full 360-degree dome.
205 W State St.
Trenton
New Jersey
609-292-6464
The ECHL affiliate of the Philadelphia Flyers, the Trenton Titans compete against the country's top hockey prospects in the Atlantic Division of the league's Eastern Conference. Founded in 1999, the Titans won the Kelly Cup in 2005 behind captain Rick Kowalsky and leading-scorer Scott Bertoli, capping off an impressive six-year span in which the team missed the playoffs only one time. As the Titans continue their quest to replicate past glory, raucous fans clad in red cheer them on at Sun National Bank Center, aided by the team mascot Rivet, who energizes fans without throwing AA batteries into the stands.
81 Hamilton Ave.
Trenton
New Jersey
609-341-1100 x505
Howell Farm spins an agricultural story stretching back more than 250 years to the site's initial settlement in the 1730s. Within that time, the land has changed hands from many different families; the years have found it transformed from a grain farm to a dairy farm, with various incarnations in between. Today, it enjoys a spot on the National Register of Historic Places, and it invites visitors to travel back in time to experience a taste of what farm life was like in the years between 1890 and 1910.
Depending on the time of year, guests may get to help plant or harvest crops, or shell and grind corn inside the 1800s barn before baking it into cornbread. Visitors often get to help care for the animals, learn to make soap, or churn fresh butter and ice cream––all using authentic, turn-of-the-century methods. Admission is free, but during autumn the farm raises funds by charging admission to a miles-long corn maze that challenges families and friends to navigate winding paths and resist the urge to butter and season their surroundings.
17 Valley Rd.
Lambertville
New Jersey
---