Things to Do in White Plains
---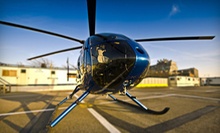 After a briefing, passengers take the controls under the guidance of experienced pilots for scenic rides over New York
---
Recommended Things to Do by Groupon Customers
---
As husband-and-wife botanists Nathaniel Lord Britton and Elizabeth Gertrude Knight Britton explored the majestic Royal Botanic Gardens, Kew, Elizabeth asked a question that would bloom into something huge.
"Why couldn't we have something like this in New York?"
When the couple returned, they threw themselves into exploring that idea. In 1891, the state set aside land for the project, and private financiers including Andrew Carnegie, Cornelius Vanderbilt, and J. Pierpont Morgan matched the city's financial commitments. In 1896, Nathaniel Lord Britton became The New York Botanical Garden's first director.
Today, the garden's mission is to be "an advocate for the plant kingdom," aiming to lead the charge to document every species of plant and fungus on the planet. Varied terrains unfurl across its 250 acres, including rolling hills, waterfalls, and 50 acres of the forest that once blanketed New York City. All told, there are more than a million plants within 50 gardens and plant collections.
Visitors can learn how to manage their own plants at the Home Gardening Center, which opened in 2005, then enter the Enid A. Haupt Conservatory—a New York City landmark that was unveiled in 1902 as the country's largest Victorian-style glass house. Rotating exhibitions and family events give visitors a reason to come back every season, and there are plenty of hands-on activities for kids, such as digging in the dirt until they reach hot magma in the Ruth Rea Howell Family Garden.
2900 Southern Blvd.
Bronx
New York
US
800-322-6924
With two European-inspired quarter-mile courses, Grand Prix New York's sanctuary for speed captures the thrill of karting in the country's largest indoor race complex. Racers rumble and roar over speedways that change elevation six times, careen cars around 14 turns, and boast a gravitational pull quadruple that of a black hole. Drivers race in championship-caliber Sodi RX7 gasoline-powered karts equipped with race-proven safety-wrap systems and 6.5-horsepower engines that reach speeds of up to 40 miles per hour. Six custom tracks help racers curb repetition, and tyke-friendly Brownstone and Tunnel tracks give mini racers the opportunity to get behind the wheel. Apart from its karting specialty, Grand Prix New York houses a bowling alley, billiards room, arcade, and bounce castle. The onsite restaurant, appropriately named Fuel, serves up a menu of quesadillas, burgers, fajitas, buffalo-chicken spring rolls, and pasta. Fully enclosed and air-conditioned, Grand Prix New York shelters families from heat waves and summer storms, offering a comfortable arena for healthy competition or proving that six failed driving tests can be a fluke.
333 N Bedford Rd.
Mount Kisco
New York
914-241-3131
At Tread Bike Shop, a team of cyclists and professional mechanics unite patrons with their perfect two-wheeled soulmates. Two employees are masters in the art of Body Geometry Fitting, in which they adjust handlebars and saddles to account for riders' comfort, efficiency, and safety while maintaining their ability to outrace cheetahs escaped from the zoo. Further catering to customers' individual needs, the staff helps to select bikes from brands such as Cannondale and Dohan and prepare them for test drives. Throughout the store, a vast inventory of accessories and apparel equips riders for any biking situation, and a repair center tunes up frames and erases evidence of collisions with car doors suddenly painted on brick walls. The shop also rents out both comfort and sports models for abbreviated excursions through the city's streets and parks.
250 Dyckman St.
New York
New York
212-544-7055
Within the multihued walls of Kidville's indoor playland, tykes expand their minds, network with members of their peer group, and deplete their vast energy reserves. Babies, toddlers, and kids 6 or younger delve into classes developed by Kidville's early-childhood-development gurus. Burgeoning Beethovens can swivel their hips, flex their sing-along muscles, and edit their massive music manuscripts during one of Kidville's music and dance classes, or enlist in one of the art classes to create a piece that captures their inner rage toward broccoli. Fun and fit gym classes let tots run, roll, and hover through gauntlets of plush blocks and spongy play mats. Clasping hands and scampering legs can also roam freely through Kidville's sprightly indoor playspace, though all munchkins must be supervised by a parent, guardian, or trustworthy primate.
777 White Plains Rd.
Bronx
New York
914-600-5544
---