Restaurants in New York City
---
---
New York City Restaurant Guide
New York's oldest restaurant might also be its most innovative. In 1838, when "eating out" in New York meant eating whatever was on hand at the local boarding house,
Delmonico's
revolutionized the city's dining scene by giving patrons something they had never had before: a menu. Soon, high-profile patrons such as Theodore Roosevelt, Napoleon III, and the Prince of Whales were dropping by to try new, never-heard-of delicacies such as eggs benedict and baked Alaska, solidifying New York City's place as a culinary capital of the world. Of course, you don't have to be royalty to eat like one in New York. Manhattan is as renowned for its humble food trucks as it is for its upscale establishments, ensuring diners can enjoy a bite of the Big Apple, no matter their budget. Fine Dining Today, New York City's restaurants continue to set the standard for refined dining. At Midtown's
Per Se
, it's hard to say what dazzles more, the signature "Oysters and Pearls" appetizer––Island Creek oysters paired topped with sturgeon caviar––or the Limoges china it arrives on. In the West Village, rich fabrics, fireplaces, and candlelit chandeliers inspired Zagat to proclaim
One if by Land, Two if by Sea
"devastatingly romantic". Though pricey, the three-course prix-fixe menu provides a taste of black bass tartare, beef wellington, and a chocolate-caramel pot de crème by award-winning pastry chef Ilan Ades. A James Beard Award distinguishes the chef at
The Modern
, where roasted diver scallops and ravioli stuffed with veal sweetbreads are served in full view of the MoMA sculpture garden. Middle of the Road New York City is ripe with restaurants that walk the line between haute cuisine and hot dog cart. At
Five Napkin Burger
, gruyere and rosemary aioli top the signature sandwich that first tempted diners at Upper West Side hot spot Nice Matin. The latter also showcases reasonably priced French dishes such as escargot and hanger steak au poivre. In the East Village,
Momofuku Noodle Bar
, tops Japanese ramen with sumptuous pork belly or spiced Sichuan sausage and parties of four or more can reserve a dinner that pairs Southern- and Korean-style fried chickens with mu shu pancakes, veggies, and four sauces. Still hungry? Try a slice of history at
Lombardi's
, the 100-year old establishment widely lauded as the birthplace of New York-style pizza. Casual Eats Whether it's a cupcake at Magnolia Bakery or a potato knish from a sidewalk cart, many of New York City's best eats are grab-n-go. For a truly moveable feast, track down the
Wafels & Dinges
food truck, which Zagat named the city's best in 2010 for its waffles topped with BBQ pork or nutella. Of course, no guide to New York's restaurants would be complete without a stop at one of its world-famous diners and delis. Try Brooklyn's Mile End Delicatessen for classics like smoked brisket on house-baked rye, or grab a counter seat at East Village staple
Stage Restaurant
to sample homemade corned beef hash and pierogis with fried onions.
After an afternoon of wandering through the West Village, stop at Zampa, a charming wine bar and the perfect place to refuel before a night out.
Huge menu of preservative-free Italian & American fare includes 30 burgers, speciality sandwiches & breakfast served all day
Use Today 10:00am - 6:00pm
---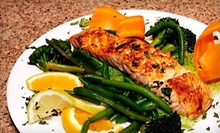 Traditional diner fare including burgers, pastas & soups within laid-back, home-style setting
Use Today 3:00pm - 11:45pm
---
Recommended Restaurants by Groupon Customers
---
Korean Express's ensemble of chefs sears traditional eats on hot stones, filling the shop with a piquant bouquet of steam. In the bustling kitchen, fingers fly as they prepare a variety of time-honored dishes such as hot-stone bibimbap and savory seaweed rice rolls that only respond to questions when addressed by their Korean name, kimbap. Proof of the kitchen's dedication to the region's culinary traditions is evident in the use of established ingredients including sweet-potato noodles, kimchi, and handmade boiled dumplings that don't require a chopsticks-to-fork converter.
807 Lexington Avenue
Manhattan
New York
212-755-0123
Just as the surrounding Theater District transports audiences to faraway places, Brazil Grill's dining room immerses guests in the rich culinary traditions of Brazil. Though it boasts a substantial selection of entrees, the eatery's specialty is radizio, a traditional Brazilian dining style where passadores, or meat servers, present diners with an endless rotation of skewered morsels. Patrons can nosh to their hearts' content on beef, pork, lamb, duck, and the other meats that continually appear tableside during the course of the night. To complement the authentic dishes, servers can also recommend options from the restaurant's selection of wines culled from Chile, Italy, and New Zealand. Most nights, guests eat as they absorb the sounds of live Brazilian music, the play-by-play of Brazilian League soccer matches, or napkins practicing their Portuguese accents.
787 8th Ave.
Manhattan
New York
US
212-307-9449
Strains from live DJs and the happy chatter of busy silverware resound off the exposed-brick walls and looping whorls of the wooden bar at People's Republic of Brooklyn. Red tabletops billet platters of seared, fried, or blackened catfish, and plates of free-range chicken don adventurous garnishes such as avocado or the essence of an air kiss. Comfort-fare sides conjure nostalgia among guests perched at the bar, with options including mac 'n' cheese, deviled eggs, and sautéed arugula serving as foundations for a wide range of cocktails.
247 Smith Street
Brooklyn
New York
718-522-6100
The epicurean curators at Cachacaria Boteco cultivate hearty meals of traditional Brazilian fare and drinks served beneath soaring ceilings and a chandelier of exposed bulbs. Servers bear morsels of pao de queijo, or cheese buns, and kibe, or fried meatballs, across the black-and-white checked floor during fast-paced games of human chess. The sugar-cane-rum blend of caipirinha, Brazil's national cocktail, flows as freely as the orange curtains that frame potted palms and flat-screen TVs.
33 Avenue of the Americas
New York
New York
212-786-2297
In the summer of 2010, chefs at Olympic Pita fried the world's largest falafel ball, a 30-pound behemoth of chickpeas and spices that aimed to put the restaurant in Guinness World Records. Though the chefs' boundless enthusiasm for Middle Eastern fare delighted news crews and fed Upstate's expansive yeti population, it's the day-to-day sizzling of kosher Israeli fare that continues to captivate the taste buds of locals. Foodies at Village Voice called the kebabs "splendid," and marveled at the regular replenishing of steaming pitas. Barkeeps pour imported beers and wines that team up with pitas to ignite appetites for entrees such as the chicken-and-turkey shawarma, which New York magazine praised for its juiciness and knack for accessorizing with eclectic condiments.
58 W 38th St.
Manhattan
New York
On weekend nights, just steps from Grand Central Station, an atavistic beat reverberates from the bodhrán, an ancient drum, as part of a traditional Irish music session that sometimes incorporates fiddles, accordions, and folksy vocals. O'Neill's Irish Pub not only hosts these weekly merry musical melees, but it also embodies their charm, spontaneity, and spirit. O'Neill's welcomes newcomers and regulars with 17 beers on tap, casual pub fare including burgers and wraps, and friendly conversation. For generations, the pub has served as a community center where families can gather to tell stories and spin yarns about high-fiving Uncle Sam during a Fourth of July parade. O'Neill's Irish Bar houses lively crowds on two floors, including a private party room that holds up to 100 celebrants.
729 3rd Avenue
New York
New York
212-661-3530
---