Restaurants in New York City
---
---
New York City Restaurant Guide
New York's oldest restaurant might also be its most innovative. In 1838, when "eating out" in New York meant eating whatever was on hand at the local boarding house,
Delmonico's
revolutionized the city's dining scene by giving patrons something they had never had before: a menu. Soon, high-profile patrons such as Theodore Roosevelt, Napoleon III, and the Prince of Whales were dropping by to try new, never-heard-of delicacies such as eggs benedict and baked Alaska, solidifying New York City's place as a culinary capital of the world. Of course, you don't have to be royalty to eat like one in New York. Manhattan is as renowned for its humble food trucks as it is for its upscale establishments, ensuring diners can enjoy a bite of the Big Apple, no matter their budget. Fine Dining Today, New York City's restaurants continue to set the standard for refined dining. At Midtown's
Per Se
, it's hard to say what dazzles more, the signature "Oysters and Pearls" appetizer––Island Creek oysters paired topped with sturgeon caviar––or the Limoges china it arrives on. In the West Village, rich fabrics, fireplaces, and candlelit chandeliers inspired Zagat to proclaim
One if by Land, Two if by Sea
"devastatingly romantic". Though pricey, the three-course prix-fixe menu provides a taste of black bass tartare, beef wellington, and a chocolate-caramel pot de crème by award-winning pastry chef Ilan Ades. A James Beard Award distinguishes the chef at
The Modern
, where roasted diver scallops and ravioli stuffed with veal sweetbreads are served in full view of the MoMA sculpture garden. Middle of the Road New York City is ripe with restaurants that walk the line between haute cuisine and hot dog cart. At
Five Napkin Burger
, gruyere and rosemary aioli top the signature sandwich that first tempted diners at Upper West Side hot spot Nice Matin. The latter also showcases reasonably priced French dishes such as escargot and hanger steak au poivre. In the East Village,
Momofuku Noodle Bar
, tops Japanese ramen with sumptuous pork belly or spiced Sichuan sausage and parties of four or more can reserve a dinner that pairs Southern- and Korean-style fried chickens with mu shu pancakes, veggies, and four sauces. Still hungry? Try a slice of history at
Lombardi's
, the 100-year old establishment widely lauded as the birthplace of New York-style pizza. Casual Eats Whether it's a cupcake at Magnolia Bakery or a potato knish from a sidewalk cart, many of New York City's best eats are grab-n-go. For a truly moveable feast, track down the
Wafels & Dinges
food truck, which Zagat named the city's best in 2010 for its waffles topped with BBQ pork or nutella. Of course, no guide to New York's restaurants would be complete without a stop at one of its world-famous diners and delis. Try Brooklyn's Mile End Delicatessen for classics like smoked brisket on house-baked rye, or grab a counter seat at East Village staple
Stage Restaurant
to sample homemade corned beef hash and pierogis with fried onions.
After an afternoon of wandering through the West Village, stop at Zampa, a charming wine bar and the perfect place to refuel before a night out.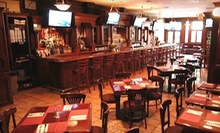 Irish-American bar & grill stuffs sports-lovers with 14 wing flavors, sliders & 10 42-inch HDTVs tuned to pro and college games
Use Monday 12:00am - 1:30am
---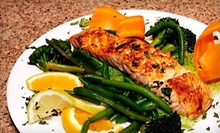 Philly cheesesteak, chicken parmigiana & banana royale reign supreme in a diner that serves everything under the sun
Use Today 11:00am - 4:00pm
---
Recommended Restaurants by Groupon Customers
---
The epicurean curators at Cachacaria Boteco cultivate hearty meals of traditional Brazilian fare and drinks served beneath soaring ceilings and a chandelier of exposed bulbs. Servers bear morsels of pao de queijo, or cheese buns, and kibe, or fried meatballs, across the black-and-white checked floor during fast-paced games of human chess. The sugar-cane-rum blend of caipirinha, Brazil's national cocktail, flows as freely as the orange curtains that frame potted palms and flat-screen TVs.
33 Avenue of the Americas
New York
New York
212-786-2297
At El Mio Cid, a mouthwatering spread of authentic Spanish cuisine enraptures palates alongside flavorful wines and dulcet pours of Sangria. A tasty array of hot and cold tapas such as baked clams, chicken croquettes, or jamon Serrano and manchego unite tables in a gleeful celebration of communal plate-passing and elaborate foodstuff bartering systems. Elegantly plated entrees burst into fields of view with breathtaking color, awakening salads with house-made dressings and steaks and chicken cutlets with flavorful herbs, peppers, and sauces. In addition to dishing out saffroned paellas, fresh seafood, and meaty meals, El Mio Sid caps off dinners with dulcet desserts, such as flan, ice cream, and sorbet.
50 Starr St.
Brooklyn
New York
718-628-8300
Vero Restaurant & Wine Bar's dual Midtown and Uptown locations curate more than 100 international wines served by the bottle and 40 served by the glass. Chefs craft plates of Italian-inspired fare at both locations, serving up seafood dishes and flatbread pizzas for diners to share with companions or stack obsessively into molecular diagrams. An in-house certified sommelier teaches food-and-wine pairings, workshops, and wine-self-esteem seminars at Midtown's wine school or Uptown's wine school. Seasonal workshops teach participants about food and wines of diverse nations, as well as the production and uses of different varietals. At both locations, warm red walls and wood accents surround tall bistro tables with wooden tabletops lit by candlelight and geometric wall sconces. Framed black-and-white photographs and prints stare down approvingly as guests dine and drink or disapprovingly as guests hold paper-football playoffs.
1004 2nd Avenue
New York
New York
212-935-3530
Feile, whose name means "hospitality," fetes guests with Gaelic good cheer and 35 types of Irish whiskey steps from Madison Square Garden. Twenty taps gurgle with draft beer at the sleek wooden bar, above which flat-screen TVs glow with broadcasts of sporting events and erudite soap operas based on Finnegans Wake. The menu puts a contemporary spin on classic pub fare, serving sandwiches slathered in roasted garlic or wasabi aioli alongside Emerald Isle classics such as shepherd's pie.
131 West 33rd Street
New York
New York
212-695-1122
Tolani Wine Restaurant marries fine wines and an eclectic menu in an upscale lounge and dining room. Candlelight filters through crimson glasses and bottles in the upstairs lounge, where pours pair with charcuterie and cheese. A crystal chandelier hangs above a flight of stairs that leads to the stone-wrought cellar dining room, its walls lined with bottle-filled cubbies and brick walls. The restaurant's menu of small and medium plates features upscale interpretations of a wide variety of dishes from around the globe, served indoors or on the outdoor patio, guarded on all sides by stone and several for-hire sorcerers.
410 Amsterdam Ave.
Manhattan
New York
212-873-6252
Visitors passing under Freda's Caribbean & Soul Cuisine's green, brown, and orange sign soon find themselves surrounded by the scents of authentic Caribbean grub. Platters of curried goat and jerk chicken arrive flanked by peas and rice, and side orders of candied yams and fried plantains bolster main dishes. Sweet-potato-pie slices cling to fork tines as they travel into mouths to silence the yammering of impatient sweet teeth. A large window at the storefront admits bucketfuls of the sun's warming rays, providing ample opportunity for those seated nearby to show off half-eaten red snapper and enrage passing bears.
993 Columbus Avenue
New York
New York
646-438-9832
---