Things to Do in Winnipeg
---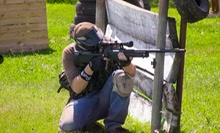 Players traverse an outdoor field, taking cover behind trees, buildings, and obstacles while firing mess-free pellets at opposing teams
---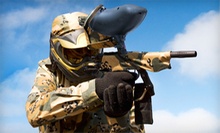 On four outdoor fields of nearly 5 acres each, players exchange paint from behind cover such as abandoned buildings and old-growth trees
---
Recommended Things to Do by Groupon Customers
---
The bowler releases the ball so smoothly that it barely makes a sound upon hitting the lane, heightening the crack when the ball finally collides with the pins. You can witness this scene at Academy Bowling Lanes' trio of locations—Academy Lanes, Academy Lanes West, and Billy Mosienko Lanes—where Brunswick automatic-scoring systems record each roll down the alleys' polished lanes. Bumpers are on hand to clog the gutters and improve scores. On select evenings, the concourses transform into a cosmic-bowling arena with laser systems, black lights, fog machines, and music leading up the night's closing event, the landing of a real spacecraft. Food and bar services supply guests with refreshments such as pizza, popcorn, and fountain pop.
394 Academy Rd.
Winnipeg
Manitoba
204-488-0000
World Soccer Academy's goal is to elevate Canadian soccer to an elite level with training regimens culled from the world's finest soccer programs. The Academy instills sound fundamentals in young trainees with the help of the Coerver Method, a methodology developed by the late Dutch soccer manager Wiel Coerver designed to develop skills in a pyramidal fashion, beginning with individual ball-handling and advancing to more nuanced material, such as group attack tactics and covert hand-balling.
Though committed to fostering young talent, the Academy's seven-stage player development program prescribes proper training methods for players of all ages. The Academy also sponsors WSA Winnipeg, a team of elite players that compete against squads from Toronto, Michigan, and St. Louis in the USL Premier Development League.
360 Cockburn St. N
Winnipeg
Manitoba
204-477-0763
A quarter-kilometre track serves as Speedworld's centerpiece, goading drivers around nine turns ranging from wide sweeping bends to hairpin curves. The straightaways allow easy passing for the track's fleet of vehicles, which include sprint cars that accelerate up to 40 km/h and race karts that max out at 50 km/h. 13-horsepower Honda engines power the cars and propel drivers across the finish line as the ChronX automatic timing system documents their journey more swiftly than an hourglass containing only one grain of sand.
Outside the driver's seat, visitors can cheer on other racers from a viewing area framed in floor-to-ceiling windows and sound-insulated walls that block out the sound of rival fans cheering from the track. A mezzanine area outfitted with a refrigerator and microwave can seat parties of 7–30, rendering it an ideal venue for birthday parties, corporate events, or car-eating truck-rally monsters trying to stick to their diets.
C-575 Berry St.
Winnipeg
Manitoba
204-774-5278
The Manitoba Paddling Association functions as the provincial sport governing body for local competitive canoeing, kayaking, and dragon boating. The association encourages the community to stay physically fit while still having fun through a variety of events such as races, year-round programs, and annual Dragon Boat festivals. Events change according to the season, and include summer camps that school beginners in the kayaking basics, spring training that introduces tougher techniques for competitive teams, and winter programs that offer opportunities to stay fit on shore, such as cross-country skiing, indoor circuit and strength training, and swimming laps in the snow.
80 Churchill Dr.
Winnipeg
Manitoba
204-925-5678
As white and baking pumpkins grow in Deer Meadow Farms' patch, staffers dispense seasonal homegrown vegetables from the onsite country market. The farm hosts guests who frolic through an array of attractions, from a mountain of sand-filled tractor tires to a hay-bale pyramid. On a 2.5-acre course, players putt or scissor kick golf balls into World Cup–themed holes during matches of Farmer Golf. Elsewhere, visitors can milk a goat at the petting zoo or trail fallow deer at the Wild Game Preserve. In the autumn, trivia questions and cryptic messages await throughout the corn maze, which is open both day and night. Afterwards, guests can rest in a rented tepee or feast on hot dogs and s'mores at one of the farm's fire pits.
67 127 Deacon Rd.
Winnipeg
Manitoba
204-222-1824
Kids have fun in the dance classes at Magic 'N Motion Studio, but its instructors are serious about their craft. Dance and baton programs for kids span the school year and are organized around time-tested syllabuses that include the Cecchetti ballet method, designed to help students create fluid, coordinated movements by internalizing dance principles rather than simply mimicking a teacher's movements or hairstyle. Whether they're leaping, tapping, or even baton-twirling, kids can show off their new moves to friends and family during performances at the end of every year and at Christmas. Adults can also let loose and dance in Zumba classes, where certified instructors lead easy-to-follow Latin moves that can be customized for seniors or those who are especially interested in muscle-toning. Each dance room is outfitted with sprung floors that are easier on joints, staving off injuries and wear.
1333 Niakwa Rd. E, Suite 1
Winnipeg
Manitoba
204-254-8419
---