Things to Do in Boise
---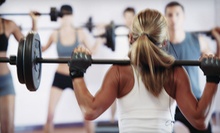 Small-group classes feature high-intensity functional exercises that burn calories and build muscle
---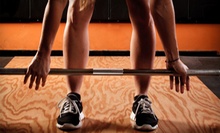 Intense classes feature workouts that change daily and include equipment such as weights, plyometric boxes, and incline ladders
---
Recommended Things to Do by Groupon Customers
---
Bowlers step up, drop, and roll balls down 20th Century Lanes' 24 modern lanes, ending in an eruption of clanking pins, hoots, and hollers. As the scattered pins are reset, the bowling alley's automatic system calculates the score while visitors lounge in plush purple chairs. Between frames, bowlers can fuel their forethoughts of turkeys with barbecue-beef sandwiches or pizza from the café, grab a cocktail from the Gaslight Lounge, or stroll into the pro shop to purchase a new bowling bag that matches their Sunday's best bowling gown. 20th Century Lanes also hosts events such as bowling tournaments and league play, and resident coaches lead private, couples, and team lessons.
4712 W State St.
Boise
Idaho
As the early-morning sky lightens and the sun paints the horizon in purples, blues, oranges, and yellows, a fleet of balloons takes flight. These are Boise Hot Air Company's balloons—colorful inflated vessels bedecked with purple and yellow stripes, red checkerboard patterns, and the stars and stripes of the American flag. Captains take groups aloft at 30 minutes before official sunrise in baskets equipped with seats and dividers for added safety. Flying only in fair weather and usually at speeds of no more than 8 miles per hour, the captains pilot leisurely flights low over the countryside of rolling hills from March through November.
3340 Lakeharbor Ln.
Boise
Idaho
208-941-2625
As the NBA Developmental League affiliate of the Portland Trail Blazers, the Idaho Stampede have been whetting Boise fans appetites for swishes and dunks since 1997. NBA D-League champions in 2008, A number of former—and future—NBA stars all learned the ancient spells needed to spin a ball on a finger while playing for the Stampede, who won the D-League championship in 2008 and broke the league's record for scoring in a game with a 165-point offensive onslaught on March 31, 2010.
233 S Capitol Blvd.
Boise
Idaho
208-388-4667
There is no typical climb at Urban Ascent. With the help of a belaying partner to safeguard their ropes, visitors can scale up to 43 feet of weathered rockface on endurance climbs, or they can stick closer to the ground in the ropes-free bouldering area. Urban Ascent's team challenges climbers by regularly revamping the 14,000-square-foot gym's routes, rearranging footholds and installing pop-out boxing-glove gags to add an element of unpredictability to climbs. During private climbing lessons, instructors fine-tune veteran climbers' techniques or teach newbies basic fundamentals. The staff also imparts climbing-safety basics to first-time belayers in 20-minute tutorials. Urban Ascent hosts summer camps, afterschool climbing activities for students, and corporate team-building workshops.
308 S 25th St.
Boise
Idaho
Founded in 1970 by Tom Cade, a former professor of Ornithology at Cornell University, The Peregrine Fund's World Center for Birds of Prey is a non-profit that strives to save birds of prey from extinction. Their efforts began nearly 40 years ago, when trying to save the Peregrine Falcon, which was eventually removed from the Endangered Species list in 1999. Today, at their 580-acre headquarter campus in Boise, Idaho, they focus on captive breeding of California Condors and Aplomado Falcons for the purposes of preservation.
5668 W Flying Hawk Ln.
Boise
Idaho
At Shankz Glo-Par-Tee, larger-than-life dinosaurs, sea creatures, and volcanoes glow under black lights as guests play through 18 holes of miniature golf in the 6,000-square-foot facility. It can take about 30–40 minutes for players aged 3 and older to travel through the course's glowing jungles, underwater worlds, and prehistoric locales, and even longer when they're sporting Shankz's ChromaDepth 3-D glasses, which inhibit the wearers' ability to perceive the fourth dimension. In addition to mini golf, Shankz Glo-Par-Tee features a glowing arcade and themed party rooms where patrons can host birthday parties or private events.
82 E Fairview Ave.
Meridian
Idaho
208-888-2760
---