Things to Do in Clayton
---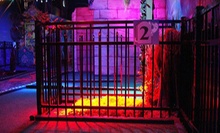 Graveyard-themed mini-golf holes wind through gothic architecture, crypts, and skeletons peppered across indoor course
Use Wednesday 2:00pm - 9:00pm
---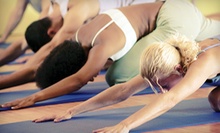 Gentle poses connected at slower pace help students of all levels learn yoga or rehabilitate body after injury or surgery
Use Wednesday 7:00am - 10:00am
---
Recommended Things to Do by Groupon Customers
---
The Walnut Creek Downtown Business Association fosters community engagement and the vitality of local merchants through a variety of programs, events, and general support. Popular events held throughout the year include wine walks, sidewalk sales, and fine-arts festivals.
1275 Broadway Plaza
Walnut Creek
California
925-933-6778
Imagine Affairs revitalizes the classic murder-mystery template with current-day touches: Scenarios reference the modern nightclub in which the audience and actors gather, and cases are cracked by CSI-style cops, not Holmesian detectives or omniscient robots. Meanwhile, the actors leaven the dire situation with doses of improv comedy and audience interaction, which lets guests become as entangled in plot twists as they want.
512 Blackhawk Club Dr.
Blackhawk
California
All across California, Western Bowling Proprietors Association sends pins scattering at a network of bowling alleys, each with its own personality. In addition to open bowl on automatically scored lanes, many locations host special events that heighten the experience with enhancements such as vibrant lights, lively music, and laser systems that do double duty protecting the alleys' diamond collections. The alleys also house refreshment facilities, pro shops, and diversions that range from arcade games to billiards.
5000 Balfour Rd.
Brentwood
California
925-516-1221
Color Me Mine puts paintbrushes and pottery in the mitts of customers old and young. Budding Toyozo Arakawas will follow six easy steps to craft beautifully painted ceramics, first choosing a ceramic piece (most cost between $12 and $70) from Color Me Mine's selection of hundreds of seasonally changing items. After charting out the desired design from individual imagination or Color Me Mine's idea gallery, painters will select an underglaze from a cast of more than 50 colors, then apply paint with the focus of a peregrine falcon occupied by a Rockwellian spirit. Color Me Mine handles all kiln-firing work, allowing clients to take home their final products within three to five days.
3541 Mt. Diablo Blvd.
Lafayette
California
The next time you're on the roof of a five-story building, look down at the ground, and you'll get a rough idea of just how high people climb at Touchstone Climbing. The gym's seven locations feature lead walls that rise as high as 50 feet off the ground, though height isn't the only dimension that makes the space feel immense. Each spot has at least 11,000 square feet of climbing terrain, not to mention as much as 3,000 square feet of bouldering.
To prevent newcomers from feeling intimidated by the magnitude of the environment, the gym holds introductory classes. During these sessions, participants learn the basic techniques they'll need if they want to conquer the gym's crack systems and boulder problems. The classes are also an opportunity for students to scope out the terrain features at each location, such as Diablo Rock Gym's steep prow, which juts out crookedly like a thumbs up from a dizzy ballerina. While they're at it, the visitors might notice something else: the social nature of the gym. As the San Francisco Chronicle recounts, the fact that lead climbs require two people means that climbers are constantly asking around for new partners and chatting back and forth as they ascend.
Each location also boasts a weight room, cardio machines, and a studio space for everything from yoga to spinning to core classes.
1220 Diamond Way, Suite 140
Concord
California
925-602-1000
Weathered stone walls envelop an old country road. In the distance, rolling hills streaked with ranks of wine grapes—some originally planted more than 100 years ago—spread into the horizon. The independently operated Livermore Wine Carriage invites guests to explore these verdant surroundings while seated in a crimson carriage, a fitting mode of transportation for the rustic expanses.
A scottish clydesdale horse leads the carriage to area wineries, making stops at Concannon Vineyard, Wente Vineyards, or Steven Kent Winery, among other favorites. Staffers greet participants at each winery for wine tastings and tours of the brick, wood, and ivy-draped estate buildings. In warmer seasons, passengers cruise with the carriage top down, and in colder months, drivers erect a curtained cabin and decorate its frame in twinkling white lights.
18015 Bollinger Canyon Rd.
San Ramon
California
---