Things to Do in Concord
---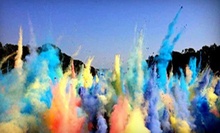 Racers run through zones where volunteers cheerfully toss colored powder through the air, adding fun to the 5K experience
---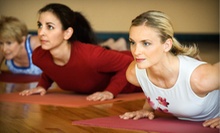 Two-month membership offers unlimited MaxXxfit classes, tanning, childcare, and more at world-renown fitness establishment
---
Recommended Things to Do by Groupon Customers
---
CarolinaNightlife.com is a guide to the region's hottest clubs, restaurants, and bars. The party resource provides useful information as to which spots are the most popular on a given night, and they also include hours, directions, specials, and onsite photo albums so prospective attendees can check out the crowd. The page teems with recommendations on where to go and what to do, with activities that range from speed dating and live music to ping-pong tournaments and Victoria's Secret Fashion Show viewings.
9005-2 JM Keynes Dr.
Charlotte
North Carolina
At Our Paintin' Place, bouquets of paintbrushes, a palate of bright paints, and a crafty staff inspire customers to bedeck vases, mugs, and decorative ceramics in fire-glazed designs. Prior to painting, artists browse blank ceramics, ranging from functional chopstick holders ($4) to a plethora of decorative items such as a miniature owl ($14), cocktail-party plate ($18), or a figurine of Rutherford B. Hayes' beard. Pottery Picassos get full access to the studio, including supplies, inspiring samples, stencils, tracing paper, and stamps. After four or five days, painters can collect their pieces, fired and glazed to a professional gloss.
9325 Center Lake Dr. , Suite 160
Charlotte
North Carolina
The theater's production of Smoke on the Mountain is set during a Saturday night in 1938 in Mount Pleasant, NC. The story involves Reverend Oglethorpe, who has invited the Sanders Family Singers for an evening of uplifting song. More than two-dozen songs and several hilarious stories will provide an entertaining show that will put a collective grin across your family's face. Amid a cozy, inviting atmosphere, attendees will be able to experience dazzling displays of song and dramatization.
501 Queens Rd.
Charlotte
North Carolina
Inspiration can be found in many places—at Café Elie, it frequently nestles at the bottom of a mug. Part coffeehouse, part art studio, and part home for wine lovers, the café welcomes budding artists and watercolor aficionados alike to classes aimed at students of all skill levels. While practicing upon canvases, patrons whet their whistles with the studio's caffeinated offerings or sip on wines they supply themselves.
The café's owner, accomplished artist Elie Bou Zeidan, leads students through the finer points of acrylic and oil painting, imparting knowledge he's gained through his studies and travels throughout the United States and France. Zeidan regularly displays his artwork alongside that of his students, easily viewed in monthly wine tastings, regular exhibitions, and by squinting really hard through the window.
20700 N Main St., Suite 110
Cornelius
North Carolina
704-728-5554
Bigtime Moonbounce's inflatable jumpers resemble racecars, birthday cakes, and castles, and give youngsters ample hopping room to release pent-up energy. Or they can try out a combo bouncer–modeled after castles, balloons, and basketball courts–to jump and then race down a safe and colorful slide. Obstacle courses offer more opportunities for competition as kids navigate their way through an inflatable train or hustle through a giant car. In addition, Bigtime Moonbounce enhances parties with croquet equipment, rope for a tug of war, and empty sacks for potato-sack races that don't require a raw potato-eating contest beforehand. After a long day of jumping and gaming, guests can reenergize with a snack from one of Bigtime Moonbounce's cotton candy, popcorn, or snow-cone machines, which are available for rent.
7939 Heatherstone Dr.
Harrisburg
North Carolina
US
704-808-0158
The instructors at Open Water Adventures reach out to swimmers of all levels with watery exploration from kids' swimming classes to international scuba-diving trips. Alongside a dive-simulator pool for scuba students, the indoor heated pool hosts swim lessons in lanes along a 2-foot ledge for younger swimmers. Through it all, the experienced instructors—inspired by the likes of Jacques Cousteau and their childhood rubber duckies—impart tips on managing scuba equipment or doing the backstroke. The year-round swimming lessons educate youngsters of all abilities aged 3–12, drawing from the Swim Schools International program's standardized teachings, which focus on water safety and proper technique. After taking a dip, swimmers can scurry to club-style bathrooms with lockers and showers, or head to the onsite shop that sells gear from swim caps to guaranteed scuba equipment.
12210 US Hwy. 29 N
Charlotte
North Carolina
980-272-7946
---