Things to Do in Dallas
---
---
Dallas Things To Do Guide
If any city is out to prove that, "everything's bigger in Texas", its certainly Dallas. Aside from being the nation's largest metropolitan area without a navigable body of water, its home to the country's tallest indoor Christmas tree and its largest model train exhibit. The city also boasts the largest urban artists district in the United States, and, when completed, its
Trinity River Corridor Project
––a network of wildlife habitats, parks, lakes, and trails––will be 10 times larger than New York's Central Park. And while he's currently being restored after a 2012 fire, no guide to Dallas would be complete without mentioning Big Tex. At 52 feet tall, he's the world's tallest cowboy and the official greeter of the Texas State Fair. Of course, not every thing in Dallas is valued for its square footage alone; the city boasts a multitude of attractions both large and small, ensuring you'll find no shortage of things to do. Historic Main Street connects many of the city's recently rejuvenated urban districts, as well as the popular
Main Street Garden
, a block-long public park surrounded by architecturally significant buildings. Locals come here to picnic on the expansive lawn or watch a movie under the moonlight in the summer and fall. Also on Main Street, visitors will find the country's first
Neiman Marcus
store, its massive, traditional façade housing six stories of fashion's trendiest items. Locals love to shop, and they have more to choose from than just couture. At
Wild Bill's Western Store
, for one, patrons sip cold beer as they peruse the selection of tees, cowboy hats, and, of course, cowboy boots. A short walk from downtown Dallas, horse-drawn carriages clop along brick streets in the city's historic
West End district
, which dates back to the 19th century. This part of the city also contains Dealey Plaza. At
The Sixth Floor Museum at Dealey Plaza
housed in the former Texas School Book Depository, you can visit the spot where Lee Harvey Oswald is believed to have shot at JFK's presidential motorcade, along with a number of exhibits commemorating the life of John F. Kennedy. About 4 miles west of downtown, joggers and bikers can zip through the fashionable Turtle Creek neighborhood via the
Katy Trail
, which follows an old interstate railroad. Back near the city's epicenter, the 277-acre
Fair Park
is the location of North America's largest Ferris wheel, seven museums, and four performing-arts centers, many of which are housed inside art-deco buildings built for the 1936 Texas Centennial Exposition.
Whether someone is planning a night out with friends or a day with the family, there is plenty of stuff to do in Dallas.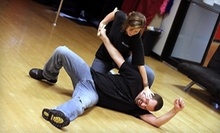 Use Friday 3:00pm - 6:00pm
---
Recommended Things to Do by Groupon Customers
---
For 35 years, Valerie Compton has dipped her toes into every aspect of fitness. She followed up her experience in track and field and tennis by building her career as a personal trainer, and she later branched out into Power Pilates, Spinning, and nutrition. When she designed BarreFusion in 2006, she struck upon the latest trend in fitness. Today, Valerie surrounds herself with instructors who channel their experience as classical dancers, gymnastics, and triathletes to lead rigorous barre classes.
Valerie starts her instruction with a BarreLite class that introduces newcomers to the proper forms and techniques to master fundamentals. From there, she encourages students to test out a number of other classes. The popular BarreFusion class combines Pilates, yoga, ballet, and light weights to sculpt legs and cores. She also offers Spinning classes that challenge students with a high-energy, aerobic workout that mimics cycling in front of stampeding wildebeests.
2400 North Haskell Avenue
Dallas
Texas
US
214-502-4696
The Septien Entertainment Group excels at professional singer/songwriter development and training.
2015 Midway Rd., Suite 107
Carrollton
Texas
US
Painting with a Twist pairs instructional art with friends, wine and a lively instructor to produce individual works of art.
5202 W Lovers Ln.
Dallas
Texas
We teach Argentine Tango classes to people of all skill levels.
6211 W Northwest Hwy., Suite C120
Dallas
Texas
214-507-1071
Kittrell/Riffkind Art Glass has offered customers an opportunity to peruse an ever-changing selection of artwork since 1990. Sculptures, goblets, jewelry, scent bottles, paperweights, platters, wall art, and an array of trinkets line the gallery's art-filled abode. One-of-a-kind handcrafted works from many talented artists are available for purchase. Their friendly staff will help you select the perfect item and even pack it safely for you to take home or ship. Check out a blue cosmo perfume bottle ($48), a striking fish paperweight (starting at $75), or colorful tumbler ($36). Or pick up a beautiful vase ($65) to store your glass bananas and hand-blown daisies. Exhibits change every 4–6 weeks, so there's always something new to see. You have the option to either visit the gallery with Groupon in hand or browse online and phone your order in.
5100 Beltline Rd , #820
Dallas
Texas
The sight of children playing with mounds of broken glass is not uncommon at Smashing Times studio. That's because each shard of tile, china, or glass has been tumbled to remove any sharp edges before the young ones transform them into multicolored mosaics. All of the shards, arranged by type and color like pieces of a yet-to-be-discovered puzzle, present themselves for collages of all sorts, including interactive glass-fusing projects.
When not helping artists create their own silver jewelry, glass pendants, or mosaic mirrors, the artists at Smashing Times create custom installations. Ranging from massive exterior murals to miniature mosaic lamps, the projects adorn ordinary surfaces with pinpricks of color, stylized to create geometric patterns or a grove of deceptively inedible citrus trees and grapevines.
308 Preston Royal Shopping Ctr.
Dallas
Texas
214-363-2088
---