Things to Do in Dana Point
---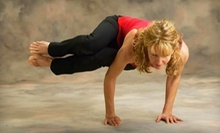 Practiced yogis elucidate breathing exercises, meditations & various yoga styles while students pursue joy, health & inner peace
Use Monday 12:00am - 7:30am
---
Recommended Things to Do by Groupon Customers
---
Blaine Eastcott's love of the outdoors is rooted in fond childhood memories of family camping trips. On one such trip, Blaine's teenage self impulsively climbed a 100-foot rock only to soon find himself struck by panic high up on the rock face. He was paralyzed by fear, until a surge of adrenaline gave him the courage needed to scramble the final 10 feet up. This ordeal spurred him to take rock-climbing classes—and eventually led to his current position as the president of Rockreation. His three adrenaline-inducing arenas challenge climbers of all skill levels with more than 28,500 total square feet of climbing terrain, composed of jagged cliffs, bouldering nooks, and craggy archways. The faux-mountain range mimics the conditions of real rocks with indentions, overhangs, and eagle's nests.
The gyms devote one-third of their space to a bouldering area, which blends into a top-rope course fraught with varying angles, and a large lead area with an overhanging arch. Across these angles, passionate instructors with extensive outdoors experience—and a background in conversational mountain goat—guide students through the Fight Gravity program. The three-class series focuses on belaying basics, and progresses through technique instruction and bouldering. They also lead seasonal kids' camps where tiny humans can explore the routes, or plunge on a big swing and zipline. The gyms also have a separate area with machines, traditional weights, and cardio equipment for members who want to not only climb rocks, but also lift heavy ones above their heads.
1300 Logan Ave.
Costa Mesa
California
714-556-7625
House of Pilates' mat classes, conducted with nothing but a polished floor, a mat, and a lot of super-motivating eye contact, are currently available ten times a week in its airy Irvine studio. These introductory classes encompass the basics of Pilates, lay the foundation for lifelong strength, and prepare you for more advanced machine and resistance work. Because House of Pilates is the only classical Pilates certification center in Orange County, all of House of Pilates' instructors are rigorously trained in effective instruction methods and are attentive to the individual needs of their clients. House of Pilates' staff follow the doctrines of Power Pilates and place increased emphasis on discipline and rigorous work while sculpting a powerful core that's immune to injury and thermonuclear flab explosions.
6246 Irvine Blvd.
Irvine
California
Though they met through the RV business, Jim Headley and Dick Burke bonded over their excitement for a different mode of transportation. They opened Segway Orange County in 2004, and have since been matching customers with Segway i2 and Segway i180 models. Their shop hosts orientations for new owners, bringing Segway representatives in to coach attendees on the machine's operation and safety features before their first ride. The training also kicks off each of Segway Orange County's guided tours, which whisk visitors on 60- to 90-minute jaunts through Newport Pier or the Balboa Peninsula. Riding atop their Segway PT, patrons glide past sweeping views of the Pacific Ocean, beachfront homes, and boardwalk highlights such as the lone wizard who controls the tides with a series of pulleys.
611 E Balboa Blvd.
Newport Beach
California
949-723-1722
Dance Asylum's name takes on a different meaning in each class—though the smooth, graceful movements of a foxtrot or a waltz can act as a sort of refuge from the outside world, the pulsating beats that fuel salsa and rumba classes can just as easily send dancers into fits of frenzy. With more than a dozen styles to choose from, students will have their hands full and their feet darting in all directions as they navigate a schedule that includes classes in the hustle, samba, two-step, and other dances gathered from ballrooms and nightclubs around the world.
Though classes may change according to contemporary trends—jazz, express pole dancing, and even aerial arts are some of the current offerings—the studio's one constant is a staff comprised of professionally trained dancers with certifications and years of experience. These instructors rely on positive reinforcement during private and group lessons, boosting self-esteem by teaming up dancers of similar levels and forcing students to kiss their own reflections in the studio's wall-length mirror. Once students' confidence reaches its peak, they can glide next door to the dancewear boutique and suit up in a brand-new tutu or feathery skirt.
2777 Bristol St., Suite D
Costa Mesa
California
714-549-0622
Modest Spot Salon is a full-service salon that hosts an atmosphere framed by vintage chic decor. Stylists offer a variety of services that include cuts, color treatments, highlights, and conditioning. The salon also hosts a makeup and styling bar where groups can enjoy blow-drying and makeup application in the evening.
156 Avenida Serra, Suite A
San Clemente
California
---