Things to Do in Danvers
---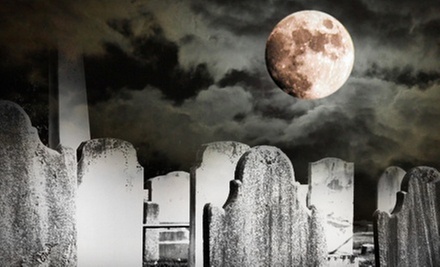 ---
Recommended Things to Do by Groupon Customers
---
Hunter's Haven Farm sprawls across multiple acres of verdant farmland in Groveland, fostering a bucolic atmosphere dedicated to teaching equestrian riding techniques in lessons for riders 8 and older. The center's two horse whisperers call upon three decades of training and riding experience to coach students in the center's dual riding modalities, hunt seat and dressage. Hunt seat displays the horse's prowess while running flat or jumping over small hurdles, and dressage showcases the horse's natural impulses, whether running freely with a rider or stopping to vote "neigh" on a potential future of donkey riding. The farm's facilities encompass an indoor arena, cross-country fences, and a galloping track. Students can also guide their steeds around a lit outdoor ring or practice circuits around the onsite dressage ring during private or group sessions. Children can experience guided pony rides and natural interactions with ponies, goats, pigs, and a philosophical saddle at Hunter's Haven Farm's petting zoo.
104 King St.
Groveland
Massachusetts
978-373-1300
At Action Games Paintball, players streak across 80 acres comprising six woodsball fields speckled with forts, towers, bridges, and bunkers. After playing one of 10 themed games such as capture the flag or attack and defend, they post up against a towering tree or at a picnic table and dig into a complimentary, all-you-can-eat barbecue lunch.
1079 South St.
Tewksbury
Massachusetts
781-942-9222
At the head of Stage Hill Polo, owner and instructor Peter Poor—who has been featured in The Boston Globe—draws on more than 50 years of polo experience to teach the game to students of all skill levels. After guiding students to their provided horses and mallets, Poor teaches his students all about polo strategies and the game's terms and phrases, such as "chukkers," "bumps," and "that's a football." He holds lessons in a small paddock so that riders can learn the sport in a low-intensity atmosphere. Poor welcomes all skill levels and oversees friendly scrimmages during which students can put their newly acquired skills to the test.
42 Low St.
Newbury
Massachusetts
978-463-8668
The working cornfield at Marini Farm embraces the festive spirit of autumn by wearing a different mask each Halloween season. The corn maze has featured farm-themed shapes, a giant bald eagle, and a pirate design that was featured in the Wicked Local Ipswich in 2010. This year the 10-acre field is sliced into an outline of planet Earth, an astronaut, and a spaceship thought to occupy Buzz Aldrin's secret collection of pet Martians. The maize maze is designed to be both educational and interactive, with about 20 clue stations strategically placed throughout the labyrinth to help adventurers conquer the nearly 10 miles of paths. The maze is open during the day and remains open Friday and Saturday night for flashlight-lead escapades.
The smaller, less complex Finger Fortune maze delights younger adventurers, as do the apple cannon, jumping pillow, pumpkin patch, hayride wagon, and separate play area. For parents or guests staging a corn coup, the third-generation farm serves up a cornucopia of fresh veggies, bakery treats, and plants for purchase or for hurling at scarecrows creepily staring at them in the distance.
259 Linebrook Rd
Ipswich
Massachusetts
With 35 years of golf experience and as a shoo-in for Golf Digest's Best Teachers in the State list five years running, Rick DePamphilis brings a bounty of stroke-shaving wisdom to each lesson he conducts as a part of his player-development program, NexLevel Golf. Whether students are greenhorns or green-jacket holders, the PGA master professional tailors his instruction to the player's individual needs, ranging from small tweaks in course-management strategy to deciding which end of the club to grip.
Private lessons help a player improve his or her number of fairways hit in regulation, short-game play around the greens, and shot selection. V1 Pro cameras analyze the student's swing for later reflection on mechanics and tendencies, such as swing-plane angle or ending the follow-through with a pirouette. Rick also takes stock of the player's arsenal of equipment and makes recommendations based on their skills and style of play. Lessons take place at either Paradise Driving Range in Middleton or Groveland Fairways in Groveland.
427 Walnut St.
Lynnfield
Massachusetts
781-334-2877
Within both MetroRock locations, visitors ascend via bouldering walls and rope-climbing walls or take to aerobic exercise machines and fitness equipment to build strength. With this setup available to climbers of all skill levels, the founders of the climbing arenas achieved their goal of creating a community where scalers can congregate, share their passions, and hone their climbing skills.
During indoor and outdoor classes, instructors create lessons that help each climber reach their goals. Indoor courses help instill students with basic climbing skills, rescue techniques, or the brute strength needed for bouldering or to intimidate mountains out of their lunch money. Outdoors, American Mountain Guide Association and Single Pitch–certified instructors teach alpinists skills that include how to secure top-rope anchors and how to climb ice or scale for sport. The centers' founders and their teams also organize climbing-centric programming that includes youth climbing teams and team-building events that challenge groups while forming bonds.
40 Parker St
Newburyport
Massachusetts
US
978-499-7625
---