Greensboro Health and Fitness
---
---
Greensboro Health And Fitness Guide
When it comes to losing weight and promoting overall health and well-being, Greensboro fitness centers can help people reach their goals. Whether a person is looking to sweat away the weight the old fashioned way or work closely with a medical professional on the journey, there are facilities conveniently located around the city to help people in a variety of ways.
Weight loss doesn't come easy and, for many people, it is can be a long process. Working with a personal trainer can help people get on the right path and stay there. At Fitness Together in Greensboro, people can work one-on-one with their personal trainers to reach their goals. Fitness Together members work with certified trainers on top-of-the-line equipment in the workout suite to ensure that every exercise performed counts. Those who don't need as much personalized attention might find their place in a larger gym like Greensboro's Rush Fitness Complex. The 43,000 square foot facility has several rows of cardio equipment, free weights, and kettlebells which are all color-coded for easy use. With several classes, events, and services to choose from at Rush Fitness, members can transform their bodies in no time.
Sometimes in order to achieve these goals people need the help of Greensboro doctors and medical professionals. Doctors can make recommendations for a person's overall health and monitor weight loss progress. Sona MedSpa is a facility in Greensboro that helps people adjust their bodies after a major weight loss. Body contouring helps reshape the body so that people are sure to look as good as they feel. No matter what stage of weight loss a person is in, there are many health and fitness centers in Greensboro to ensure that everyone can cross the finish line and reach their goals when losing weight.
Those who don't need as much personalized attention might find their place in a larger gym like Greensboro's Rush Fitness Complex.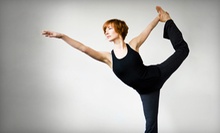 Use Thursday 5:30pm - 7:30pm
---
Recommended Health & Fitness by Groupon Customers
---
Jazzercise, a funk-fueled, head-to-toe regimen, sculpts muscles, boosts energy, and sheds pounds during 60 minutes of cardio, strength training, and stretching. It incorporates moves from hip-hop, yoga, Pilates, jazz dance, kickboxing, and resistance training with handheld weights. Class formats vary too, including special Jazzercises geared to sculpt your bod or literally make you slightly better at saxophone playing. As for the ittie-ditties, childcare is available during select times at many locations.
4112-A Spring Garden St.
Greensboro
North Carolina
Host of the PGA's Wyndham Championship from 1977 to 2007, Forest Oaks Country Club's private course incorporates natural elements such as looming trees and severely sloping hills with manmade sand traps and water obstacles, challenging beginning and experienced golfers alike. Opened in 1962, the terrain was renovated in 2002 after the renowned Love Golf Design group reached out to professional golfers to find out what makes an ideal course. The main improvement, helmed by Davis Love III, was the resprigging of the fairway with bermuda grass, a strain of turf that can handle extreme temperature changes, and a redesign of the new greens. The course was featured on the PGA for over 30 years, and was enjoyed by Davis Love III as well as Rocco Mediate and many other professionals. While the golf course is the main attraction, the club also houses a pro shop, a 25-yard professional-size swimming pool, tennis courts, and a restaurant.
4600 Forest Oaks Dr.
Greensboro
North Carolina
Motivations Fitness's owner, Jameel McGregor, has earned the nickname the Reverend of Fitness for his view of the body as a temple. He and his team of certified professionals deliver their fitness sermons at a 700-square-foot studio outfitted with colorful stability balls, punching bags, and equipment such as the Smith machine, which encourages proper squat form. The studio's signature five-component program—a cocktail of cardio and resistance training, supplements, meal planning, and professional guidance—draws on the latest fitness research to efficiently condition physiques. The Boxing Fitness Bootcamp Academy hones fighting prowess with core training, shadowboxing, and sparring rounds with a couple life-size Rock 'Em Sock 'Em Robots. In an effort to bolster public health, the gym's nonprofit Move2Lose Foundation raises awareness of fitness's importance in the surrounding community.
201 N Elm St
Greensboro
North Carolina
336-708-6973
From their home base at Deep River Golf Range, PGA-certified instructors Scott Duerscherl and Riley Kurtz help students along the path to lower golf scores. The teachers adhere to an overarching philosophy that there is no single perfect swing that works for every player. Instead, they tweak an individual's natural mechanics to create a comfortable swing that can be repeated even when hitting from difficult lies such as hillside dirt or camouflaged snares. During lessons with either Scott or Riley, students focus on the fundamentals of making proper contact with the ground in relation to the ball and controlling the ball's flight path. Casio high-speed cameras capture each cut for analysis with SwingView Pro software, which can spot swing-inhibiting problems such as backswing hitches and straitjacket polo shirts. On days when inclement weather prevents practice on the range, players can head to the indoor teaching area, complete with a sheltered putting green.
2835 NC 68 S
High Point
North Carolina
336-841-6939
Brett Ray has an impressive fitness resume: under certifications he lists boot camp instructor and personal trainer, his work experience includes his time as a competitive body builder, and his achievements boast of his martial arts skills. Needless to say, he's fully qualified to oversee the operations of Greensboro Adventure Boot Camp for Women. He devises workouts that blend strength training with proper nutrition and motivational support. Meeting at various locations, Ray's workouts sweat through exercises that range from sport yoga and strength training to fitness kickboxing, obstacle courses, Pilates, sport drills, and short distance running.
406 Boxwood Dr.
Greensboro
North Carolina
In a no-fluff gym filled with steel training bars, plywood walls, and black free weights, personal trainers and exercisers work side by side to forge paths to fitness. Jeremy McKenzie, the gym's training coordinator, emboldens his students to chase down their fitness goals by drafting a personalized blueprint. For group classes, staffers pull from a playbook of CrossFit exercise regimens designed to prepare police officers, military special-operations units, and washed-up prop comedians for hostile environments. Traditional training methods mix with Olympic-style weightlifting and kettlebell lifts to build muscle and burn calories. Trainers and their pet kangaroos step into the ring to teach boxing, sparring, and kickboxing basics.
2640 Willard Dairy Rd., Suite 108
High Point
North Carolina
336-327-7579
---