Things to Do in Lakeway
---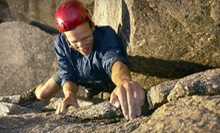 Experienced guides supply harnesses, helmets, shoes, and hardware before demonstrating the basics and leading three to eight climbs
---
Recommended Things to Do by Groupon Customers
---
When photographed just right, the bend of a wrought-iron beam or the curve of a stalk of wheat can look just like a letter of the alphabet. This creative observation captured the attention of photographer Crystal Copeland––a graduate of the New York Institute of Photography––who became inspired to seek out more outdoor features that could double as letters. With the help of her business-savvy husband, Lee, Copeland strung these letters into words and began selling them at an online store—Frame The Alphabet.
The site's interactive letter bank houses a vast collection of Crystal's photos, which can be used to spell out names and words. You may wish to work in visual thematics, crafting names entirely out of sports images for the family athlete or creating an ironic counterpoint to words such as nature with images of city signs, industrial faucets, and spinning cogs. The selected word is then encased within a brown or black frame made from real pinewood or printed onto a single, wooden gallery block, which comes ready to hang. The signature-board option further customizes the piece with a blank matte board and an 8"x10" space where you can insert a personal picture.
600 Congress Ave., Suite 6-270
Austin
Texas
In 1969, Howard Barnett drove past Town Lake and immediately became enamored with its idyllic, tree-lined banks. With the image of the lake's picturesque scenery still in his mind, the avid outdoorsman decided to open a nearby canoe-rental shop, finding a spot hidden from the road and only steps away from a creek that fed into the lake. With full support from his family, Howard manned the shop in between his shifts for the Texas Parks & Wildlife Department. Today, the Barnetts continue to run Zilker Park Boat Rentals, and Town Lake has since been renamed Lady Bird Lake. The shop now harbors more than 100 rental canoes and kayaks, as well as Ocean Kayak standup paddleboards. While renters embark on outings, their vessels glide them under pendulant branches, the bridge at Barton Springs Road, and past turtles racing to beat their best time for the 100-meter dash.
2100 Barton Springs Road
Austin
Texas
US
The Austin Lyric Opera provides noteworthy performances under the careful guidance of renowned American conductor Richard Buckley. Join him and a wide range of potent pipes for an evening of airport-bound drama.
701 W Riverside Dr.
Austin
Texas
To avoid last year's embarrassment of inventing modern art 90 years after the fact, it might do you good to visit an art museum and see what art movements already exist. Marvel and muse among the aesthetically astute with today's Groupon: for $30, you'll get a yearlong household membership to both locations of the Austin Museum of Art. Benefits include:
823 Congress Ave.
Austin
Texas
US
Gain insight into the new year and ask burning questions about your future in the present. With today's side deal, $78 gets you at least an hour of intuitive consulting with Lois ($130 value). Unlike standard crystal-ball types who bombard you with frightful forecasts, Lois takes time to address issues, helping clients work through romantic road blocks, career confusion, and other mind clutter that occurs when someone reaches life crossroads.
1815 Dywer Ave.
Austin
Texas
US
Bring in your sketches, napkin doodles, dream journal, or alien-induced mashed-potato sculptures, and Under Pressure's friendly, patient staff will help tease out and refine your idea with a complimentary 30-minute consultation. Under Pressure also keeps a host of its own compositions in case your mind experiences T-shirter's block. Once you've settled on your masterful motif, Under Pressure will whip up a screen and imprint your righteous art onto it using non-toxic, environmentally friendly ink. The resulting design is softer and more sumptuous than a traditional T-shirt screen-print. You'll emerge from Under Pressure with a garment that impresses your friends with your expansive '80s sitcom knowledge or seduces your Valentine with an epic pink narwhal—among other unironically ironic uses.
505 W Mary St.
Austin
Texas
---