Things to Do in Lakeway
---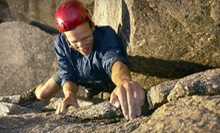 Experienced guides supply harnesses, helmets, shoes, and hardware before demonstrating the basics and leading three to eight climbs
---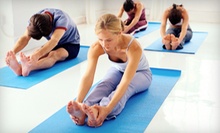 Students train under instructors in Hot Power Fusion, Power Vinyasa Flow, Restorative Bliss, and dumbbell-enhanced Yoga Sculpt classes
---
Recommended Things to Do by Groupon Customers
---
Terrain changes fast in Hill Country. The landscapes on Texas Paintball's 40 acres, for example, transform from flat, open fields to foothills to wooded valleys. This dynamic terrain naturally lends itself to a variety of playing scenarios, which the owners capitalize on with nine fields such as requisite air-ball and hyperball fields and custom-designed wooded grounds with names such as Normandy and Trenches. Texas Paintball also has more fields in the works, including an upcoming saw-mill field where players can stalk stacks of timber while battling to control a two-story mill.
On these fields, crews divide up players according to experience level for a variety of games, from classics such as Capture the Flag to creative scenarios such as Protect the President, where one team escorts an unarmed player to a safe zone while the other attacks and yells false Gallup Poll numbers. Props, including a Huey helicopter, 1920's ambulance, deuce and a half, cars, trucks, and various boats, scatter themselves across a 10,000-sq.-ft. turf field. The knowledgeable staff also caters to players' ability levels by renting an array of markers, from the basic Tippmann Pro-Lite to the A-5 Flatline, one of the farthest-shooting models on the market.
Off the fields, Texas Paintball encompasses amenities including dressing rooms, a concession stand, a picnic area with two barbecue pits for players who bring their own food, and a pro shop.
18300 Medina Vista Ln.
Jonestown
Texas
512-257-8728
Wazoo's 15,000-square-foot facility invites kids 13 and younger to let their imaginations loose while playing on eight inflatable attractions. The sound of laughter emanates from the bouncy castles, fills obstacle courses, and silences the pleas of candy-filled animals in the piñata zone. Towering over the facility, a 24-foot slide harnesses the power of gravity to create kid-friendly thrills. Elsewhere, the aptly named Toddler Town boasts age-appropriate toys and inflatables that let younger ones in on the fun. Wazoo's other features include a concession stand and big-screen TVs that keep parents up to date on the political climate of nearby bouncy castles.
8816 Cullen Ln.
Austin
Texas
512-282-5867
When photographed just right, the bend of a wrought-iron beam or the curve of a stalk of wheat can look just like a letter of the alphabet. This creative observation captured the attention of photographer Crystal Copeland––a graduate of the New York Institute of Photography––who became inspired to seek out more outdoor features that could double as letters. With the help of her business-savvy husband, Lee, Copeland strung these letters into words and began selling them at an online store—Frame The Alphabet.
The site's interactive letter bank houses a vast collection of Crystal's photos, which can be used to spell out names and words. You may wish to work in visual thematics, crafting names entirely out of sports images for the family athlete or creating an ironic counterpoint to words such as nature with images of city signs, industrial faucets, and spinning cogs. The selected word is then encased within a brown or black frame made from real pinewood or printed onto a single, wooden gallery block, which comes ready to hang. The signature-board option further customizes the piece with a blank matte board and an 8"x10" space where you can insert a personal picture.
600 Congress Ave., Suite 6-270
Austin
Texas
In 1969, Howard Barnett drove past Town Lake and immediately became enamored with its idyllic, tree-lined banks. With the image of the lake's picturesque scenery still in his mind, the avid outdoorsman decided to open a nearby canoe-rental shop, finding a spot hidden from the road and only steps away from a creek that fed into the lake. With full support from his family, Howard manned the shop in between his shifts for the Texas Parks & Wildlife Department. Today, the Barnetts continue to run Zilker Park Boat Rentals, and Town Lake has since been renamed Lady Bird Lake. The shop now harbors more than 100 rental canoes and kayaks, as well as Ocean Kayak standup paddleboards. While renters embark on outings, their vessels glide them under pendulant branches, the bridge at Barton Springs Road, and past turtles racing to beat their best time for the 100-meter dash.
2100 Barton Springs Road
Austin
Texas
US
The Austin Lyric Opera provides noteworthy performances under the careful guidance of renowned American conductor Richard Buckley. Join him and a wide range of potent pipes for an evening of airport-bound drama.
701 W Riverside Dr.
Austin
Texas
To avoid last year's embarrassment of inventing modern art 90 years after the fact, it might do you good to visit an art museum and see what art movements already exist. Marvel and muse among the aesthetically astute with today's Groupon: for $30, you'll get a yearlong household membership to both locations of the Austin Museum of Art. Benefits include:
823 Congress Ave.
Austin
Texas
US
---