Things to Do in Lakeway
---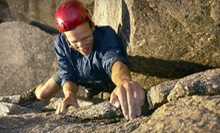 Experienced guides supply harnesses, helmets, shoes, and hardware before demonstrating the basics and leading three to eight climbs
---
Recommended Things to Do by Groupon Customers
---
Working in teams of two, participants straddle either tandem or single-person bikes at the starting line. Together, teams decipher eight clues hidden in riddles and pictures that will lead them to their next destination. By cycling along bike trails in search of photo ops, the Austin Riddle Ride gives competitors a fun reason to explore their city and get outside beyond the reach of their television sets and codependent couches. Taking part in the Riddle Ride gives a spiritual boost beyond the physical benefit as well because profits from the event will go to Stand Up for Kids, a non-profit that organizes outreach programs to help stabilize homeless youths.
1707 Barton Springs Rd., Barton Springs Bike Rental
Austin
Texas
Sky Lanterns are handmade and imported from China, where traditional lanterns have lifted off for centuries and are considered good luck. Packs of pristine lanterns, each about the size of a large beach ball or a 1/100,000-scale model of Jupiter, float peacefully into the sky, propelled by hot air wafting from a small flame within. After about 15 minutes of flight, flames self-extinguish, and the fire-resistant lantern body gently falls and begins to completely biodegrade. Launching Chinese sky lanterns can lend extra pomp and symbolism to events such as memorial services, weddings, and driver's ed class reunions.
600 Congress Ave., Suite G-270
Austin
Texas
The Austin Lyric Opera provides noteworthy performances under the careful guidance of renowned American conductor Richard Buckley. Join him and a wide range of potent pipes for an evening of airport-bound drama.
701 W Riverside Dr.
Austin
Texas
To avoid last year's embarrassment of inventing modern art 90 years after the fact, it might do you good to visit an art museum and see what art movements already exist. Marvel and muse among the aesthetically astute with today's Groupon: for $30, you'll get a yearlong household membership to both locations of the Austin Museum of Art. Benefits include:
823 Congress Ave.
Austin
Texas
US
Gain insight into the new year and ask burning questions about your future in the present. With today's side deal, $78 gets you at least an hour of intuitive consulting with Lois ($130 value). Unlike standard crystal-ball types who bombard you with frightful forecasts, Lois takes time to address issues, helping clients work through romantic road blocks, career confusion, and other mind clutter that occurs when someone reaches life crossroads.
1815 Dywer Ave.
Austin
Texas
US
Bring in your sketches, napkin doodles, dream journal, or alien-induced mashed-potato sculptures, and Under Pressure's friendly, patient staff will help tease out and refine your idea with a complimentary 30-minute consultation. Under Pressure also keeps a host of its own compositions in case your mind experiences T-shirter's block. Once you've settled on your masterful motif, Under Pressure will whip up a screen and imprint your righteous art onto it using non-toxic, environmentally friendly ink. The resulting design is softer and more sumptuous than a traditional T-shirt screen-print. You'll emerge from Under Pressure with a garment that impresses your friends with your expansive '80s sitcom knowledge or seduces your Valentine with an epic pink narwhal—among other unironically ironic uses.
505 W Mary St.
Austin
Texas
---