Things to Do in Monroe
---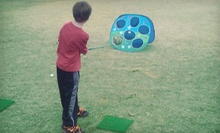 Junior lessons and clinic cover golf topics related to the full swing, short game, etiquette, and safety
---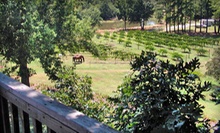 Guides lead tour of winery's inner workings and ply guests with tastes of wine made from local grapes and souvenir glasses to take home
---
Recommended Things to Do by Groupon Customers
---
An affable red-footed tortoise named Confucius and a gentle black rat snake named Oreo greet visitors at Cold Blooded Encounters as founder Sean Amidon, a former reptile handler at Disney's Animal Kingdom, supplies a steady stream of compelling facts. Secluded and multispecies habitats house more than 150 species of amphibians, fish, reptiles, and invertebrates, including fire salamanders, jewel cichlids, Kenyan sand boas, and whip scorpions. Annual memberships grant gift-shop discounts, guest passes, and a family photo posed with an animal. Cold Blooded Encounters also reaches out to school groups from preschools to colleges with effusive educational programs and sends ambassadors to birthday parties, where children can help feed turtles or pose for photos with 8-foot snakes.
3513 W US Highway 74
Monroe
North Carolina
704-649-6296
Motivated by a passion for climbing and an understanding of how the sport enhances both mental and physical strength, the architects of Inner Peaks designed their gym to challenge climbers with 13,000 square feet of continuous, molded climbing walls boasting an altitude of 25 feet. With the addition of 50 rope stations, terrain for every skill level, a bouldering area, and training courses for ages 16 and older, they created a facility that fosters development of the skills needed to climb natural rocks or trim Lincoln's nose hairs on Mount Rushmore. The gym's team of expert climbers is headed by husband and wife owners, Doug Cosby and Page Lee, who both have many years of experience in sport climbing and climbing-gym management under their belts. The passionate staff is always dangling somewhere nearby ready to assist or offer instruction as burgeoning climbers scale an unparalleled lead cave, negotiate three long, aesthetic cracks, and maneuver around arches, roofs, and routes that are altered each week.
9535 Monroe Rd., Suite 170
Charlotte
North Carolina
704-844-6677
Yann Thefaine was dissatisfied with the country-club approach to tennis lessons. After instructing at a local club and witnessing its exorbitant rates, he decided to open the Tennis Academy of North Carolina, a teaching community where reasonably priced instruction would foster a widespread passion for tennis. This was more than a decade ago. Today, Yann, a USPTA-certified Professional 1 instructor, and his talented staff of instructors continue to develop lesson plans that cultivate solid tennis strokes and wallets fuller than the penalty box during a family croquet game. Their expertise adapts to the needs of beginners and advanced tennis players during clinics and private lessons in which coaches hone techniques in a way that benefits individual learning styles.
During cardio-tennis classes, teachers motivate pupils of all skill levels through segments of dynamic stretching and short aerobic exercises to the sound of music. Students sharpen their game and ascend to higher levels of fitness in an encouraging group environment. The same camaraderie flourishes at summer camps for ages 4–14. Divided by age and ability, kids enjoy hours of sporty sparring and instruction as the summer sun bronzes skin. The clinics combine structured drills with live match play, giving pupils time to hone their technique and sharpen their competitive edge.
4330 Weddington Rd.
Matthews
North Carolina
704-340-0013
As an 11-year-old, Jill Hinson lay in a hospital bed and wondered why her hip wouldn't work properly. It was the absence of any diagnosis for her chronic pain that sparked a lifelong fascination with the human body, especially its moving parts and bone that can tell jokes. Years later, Jill occupied herself with performing and training dance, and, as she realized her desire to take on rehabilitative work, sought opportunities to teach those with special needs. It wasn't until after she had given birth to her second child that she found her calling in Pilates—an exercise system that combines the grace of dance with the healing potential of motion.
Today, Jill and her team of instructors occupy the second floor of The English Building in downtown Monroe. They have filled the historic studio—whose exposed brick walls, archway, and complete lack of eccentric billionaire subletters project the vibes of a private loft—with a slew of core-building equipment, from yoga mats to reformer apparatuses. As they lead non-competitive classes, the team members follow the principles of Stott Pilates, which mixes the tenets of modern physical therapy with classic Pilates maneuvers.
218 N Main St.
Monroe
North Carolina
704-288-3898
The sound of feet slapping on the padded ground and little voices twisted by constant motion fill Xtreme Play. Jeff and Julie Austin, owners of the play center, have five children, so they are familiar with the busy chorus. The duo and its staff are also well prepared to keep an eye on youngsters as they bounce from inflatable obstacles or squeal down slides. At a miniature arcade, small hands grab Wii and PlayStation controllers, simulating adventures through castles and the civil-service tests to become a castle inspector. The babble of special events drifts from private party rooms, where pizzas fuel fetes.
2115 W Roosevelt Blvd., Suite 127
Monroe
North Carolina
---