Restaurants in Mount Kisco
---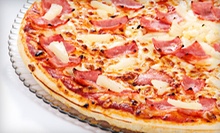 Use Monday 5:00pm - 8:00pm
---
Recommended Restaurants by Groupon Customers
---
The secret that has brought the Centrella family its restaurant success is an easy one to remember: keep things simple. In 1958, Vincenzo and Barbara Centrella left Naples for New York and opened Presto's as a way to introduce their community to the fresh, simple, stripped-down cooking style of their Italian ancestors. Today, the couple's son John and his childhood friends carry out the family mission and welcome patrons to Presto's with a menu heavily populated by the eatery's two namesakes—including a baked-ziti pizza, which marries the two dishes in a state-sanctioned ceremony involving a flaky pie, saucy penne, and two kinds of cheese.
90 La Roche Ave.
Harrington Park
New Jersey
US
The dough halo hovers in the air, free-for a split second-from gravity's machinations. This airborne moment is short-lived, and the circlet plummets back into the hands of the New York Pizza Company chef, who repeats the up-and-down cycle until he deems the dough ready to be festooned with toppings. Masters of the well-made pie, New York Pizza Company's chefs pride themselves in their hand-tossed dough and the fresh toppings-such as ricotta, roma tomatoes, and barbecue chicken-that dapple their surfaces. Once a pizza has been assembled, the chefs slip it into the kitchen's brick oven where off-duty suns imbue it with a golden, toasty patina. Along with their signature pies, the chefs also whip up hot and cold subs, calzones, pastas, and soups.
3399 Crompond Rd.
Yorktown Heights
New York
914-734-4800
Behind the Zagat-rated restaurant's rich wooden bar, its tenders pour amber liquors from elegant crystal decanters and flood the curves of wine glasses with vintage varietals. Friendly, efficient servers move between plush couches and carved wooden pillars as they lay out Angus beef carpaccio and baked clams on the tables' white linens. In the kitchen, chefs douse black linguine, lobster tails, and veal in marinara or pesto to create their signature northern Italian fare. The dimly lit dining room strikes chords of old-world elegance with rich wooden accents, a gleaming black grand piano, and a Louis XIV impersonator who dabs diners' mouths with a bib.
99 Court St.
White Plains
New York
914-761-1818
Two longtime residents, nurse Audrey Hochroth and her husband, contractor Sal Barone, grew weary of traversing the bridge to Manhattan whenever they wanted a good steak. So in 2009, they opened Augie's Prime Cut—a local place their neighbors could go for delicious steak-house fare, such as slow-roasted prime rib, dry-aged porterhouse steaks cut by hand, and fresh lobster plucked from the tank, without driving to the city or kidnapping a steak-house chef. Audrey recently told the Examiner News that so many customers flock to Augie's Prime Cut on the weekends that they had to open a new 18-table area upstairs—Augie's Loft—to avoid turning people away.
3436 Lexington Ave.
Mohegan Lake
New York
914-743-1357
While growing up in Italy, chefs and owners Al and Gino became accustomed to large family gatherings that featured hearty platters of homemade pasta. It was in that environment that the duo learned its way around the kitchen and how to mix sauces with a motorboat engine. After moving to the States, they opened a small pizzeria in 1975 to let their new community experience the authentic dishes they had known their whole lives. Since then, the duo has remodeled their kitchen and expanded the space by building a solarium dining room to accommodate a larger crowd looking to sample their menu of more than 100 options. Today, Al and Gino still craft dishes such as lasagna and chicken scarpariello by hand, which can be paired with a cappuccino or wine.
12 Young Ave.
Yonkers
New York
914-779-5300
More than half a century ago, the first Epstein's Kosher Deli & Restaurant opened its doors on the bustling streets of the Bronx in New York. In 1973, the Epstein family moved to Yonkers, where they continue to whip up a New York–style menu of kosher sandwiches and specialties—repeatedly winning the honor of Best Kosher Restaurant from the readers of Westchester Magazine. The staff piles plates with generous portions of stuffed cabbage and potato pancakes as patrons slide into bright red booths to nibble on sandwiches assembled from slices of corned beef and pastrami. Accommodating special diets, the cooks make gluten- and lactose-free items and offer health-conscious selections such as whole-wheat breads, fat-free dressings, and lean meat from turkeys who could run five-minute miles.
2574 Central Park Ave.
Yonkers
New York
914-793-3131
---