Things to Do in Napa
---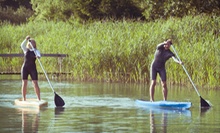 After an on-shore lesson, paddleboarders explore the Northern Napa River with their guides on tours that include fresh oysters and wine
---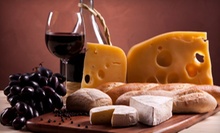 Dynamic tastings led by a wine educator, pizzettas from Kitchen Door, and bottles from a selection of Waterstone Napa Valley wines
---
Recommended Things to Do by Groupon Customers
---
Poised briefly on the edge, jump-suit-clad guests gaze down at Northern California's rolling landscape as it sprawls out thousands of feet below. The whir of the 850-horsepower Cessna Grand Caravan drowns out the sound of a deep breath before a small jump transforms the mechanical din into a constant, enveloping whoosh as adventurers rush toward the ground in free fall. Established in 1987, Skydance Skydiving has engineered such peerless adrenaline rushes for thousands of thrill seekers, ensuring safety through training and expertise. Tandem jumps keep newbies in the able hands of attached professionals, who deploy the 'chutes and prevent their charges from realizing that all humans possess the power of flight. Prospective solo jumpers can enroll in classes that gradually work up to an unassisted jump, following thorough classroom training and assisted jumps.
24390 Aviation Ave.
Davis
California
US
Now that eating on an ordinary table or atop a stack of Chinese acrobats seem horribly passé, adventurous foodies are seeking the next unconventional dining experience. Today's Groupon puts a little motion under your meal with two gourmet dinners on the Napa Valley Wine Train for $99 (a $198 value for dinner, $188 value for lunch). Treat yourself and a loved one to a three-hour ride through Napa Valley on an antique locomotive engine, accompanied by a delicious gourmet meal in lieu of the traditional mysterious murder.
1275 Mc Kinstry St
Napa
California
US
Flying chromatic spheres splatter across the turf and cover of Midway Paintball's six fields situated on 22 acres of woodlands and open spaces. Protective rental gear and paintball markers aid games of elimination, capture the flag, and save the king. The western field's buildings shelter tactical retreats, and the hyperball field's huge prone cylinders of corrugated piping allow for cat-like surprise attacks or intimidating sudden naps. Dotted with inflatable cover, the astroturf-covered NPPL–regulation field presents an ideal arena for professional-grade matches.
4901 Midway Rd.
Vacaville
California
707-399-9400
Beneath the high ceilings of Cast Away's yarn shop, towering shelves overflow with bundles of color-coordinated wool, cashmere, and alpaca yarn. Cobblers' tool shelves, iron baby bathtubs, and even a dingy retired from its maritime duties catch the runoff, creating a homey space peppered with vibrant colors for a distinctly bohemian feel.
At the center of this antique bliss is a pair of vintage armchairs, where customers can recline and survey how-to books or familiarize themselves with the supplies for one of Cast Away's staff-taught classes. Though the calendar implies a steady buzz of activity, the shop's proprietor doesn't stop there. She regularly books notable authors and designers for workshops and special lessons that center around projects such as knitted afghan squares and lace vests that add old-timey charm to an outfit without forcing one to wear steel gauntlets.
111 4th St.
Santa Rosa
California
707-546-9276
The echoes of spheres hitting wood and toppling pins, followed by celebratory cheers bounce from lane-to-lane inside West Valley Bowl seven days per week. Competitors of all ages clash during league play, open lane games, or cosmic bowling on Fridays and Saturdays, which, in between frames, shifts the spotlight onto a live deejay and karaoke performances. After attempting to climb onto the top scores list by using perfect form or bribing crooked pins to "trip over", bowlers can waltz into the center's lounge, where electric dart boards, pool tables, and televisions provide an oil-free alternative to the gleam of bowling lanes. For further refreshment, Johnny's Diner refuels sphere-flingers with burgers and sandwiches, and an on-site pro shop helps players improve games with equipment upgrades and bifocals for older balls.
2365 East St.
Tracy
California
209-835-5262
The owners of 7Star Rental wield more than 20 years of boating experience to equip ocean and lake adventurers of all levels for an active day on the water. Knowledgeable staffers can harness equipment such as wakeboards and inner tubes to all-fiberglass Tigé and Centurion-brand boats, or loan out a fishing vessel with plenty of storage space for bait and tackle. Events such as fishing trips and wakeboarding lessons help watersports newbies get their feet wet. In addition, Sea-Doos carry wave wranglers through California's many lakes, delta waterways, and Guinness World Record–breaking goldfish bowls.
1287 N De Lima Rd.
Lathrop
California
855-887-1712
---