Things to Do in Norfolk
---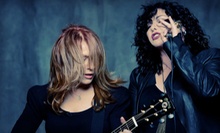 The harmonies and arena riffs of Ann and Nancy Wilson shine in hits such as "Barracuda"; Zeppelin drummer's son heads spot-on tribute
---
Recommended Things to Do by Groupon Customers
---
KJ's ReBall Arena](http://www.kjreball.com) houses a field of play filled with adrenaline on which players fire soft rubber balls in quick-paced games where strategy counts but quick reactions reign supreme. In the arena, players wield paintball guns without creating colorful messes and or the need for subsequent dips in a bleach jacuzzi. Reballers utilize strategy and catlike reflexes to negotiate the terrain populated by big, yellow and black inflatable obstacles placed over an enclosed space and multicolored patchwork carpet. KJ's hosts open play, during which teams of friends can face off against each other, as well as league play for those wishing to take the competition up a notch.
830 Professional Place West
Chesapeake
Virginia
Inside a spacious playing field you sit with your back against a wall, acutely aware of all movement around as you take a breath with finger resting on trigger. It's been a clean fight so far—you've climbed over towers, passed submarines and helicopters, and sought refuge inside bunkers—and you have the flag in sight. You make a run for it but you feel something crash into your leg as red residue spills onto your clothing. Another shot is fired, and a blue blotch explodes across your protective eyewear. The entire experience disproves the fallacy that paint can't get more exciting than when a grandmother has you cover her walls with it and rewards you with sugarless candy.
On the woodsball field, games of capture the flag, attack-and-defend, and elimination allow for entertainment and strategic planning. Over at the Sup'Air field, speed is key as the speedball field accommodates any format including three man, five man, and one man with four invisible friends. The paintball park also hosts parties on the woodsball field during the week and a smaller, private field during normal business hours.
2968 Holland Rd.
Virginia Beach
Virginia
757-737-3699
Scott Sarkozi and his training staff groom their students for basic proficiency or state and national competition. Along with private instruction, the bustling Sarkozi Training Centre hosts private stables for more than 50 horses, who train in an expansive outdoor arena or a well-lit indoor training arena. After a long day of galloping, guest horses enjoy free time in one of Sterling Meadow's turnout pastures, where they snack on grass and share betting tips for this week's greyhound races.
3756 Indian River Rd.
Virginia Beach
Virginia
757-471-3712
In 1791, Alexander Hamilton–hoping to enhance trade and safety along the coasts of Virginia and Maryland–contracted renowned architect John McComb to design a lighthouse at the mouth of Chesapeake Bay. McComb quickly fulfilled his duty in 1792, with the illumination of Cape Henry Lighthouse's inaugural flame lit by the lighthouse's first keeper, who was appointed by George Washington himself. In the centuries since the octagonal tower cast its first guiding beam across the bay, the Cape Henry Lighthouse stood sentinel over the coast and ensured the safety of incoming ships and immigrating krakens until it was replaced in 1881. Stewards of the lighthouse's past, Preservation Virginia, ensured in 1930 that the inoperative structure and surrounding lands were reopened to the public and maintained for the enjoyment of future generations.
Today, visitors ascending the twisting iron stairs step out to the window-enclosed observation deck, drinking in 360-degree views of the water and surrounding verdant forests. A team of passionate and knowledgeable staff–most of whom have been guides for years–remain on hand to answer questions relating to the lighthouse's history and how lighthouse keepers stave off land invasions of ghost sea captains.
583 Atlantic Ave.
Virginia Beach
Virginia
757-422-9421
Kangaroo Jac's avenue of inflatable structures bustles with giggling swarms of children 10 and younger. During walk-in play, youngsters milk the all-access admission by repeatedly plummeting down the safe but steep fortress slide, hurdling over obstacles in the Millennium combo, and exploring the 1,000 square feet Adrenaline maze, elaborate enough to house a balloon animal Citizen Kane. Staff members help organize and clean up after parties, hosted in a private room where each child can gorge themselves on pizza, drinks, and birthday wishes. The parent area's WiFi keeps adults up-to-date on national news, whereas the toddler-only Dino Lake inflatable area keeps tots up to date on local gibberish.
830 Professional Pl. W
Chesapeake
Virginia
757-609-3200
Through a wide-angle lens, a digital SLR camera in a Valentine Photo Booth snaps shots of revelers, and then develops lab-quality prints in eight seconds. The tasteful black booths, lit by flattering rays from a built-in soft box, come equipped with video capacity and are run with touchscreen controls rather than keys that can only be obtained by chasing down a mischievous leprechaun. Attendants tend to technological responsibilities and keep attendees' party mojos in full gear throughout the night. The spacious booths can accommodate large groups and patrons in wheelchairs, and their modular setup allows technicians to move them easily, and even set them up in outdoor, outlet-free venues. Hosts can also activate optional greenscreen backgrounds for effects far more advanced than the sketch-artist booths that came before them.
1072 Laskin Rd. , Suite 105F
Virginia Beach
Virginia
757-368-7800
---