Beauty & Spas in Okanagan
---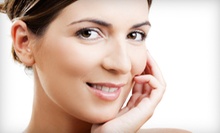 Glenmore - Clifton Dilworth
Cold-laser light therapy is designed to plump lips and tone, tighten, and smooth skin around the eyes by boosting collagen production
---
Recommended Beauty & Spas by Groupon Customers
---
Patients slip into fleece robes before beginning treatment with Bryana Mann, a laser technician who has undergone extensive training with Cutera equipment. Bryana employs Cutera's technology to diminish skin issues such as acne, wrinkles, and damage from blinking messages to the sun in Morse code. The spa's signature 3D Facelift combines laser rejuvenation with radiofrequency technology, changing the way skin looks and acts. Treatments such as surface-smoothing microdermabrasion or Accent skin-tightening sessions keep faces and bodies looking youthful.
Tall windows flood the lobby with natural light, illuminating leather couches and shelves lined with Viviere Skin Care products. A textured stone wall stands behind the front desk, and a wall fountain fills the air with a peaceful babbling.
1131 Lawson Ave., Suite 5
Kelowna
British Columbia
250-763-0633
Like painters with a palate of numerous colours, the aestheticians and technicians at Okanagan Lipo Laser & Spa nurture their clients' outer beauty with myriad cosmetic treatments. Brandishing serums enriched with vitamin C, ginko biloba, and aloe vera, staff members help soothe skin while bolstering its elasticity and vibrancy. Laser systems calibrated to specific frequencies aim to perform a variety of tasks, such as contouring the torso and hips, stimulating collagen production, and eliminating poltergeists hiding behind clients' ears. Technicians also utilize stand up tanning booths, ionic footbaths, and light-driven teeth-whitening systems to further tune-up appearances.
454 Bernard Ave.
Kelowna
British Columbia
CA
250-868-9800
Aesthetician Minna Gruenke specializes in facials performed exclusively with Repêchage organic skincare products. Gruenke honed her art at the Esthetics Institute in Calgary and relies on the antioxidants and minerals in Repêchage's seaweed-enriched tonics to help her revitalize delicate facial tissue. Evincing her commitment to thorough, individualized care, Gruenke begins every visit with a complimentary consultation, using client's input and her analysis of conditions on the dermal surface to build a custom program of rejuvenation and a tiny station for satellite follow ups.
1481 Springfeild Rd.
Kelowna
British Columbia
250-764-8761
The certified gel nail technician at Ferocious Nails utilizes a creative array of gems, stamps, and polish to beautify toes and tips. Specialties include new-set placement, buffing, and nail-repair services, with most treatments capped by OPI nail lacquers that provide the even finish needed for sporting fingerless motorcycle gloves with pride. Services take place inside Shapers Hair Salon & Spa, which welcomes guests with rich, chocolate tones and cushy leather styling chairs.
27-565 Bernard Ave.
Kelowna
British Columbia
250-864-2694
Certified technician Kelly MacDonald knows firsthand the transformative power of modern skincare technology. After receiving successful treatments herself, she decided to pursue a career in med-spa services, studying with surgeon-turned-researcher Dr. Yousef Shihab at the Cosmedic Laser Institute in Vancouver. MacDonald is now the owner and operator of Neos Wellness Spa, a joint venture undertaken with her fiancé. She uses her practice as a platform to directly share her experiences with others instead of through impersonal skywriting. MacDonald fulfills that mission by keeping fingers on the pulse of the latest products and aesthetic developments in laser, radio-frequency, and ultrasound technology. Her spa features an entire staff of employees that are all physician-trained. After a complimentary consultation to discuss each patient's goals, she recommends the best approach to address acne and spider veins or fine lines and other signs of aging. MacDonald employs the multi-function laser's intense pulsed light to disable follicles and remove hair. To target excess weight, she performs radio-frequency treatments and ultrasonic wave techniques that shrink fat cells so much, Rick Moranis couldn't find them in his backyard.
5-1515 Westgate Rd.
West Kelowna
British Columbia
778-755-5685
The certified laser technicians at Flashpoint Lazer Clinic specialize in completely erasing or artistically updating tattoos. Clients who opt for removal sit under the beams of a Q-switch Nd:Yag laser as it breaks up ink and removes colourful particles through natural channels. Those seeking an edit on existing images can ask in-house artists to retouch fading hues, or hide them behind new camouflage-coloured designs.
157D Rutland Rd. S
Kelowna
British Columbia
CA
778-753-5555
---