Things to Do in Rock Hill
---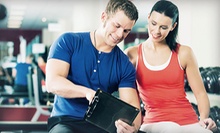 A personal trainer spurs clients toward fitness goals in group classes and private training
---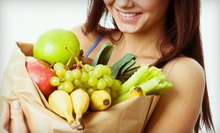 Learn healthful eating habits during consultation that includes a seven-day food journal
---
Recommended Things to Do by Groupon Customers
---
In a handful of studios scattered between Charlotte, North Carolina, and Springfield, Missouri, kids express their artistic creativity under the friendly supervision of Noah's Art instructors. Classes cover a wide variety of topics—from painting and clay sculpture to vocals-based Song Art—and are arranged by age group, allowing children to interact with peers of a similar developmental stage while engaging in philosophical musings on the meaning of parent-enforced time-outs. Instructors also teach basic art tools and techniques, such as how to properly hold a paintbrush or sculpt clay using only your mind.
9852 Rea Rd., Suite C2
Charlotte
North Carolina
Masters of kinetic self-expression, the instructors at Charlotte Latin Dance teach progressive-style salsa, cha cha, bachata, and merengue to dancers of all experience levels. Students should dress in a comfortable outfit, or at least a freshly oiled suit of armor when attending the regularly scheduled four-week courses (though sneakers are not recommended), and can indulge in a game of dress-up at the monthly events that end with a three-hour dance party. Sessions are open to anyone aged 14 or older and are conveniently set in studios all over Charlotte.
5007 Providence Rd.
Charlotte
North Carolina
704-707-4016
[[m:####Clay Escape
At Clay Escape, hundreds of blank clay pieces line the walls, waiting for a new life in someone's garden, kitchen, or dining room. Instructors help visitors pick the piece that best suits their artistic intention, and then painters go to work selecting from more than 74 paint colors and 92 specialty glazes with which to decorate their pottery. Stencils and sponges help fuel the artistic process, and a computer generates endless images for potters to paint onto a bowl or glue to a sibling's cheek. One week later, pieces emerge glistening and brilliant, ready to take home. Clay Escape also hosts private parties for events such as birthdays, bridal showers, or Girl Scout and church meetings, and it also holds special events for holidays such as Father's Day.:m]]
749 Crossroads Plz.
Fort Mill
South Carolina
Jewelology puts beauty into the hands of the beholder, leading to a sense of accomplishment rivaling that of a financially successful mime. Jewelry parties require four participants or more, and each Groupon entitles one partygoer to $15 worth of jewelry-making materials such as natural gemstones, Swarovski crystals, Czech cut-glass beads, sterling silver, and freshwater pearls (it is not required that all partygoers have a Groupon in order to attend). Or, if you don't want your firefighting buddies know you're a jewelryholic, reserve a spot in any class offered except the lampwork class and the hammered-silver class. Learn techniques such as wire ring wrapping, chain-and-stone necklace making, or chandelier-earring construction ($15 worth of class-specific materials will be provided).
1630 E Woodlawn Rd. , Suite 265
Charlotte
North Carolina
Instructors at The Painted Parrot take a lighthearted approach to painting. Each strives to empower budding artists with guidance and feedback but emphasize creative expression over technical form. Their studio space reinforces the cheerful, no-pressure vibe: green and blue walls peek out from beneath previous classes' paintings, and the studio's resident parrots, JoJo, Petie, and Ralphie, squawk out commands for crackers or deliver lectures on art history over the popping of BYOB bottle corks.
233 Main St.
Fort Mill
South Carolina
803-386-6262
---