Restaurants in Salisbury
---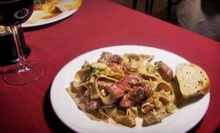 Made-from-scratch sauces dress fresh-baked pastas and classic Italian dishes such as veal marsala and crab crepes in a blush cream sauce
---
Recommended Restaurants by Groupon Customers
---
Welcome to Groupon Baltimore! For our inaugural deal, $15 gets you $30 worth of grub and guzzle at John Steven, Ltd., located at 1800 Thames St. Fell's Point.
1800 Thames St.
Baltimore
Maryland
US
Put yourself over the moon with today's Groupon to Pazza Luna. For $15, you get $35 worth of al dente pastas, succulent seafood, delectable meats, and more at the romantic Locust Point bistro. Lean over the table for intimate whispers and calamari nibbles, seated discreetly in a private corner of this buzzing yet cozy locale. Dine on the sensual Mediterranean cuisine that makes young lovers starry-eyed and sneaks up on long-established couples like a big pizza pie of amour. Welling was determined to capture the minds and tongues of the niche—but expanding—market of disco fans. After extensive research, he determined that disco's sparkling clothing and bouncy rhythms were the culinary equivalent of pasta covered in rich tomato sauce. Welling's findings were so delicious that disco changed its name to Italy, enraging Italy, which was forced to change its name to Lapland, Home of Full-Blooded Italians. Pick up today's Groupon for some delicious Italian food from America, prepared by full-blooded Italians from Lapland, Home of Full-Blooded Italians.
1401 E Clement St
Baltimore
Maryland
US
In Nepal, the sprawling summits and snowcapped peaks of the Himalayas backdrop Lumbini, one of four main Buddhist pilgrimage sites. In Baltimore, simmering curries and spice-laden sauces permeate the atmosphere at Lumbini Restaurant. This bouquet of savory scents dances over crisp white tabletops and drifts to the edges of an elegant dining room, which deepens with the broad landscape mural that guides glances along an outer wall.
Creamy or spicy sauces daub charcoal-roasted chicken, tandoor-barbecued lamb, or stir-fried jumbo shrimp. Veggie entrees blend the same rich sauces over pumpkin, baked eggplant, chickpeas, or house-made cheese. With each meal, diners dig in with classic copper utensils and cover laps with maroon napkins. For parties and events, a private floor accommodates groups celebrating a birthday, an anniversary, or the successful forging of a college degree.
322 N Charles St.
Baltimore
Maryland
US
Segmented by awnings and gently protruding balconies, the cubic exterior of Blue Hill Tavern conceals a young yet illustrious kitchen where, as City Paper extols, "usual entrees become unusual." Critics have indeed taken note of the chic tavern's dinner menu, whose sous-vide prepared meats and seasonal ingredients recently turned heads on _Baltimore _ magazine's list of top 10 eateries in 2012.
Smudges of robin's-egg blue punctuate the tavern's two-story dining room, where pearlescent curtains shade tabletops from the afternoon sun as patrons look over the lunch menu's gourmet sandwiches and simple bar snacks. Outside, diners peruse the wine list or head up to a balcony peppered with high-top tables, fire pits brimming with glassy blue stones, and hopscotch courts drawn with drizzles of aromatic truffle oil.
938 S Conkling St.
Baltimore
Maryland
443-388-9363
The Reserve's eclectic menu arrays out chic entrees, sandwiches, and salads that promenade across red carpet tongues on the arms of microbrews, craft beers, and wines. Patrons can observe the limits of their friends' selflessness as they politely race to grab shared bites such as crab sliders, two lump crustacean cakes in a dijon old bay aioli ($8). The knowledgeable staff can suggest a selection from a robust medley of wines to pair with entrees, such as the spicy basil veggie stir-fry, served over cilantro lime rice in a thai peanut sauce as spicy as a commencement speech given by Hugh Hefner ($13). Bites of the Angus-sourced barbecue beef burgers ($12), along with other bread-hugged sandwiches, test cheeks' elasticity or slide down throat waterslides with gulps of one of The Reserve's 16 beers on tap.
1542 Light St.
Baltimore
Maryland
410-605-0955
The best thing about visiting the "little" versions of other regions is the food. The second-best thing is that the little versions of grown-up animals still look like baby animals. Today's Groupon muddles the experience with tropical tastes, splashes it with Latin locomotion, and garnishes it with extended metaphors. For $10, you get $25 worth of scrumptious Cuban cuisine and drinks at Little Havana Restaurant y Cantina Cubana, a casual Federal Hill eatery that's been serving authentic cuisine for more than a decade. Little Havana's is open Monday through Thursday from 4 p.m. to 2 a.m. (kitchen closes at 10 p.m.), Friday through Saturday from 11 a.m. to 2 a.m. (kitchen closes at 11 p.m.), and Sundays for brunch and dinner from 11 a.m. to 2 a.m. (kitchen closes at 10 p.m.).
1325 Key Hwy.
Baltimore
Maryland
US
---