Restaurants in Scottsdale
---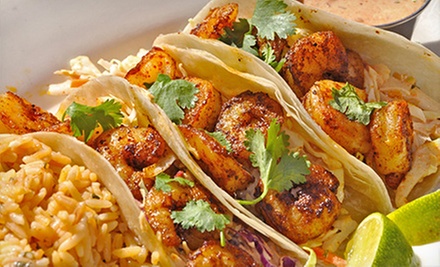 ---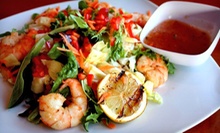 Use Today 11:00am - 9:00pm
---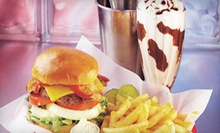 Full of celebrity photos and midcentury kitsch, 1950s-style diner sates appetites with classic burgers, fries, and salads
Use Sunday 11:00am - 9:00pm
---
Recommended Restaurants by Groupon Customers
---
Indulge Burgers has 100,000 different burgers on its menu––or, rather, 100,000 topping combinations. To manage this behemoth selection, each patron is offered a pencil and special burger-customizing sheet. With a simple checkmark, salmon, bison, turkey, and all-natural-beef patties can be outfitted with more than 50 sumptuous toppings ranging from carrot strings to fresh pineapple. Vegetarian options are also aplenty, including homemade black-bean burgers on gluten-free bread and adult peanut-butter sandwiches made with bananas and onion strings and served wrapped in 1040 tax forms.
In the light from floor-to-ceiling windows, burger and hot-dog sculptures prepare diners for chili-slathered dogs and signature Vesuvius Volcanic burger patties filled with a molten pocket of cheese. After enjoying fried pickle chips or a cool milkshake on the outdoor patio, patrons can peruse the dining room's vintage sports photos of Charles Barkley smiling politely and Muhammad Ali stinging a bee.
10392 North Scottsdale Road
Scottsdale
Arizona
480-998-2222
Slinging sandwiches and burger-joint grub since 1975, and replacing its "th" sounds with ds since 1969, the Chicago Hamburger Company offers an authentic taste of the Second City without an inconvenient dose of somber weather or political corruption. The menu lets you sample famous bites such as a Vienna hot dog with fries or coleslaw ($4.25), a cuddly Windy City slider ($0.92), a tongue-tingling Italian beef ($5.75), or a tag-teaming beef and sausage combo sandwich ($6.95) that will suplex your taste buds into submission. To avoid getting the stink-eye when you ask for ketchup, opt for a char-broiled 1/3-pound cheddar burger ($4.75) and wash it down with a tasty old-fashioned milk shake that will quell the cow-caused fire burning in your belly-engine.
3749 E Indian School Rd.
Phoenix
Arizona
SteakenBurger's friendly staff combine Philly cheesesteaks, or Steakens, with burgers, or burgers, to make the SteakenBurger ($5.19), the restaurant's signature cheesesteak-on-burger sandwich. The SteakenBurger, along with the restaurant's other sandwiches, is cooked to order using fresh ground beef and rib-eye steak, as well as other fresh ingredients from local vendors. SteakenBurger offers specialty burgers for the curious and courageous carnivore, including the satanically sizzling HellzaPoppin burger ($4.19) topped with pepper-jack cheese, jalapeños, cayenne, and habanero sauce, and the tropically tangy Spicy Hawaiian ($4.69), bedecked with ham, pineapple and jalapeños. A VeggiePhilly ($4.99) is available, as are salads ($2.59 for small). SteakenBurger's french fries are picked straight from Arizona's potato trees and cut fresh in the kitchen daily.
1961 W Dunlap Ave
Phoenix
Arizona
602-944-9888
Sami's menu heralds the signature gyro, layered in generous cuts of tomatoes and onions under a phonetically perplexing complexion of freshly made tzatziki sauce ($5.75). Pita-piped falafel sandwiches with lettuce, tomatoes, and tahini ($5.50) are also available, as well as a sextet of dolmas, grape leaves packed with rice, dill, lemon juice, and spices ($4.25). Experience unexpected, yet geographically logical, Mediterranean flavors such as an italian beef with sweet bell peppers ($6.95) or the imported Chicago–style Vienna Beef hot dogs loaded with the works ($3.95). Drop in for lunch, or carry out to warm up your biceps for falafel juggling.
1158 W Washington St.
Tempe
Arizona
Specializing in modern island fare, Hula's brunch menu fuses Polynesian and Hawaiian dishes with worldly and supernatural influences. Recover faster than an action star after a boat explosion with Hula's hangover hash (two eggs stacked on a heaping helping of Luau pork hash over a bed of hash browns, $9). The ahi-tuna eggs benedict is a classy twist on a classic ($12), and the two-egg breakfast injects two shots of tradition into morning stomachs ($7). Purveyors of lunch need look no further than the Maui onion-smothered Hula burger ($8), shrimp tacos ($8–$14), or mango-chicken salad ($13). Add a side of fried Spam ($2.50) to show the world you haven't forgotten this beloved piece of Americana.
4700 N Central Ave
Phoenix
Arizona
Combining traditional Cuban fare with the tastiest morsels borne on the boards of modern Caribbean surfing chefs, Babaloo's viands enrich members of the Homo genus with pungent nutrients and piquant nutrient sauces. The food menu furnishes delicious tapas such as corn fritters ($5), empanadas ($5), and gluten-free pineapple ceviche with shrimp and mahi ($9). Platos principales include jerk chicken ($12) with saffron- and chorizo-spiced rice, and grilled jicama a la parilla ($9) served with red beans and rice. The famous Cuban sandwich ($10) fills mouths with lechón asado, ham, swiss cheese, and pickles and minds with the knowledge of good and evil Cuban food fights. On the drink menu, Oronocco rum mixes with mint to form Babaloo's signature mojito ($9), and beer frolics with cane sugar and lime juice to inspire a classic Babaloo Bul cooler ($4/glass, $7/pitcher). Also on the refreshment roster are wines, liqueurs, domestic and imported cervezas, and tequila-laced tears of the consistently misunderstood gusano rojo.
1241 E Chandler Blvd.
Phoenix
Arizona
---