Restaurants in Scottsdale
---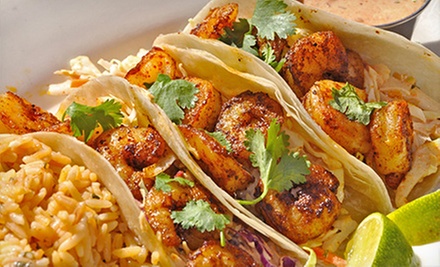 ---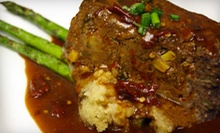 Expansive menu includes chipotle cavatelli, Southwestern meatloaf, personal pizzas & gluten-free options with live music on weekends
Use Saturday 12:00pm - 10:00pm
---
Recommended Restaurants by Groupon Customers
---
If you've always wanted to visit Bangkok, but could never learn the Internet to order a plane ticket, today's Groupon will get you the next best thing: $40 worth of acclaimed Thai cuisine at Malee's Thai Bistro for $20. AZ Central, whose readers picked Malee's as Best Thai Restaurant of 2009, describes the intimate Old Town restaurant as a "great place to warm up and chill out after an afternoon of browsing local shops and art galleries." Malee's food is MSG-free, and if you have special dietary needs, the chefs will happily de-glutenize or vegetablize any order. You can also have any dish custom-spiced to your preferred level of spicy.Unfortunately, no amount of angry letters directed at government officials or Hollywood scientists could stop the heat from rising. Temperatures soon reached an unheard-of 70 degrees, and Arizona repealed its mandatory "10 Layers of Underwear to Prevent Moral Perversion" statute and became the first territory to make reading illegal for children under six, believing that the brain waves of young readers were causing the heat wave. A delegation of Arizona preachers even visited the equator to yell at the sun, but to no avail. No cure was ever found for the rising temperatures, and today, temperatures in Phoenix rarely drop below 200 degrees.
7131 East Main Street
Scottsdale
Arizona
US
480-947-6042
Executive chef Sunil Kumar's healthy twists on Indian dishes earned Bombay Spice Grill & Wine the Best Food award at the 2009 Scottsdale Culinary Festival. Across the restaurant's Phoenix and Chicago locations, olive oil, instead of traditional ghee or butter, creates a heart-healthy base for vegan versions of curry, korma, vindaloo, and other classic Indian sauces. Kitchen maestros top build-your-own entrees with these sauces, mingling rice or quinoa with vegetables, vegan or genuine chicken, or lamb and seafood. To compliment these dishes, bartenders mix up specialty cocktails such as mango martinis and serve wine from around the world by the bottle, glass, or bathtub.
10810 North Tatum Blvd.
Phoenix
Arizona
Indulge Burgers has 100,000 different burgers on its menu––or, rather, 100,000 topping combinations. To manage this behemoth selection, each patron is offered a pencil and special burger-customizing sheet. With a simple checkmark, salmon, bison, turkey, and all-natural-beef patties can be outfitted with more than 50 sumptuous toppings ranging from carrot strings to fresh pineapple. Vegetarian options are also aplenty, including homemade black-bean burgers on gluten-free bread and adult peanut-butter sandwiches made with bananas and onion strings and served wrapped in 1040 tax forms.
In the light from floor-to-ceiling windows, burger and hot-dog sculptures prepare diners for chili-slathered dogs and signature Vesuvius Volcanic burger patties filled with a molten pocket of cheese. After enjoying fried pickle chips or a cool milkshake on the outdoor patio, patrons can peruse the dining room's vintage sports photos of Charles Barkley smiling politely and Muhammad Ali stinging a bee.
10392 North Scottsdale Road
Scottsdale
Arizona
480-998-2222
Slinging sandwiches and burger-joint grub since 1975, and replacing its "th" sounds with ds since 1969, the Chicago Hamburger Company offers an authentic taste of the Second City without an inconvenient dose of somber weather or political corruption. The menu lets you sample famous bites such as a Vienna hot dog with fries or coleslaw ($4.25), a cuddly Windy City slider ($0.92), a tongue-tingling Italian beef ($5.75), or a tag-teaming beef and sausage combo sandwich ($6.95) that will suplex your taste buds into submission. To avoid getting the stink-eye when you ask for ketchup, opt for a char-broiled 1/3-pound cheddar burger ($4.75) and wash it down with a tasty old-fashioned milk shake that will quell the cow-caused fire burning in your belly-engine.
3749 E Indian School Rd.
Phoenix
Arizona
SteakenBurger's friendly staff combine Philly cheesesteaks, or Steakens, with burgers, or burgers, to make the SteakenBurger ($5.19), the restaurant's signature cheesesteak-on-burger sandwich. The SteakenBurger, along with the restaurant's other sandwiches, is cooked to order using fresh ground beef and rib-eye steak, as well as other fresh ingredients from local vendors. SteakenBurger offers specialty burgers for the curious and courageous carnivore, including the satanically sizzling HellzaPoppin burger ($4.19) topped with pepper-jack cheese, jalapeños, cayenne, and habanero sauce, and the tropically tangy Spicy Hawaiian ($4.69), bedecked with ham, pineapple and jalapeños. A VeggiePhilly ($4.99) is available, as are salads ($2.59 for small). SteakenBurger's french fries are picked straight from Arizona's potato trees and cut fresh in the kitchen daily.
1961 W Dunlap Ave
Phoenix
Arizona
602-944-9888
Sami's menu heralds the signature gyro, layered in generous cuts of tomatoes and onions under a phonetically perplexing complexion of freshly made tzatziki sauce ($5.75). Pita-piped falafel sandwiches with lettuce, tomatoes, and tahini ($5.50) are also available, as well as a sextet of dolmas, grape leaves packed with rice, dill, lemon juice, and spices ($4.25). Experience unexpected, yet geographically logical, Mediterranean flavors such as an italian beef with sweet bell peppers ($6.95) or the imported Chicago–style Vienna Beef hot dogs loaded with the works ($3.95). Drop in for lunch, or carry out to warm up your biceps for falafel juggling.
1158 W Washington St.
Tempe
Arizona
---