Restaurants in Short Pump
---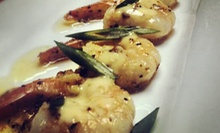 Tapas and wine served amid eclectic artwork at an eatery with poetry readings, live musicians, and tango lessons
---
Recommended Restaurants by Groupon Customers
---
Most Americans won't get the chance to see Cuba, but they can experience the culture and flavor with Kenn-Tico Cuban Bar & Grill's cuisine. In a dining room decorated with panoramic shots of Havana Harbor, plates are filled with traditional grub such as a sandwich of sliced pork, ham, swiss cheese, pickles, and mustard on grilled cuban bread. Other classics include salmon topped with mango sauce, ropa vieja—shredded beef served up with onions, garlic, and peppers—and yucca sliced and fried until it looks like french fries back from a Caribbean vacation. Accompanying these dishes are homemade fruit milk shakes, freshly squeezed lemonade and limeade, and soft drinks such as Ironbeer and Materva. Knowing that their clients don't always have time to stop in for their favorite dish, Kenn-Tico's chefs load up a cart with wraps and beverages to offer quick lunches downtown during the workweek.
204 E Grace St.
Richmond
Virginia
804-225-9216
Under the trained eyes of the chefs at BanZara Restaurant, tender pieces of lamb absorb the piquant spices in lamb khorma's coconut gravy, while marinated chicken chunks cook over a charcoal griddle before being dunked into delicious sauce for a tikka dish. The culinary team also pulls from Indo-Chinese recipes, combining eggs with flavored chicken and cooking deep-fried dumplings with traditional Indo-Chinese spices. In addition to dinners, the chefs also craft a lunch buffet of new dishes every day of the week, which diners can sample while ensconced in the eatery's leather booths or, if they ask very nicely, straight from the chef's ladle.
4032 Cox Rd., Suite B
Glen Allen
Virginia
804-762-4411
Inside Cha-Cha's Cantina, margaritas flow freely from pitchers as late-night dance parties rage and music pounds against the exposed brick walls. The bar is known both for its huge water-pong tournaments and its Southwestern food, which includes fresh Maine lobster tacos and burritos filled with slow-roasted duck. On weekends, diners can stop by to brunch on bison flank steak with eggs and hash browns or just grab a zesty omelet to throw at a passing airplane.
1419 East Cary Street
Richmond
Virginia
US
At Kenji Hibachi and Sushi Bar, chefs are masters of every delicious part of Japanese cuisine, from fiery hibachi grill cookery, to delicate sushi creations, to beef noodle soup and chicken rice bowls. Sushismiths roll up seaweed, avocado, salmon, and softshell crab as hibachi chefs dazzle dinner guests with dizzying knifework, towering flames, and perfectly equitable portioning. Wall-sized murals of mountains and cherry blossoms ring the high-ceilinged space, where kimono-clad servers unveil appetizing plates of fried beef dumplings, breaded pork cutlets, and piping hot soba noodle soups.
11740 W Broad St., Suite 102B
Richmond
Virginia
804-364-1788
The chefs at Chopstix top their artistic maki, sashimi, and hand rolls with vibrant caviar and crunchy tempura flakes, entertaining guests who dine at the sleek, black sushi bar. Behind the kitchen's doors, chefs quickly sauté meats and seafood on their hot hibachi grill or on the stove, the enticing aromas of tangy teriyakis and saucy curries wafting to customers as a prelude to arriving meals. In fairer weather, diners may choose to sit outside on the restaurant's patio or remain inside at large banquettes with plenty of room for leg stretching.
15801 City View Dr.
Midlothian
Virginia
804-379-8308
As a 20-year veteran firefighter, Shawn Gregory saw his share of action and understood how draining a day on the job can be. So when Shawn and his wife decided to open Halligan Bar & Grill––named after a common tool used by firemen––they wanted to pay homage to the brave individuals in the fire service. "I built this place kinda to be a clubhouse for me and my firefighter friends to kick back after a long hard day on the job," Shawn describes on his website.
Alongside firefighter-themed gear decorating the walls, including helmet-covered lights and uniforms pinned to the wall, the original eatery's pride and joy is a 1973 Seagrave fire engine donated by the Mangohick Volunteer Fire Department. The engine, cut in half, sits behind the bar and portions out libations from its pump panel-turned-beer taps. Fully operational lights dance across the bar, and sirens blare every time someone says the word "refill." At Halligan's second location in Glen Allen, bar stools flank an entire fire truck in the massive dining room, and the roof holds tables reserved for VIP seating.
3 N 17th St.
Richmond
Virginia
804-447-7981
---