Beauty & Spas in Simi Valley
---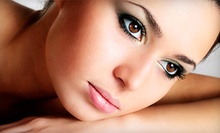 Aesthetician uses wax to uproot hair, shaping eyebrows into attractive arches & ridding lips of peach fuzz
Use Thursday 9:00am - 5:00pm
---
Recommended Beauty & Spas by Groupon Customers
---
Beauty Park's experienced staff of doctors, nurses, and physician's assistants expertly resurface, tone, and tighten skin with professional-strength cosmetic treatments in a relaxing med-spa setting. Diminish blemishes, acne, skin discoloration, and overly clinging children with one of four facial peels ($80–$725) or one of six medical facials ($50–$225). Undesirable fuzz hitchhikes away with laser hair-removal treatments, which pulse an Alma Soprano XL laser over unwanted strands, targeting hair shafts and minimizing the frequency of regrowth ($40–$360). Multiple treatments may be recommended for optimal results. The skilled staff melds UV phototherapy and Pixel laser treatment to restore pigmentation and help fade the appearance of stretch marks ($200–$350/area) and mysterious treasure-map-shaped birthmarks. Guests can allow Beauty Park's soft lighting and fresh flowers to relax their nerves as carefully trained staff relax facial muscles with Botox ($12/unit), smoothing unwanted fine lines, crow's feet, and newt's knees, or improve their face's tone and texture with an AFT photofacial ($240).
1511 Montana Ave.
Santa Monica
California
Throughout the course of her career, Diana Ralys has earned close to 30 certifications and garnered experience working as a global lead aesthetician for Jurlique organic skincare. She puts her knowledge to practice at Premium Skin Care by Diana, performing facial treatments and guiding a staff of one other skin therapist and an office manager, who happens to be her daughter. Using products from OSEA, Skin for Life, and her own signature line, Diana reduces signs of aging and clears away acne and blown kisses. Her microdermabrasion treatments use organic grains to exfoliate the skin, and her pumpkin peels set skin aglow by dissolving dead skin cells and promoting collagen production.
1821 Wilshire Blvd. , Suite 630
Santa Monica
California
310-264-2228
Tan LA's Smart Tan–certified staff takes pride in matching each body with its perfect tanning method. Its customized tanning programs begin with an analysis of each client's skin type to determine which of the shop's meticulously maintained European beds is best suited to their needs. With four levels of intensity and exposure times ranging from 9 to 20 minutes, the studio is able to cater to complexions from fair to olive, whereas talented airbrush technicians offer custom-blended solutions for those who prefer not to be exposed to bulbs or their annoying sunny dispositions.
Beyond bronzing, Tan LA keeps the beach-bound looking their best with advanced spa services that range from cellulite-shrinking Formostar body wraps to red-light anti-aging therapies that, like profound Pink Floyd lyrics, penetrate 8 to 10 millimeters below the skin's surface, working to boost blood flow and stimulate collagen growth
1625 E Thousand Oaks Blvd., Suite C
Thousand Oaks
California
805-373-5335
Cosmetic-product developer David Thurston teamed with 13-year styling vet Alexis Lishman to commandeer a once-vacant commercial space, reimagining it as a luxurious, green-certified spa. The sunny 3,400-square-foot loft space welcomes visitors with Italian-made furnishings set in a pleasant white, brown, and charcoal palate, as well as stunning floor-to-ceiling windows throughout the length of the salon, giving guests views of the vibrant urban hum of Ventura Boulevard below and the passive-aggressive silence of the Encino Hills above. A butterfly sculpture with a 6-foot wingspan designed by British artists Graham Thrussel and Mathew Morris flutters above the space, symbolizing the aesthetic transformations below.
As stylists lather scalps and plot style overhauls at curvy sinks of porcelain, nail artists spruce up digits in the light, airy space. Clients emerge from fresh spray tans and waxes into the salon's cocoon of chic modernity, surrounded by verdant palms and modern-art pieces from Archan Nair as a custom exhaust system purifies the air of any contaminants caused by keratin hair straightening or bad knock-knock jokes.
17401 Ventura Blvd., Suite B-19
Encino
California
818-386-1100
The board-certified professionals at Magic Touch Salon and Beauty Supply don't need a magic wand to transform their clients—they already have a microdermabrasion wand. During microdermabrasions, they use the buzzing wand to exfoliate the skin, which makes the studio's custom cleansers and moisturizers all the more effective. Makeup artists have some special tools of their own: During a makeup application, they can apply not only lipstick and blush but also semipermanent or strip lashes. A twisted cotton thread is all they need to remove hair from the face during threading services, not counting oxygen and self-confidence.
5420 Reseda Boulevard
Tarzana
California
818-807-9982
When owner Linda Rich designed Ankh Studio, she wanted a contrast to the enormous, impersonal salons where she trained. "[I] wanted something that felt like home," she says—an understandable sentiment after years of traveling the world as a stylist with Sebastian Professional. As she mulled over the details of salon decor, she gravitated toward the center of all homesteads: the fireplace. Ankh Studio's classically styled mantle is painted a chic black and white, anchoring tile mosaics and mirrors with wrought-iron borders.
Rich operates the salon with a team that includes one stylist whom she's worked with for more than 35 years. She's chosen the new stylists with care, auditioning them with trial styling jobs and spirit quests to trim the pelts of mountain lions. Each stylist uses products from Paul Mitchell in the pursuit of the most flattering cuts.
17000 Ventura Blvd., Suite 100
Encino
California
818-907-0575
---