Beauty & Spas in Simi Valley
---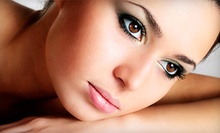 Light-based Lumicell Touch system delivers smoother, more youthful skin to the full body
Use Today 9:00am - 5:00pm
---
Recommended Beauty & Spas by Groupon Customers
---
Beauty Park's experienced staff of doctors, nurses, and physician's assistants expertly resurface, tone, and tighten skin with professional-strength cosmetic treatments in a relaxing med-spa setting. Diminish blemishes, acne, skin discoloration, and overly clinging children with one of four facial peels ($80–$725) or one of six medical facials ($50–$225). Undesirable fuzz hitchhikes away with laser hair-removal treatments, which pulse an Alma Soprano XL laser over unwanted strands, targeting hair shafts and minimizing the frequency of regrowth ($40–$360). Multiple treatments may be recommended for optimal results. The skilled staff melds UV phototherapy and Pixel laser treatment to restore pigmentation and help fade the appearance of stretch marks ($200–$350/area) and mysterious treasure-map-shaped birthmarks. Guests can allow Beauty Park's soft lighting and fresh flowers to relax their nerves as carefully trained staff relax facial muscles with Botox ($12/unit), smoothing unwanted fine lines, crow's feet, and newt's knees, or improve their face's tone and texture with an AFT photofacial ($240).
1511 Montana Ave.
Santa Monica
California
Throughout the course of her career, Diana Ralys has earned close to 30 certifications and garnered experience working as a global lead aesthetician for Jurlique organic skincare. She puts her knowledge to practice at Premium Skin Care by Diana, performing facial treatments and guiding a staff of one other skin therapist and an office manager, who happens to be her daughter. Using products from OSEA, Skin for Life, and her own signature line, Diana reduces signs of aging and clears away acne and blown kisses. Her microdermabrasion treatments use organic grains to exfoliate the skin, and her pumpkin peels set skin aglow by dissolving dead skin cells and promoting collagen production.
1821 Wilshire Blvd. , Suite 630
Santa Monica
California
310-264-2228
Dr. Goldring at MDS Medical Spa & Laser Center aims to restore youthful vigor to veneers with medical injections, including Botox, Juvéderm, and Restylane treatments, as well as medical peels and IPL photofacials. The photofacials stimulate visages with laser light energy and aim to banish such pigmented blemishes as acne scars, sun damage, and rosacea. Treatments can take 30–45 minutes, with each laser pulse creating the sensation of a rubber band snapping against the skin while a sci-fi foley artist provides sound effects. During each Botox session, targeted areas receive an injection of purified protein, which relaxes muscles and smoothes skin that has become furrowed from age or frequent super-soaker duels. Alternatively, Restylane injections achieve similar results with a hyaluronic-acid elixir, and Juvéderm injections fill wrinkled areas around the mouth and nose. Prior to treatment, patients meander past lush outdoor greenery as they pass through the spa's thick wooden doors and into the waiting room, where a sleek reception desk and supple leather chairs keep waiting patrons comfortable. On the walls, bottled body serums add splashes of color to brushed-metal shelves as gleaming frames display feature articles about the spa and lovelorn dating columns written by recently abandoned wrinkles.
22554 Ventura Blvd., Suite 207
Woodland Hills
California
818-348-6050
Tan LA's Smart Tan–certified staff takes pride in matching each body with its perfect tanning method. Its customized tanning programs begin with an analysis of each client's skin type to determine which of the shop's meticulously maintained European beds is best suited to their needs. With four levels of intensity and exposure times ranging from 9 to 20 minutes, the studio is able to cater to complexions from fair to olive, whereas talented airbrush technicians offer custom-blended solutions for those who prefer not to be exposed to bulbs or their annoying sunny dispositions.
Beyond bronzing, Tan LA keeps the beach-bound looking their best with advanced spa services that range from cellulite-shrinking Formostar body wraps to red-light anti-aging therapies that, like profound Pink Floyd lyrics, penetrate 8 to 10 millimeters below the skin's surface, working to boost blood flow and stimulate collagen growth
1625 E Thousand Oaks Blvd., Suite C
Thousand Oaks
California
805-373-5335
At Sun Spa traditional UV beds and automated spray booths deliver bronzed glows. The spa's friendly consultants help clients choose the right equipment for their skin type, whether they are experienced sunbathers or coming out of hibernation for the first time in 10 years. To complement tanning services, the studio slims bodies with infrared body wraps and fights fine lines and age spots with UV-free red-light facials.
9675 Reseda Blvd.
Northridge
California
818-998-2028
Earthly Body's collection of natural, vegan, and paraben-free skincare and bodycare products has caught the eye of an array of media outlets, such as Allure and Lucky magazines, with its hydrating hemp-oil bases and cruelty-free lineup. Candles melt into a candle pot with wax that can also be used as a warm massage oil, postcleansing moisturizer, or elbow cream for dry pet elephants. Earthly Body's haircare line, Marrakesh, infuses each tendril-smoothing solution with Moroccan argan oil and three signature scents (original, High Tide, and Dreamsicle) to bolster frizz-free manes. Mineral-based makeups dust across facescapes without the harsh chemicals or pore-clogging guilt found in animal-tested products.
5145 E Los Angeles Ave.
Simi Valley
California
---