Restaurants in Stamford
---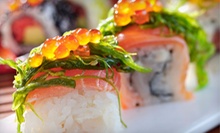 Chefs transform organic ingredients into eclectic sushi rolls at multi-level eatery with private outdoor courtyard with day beds & curtains
Use Thursday 7:00pm - 10:00pm
---
Recommended Restaurants by Groupon Customers
---
Only months after its inception, French American Bistro—AKA "FAB"—grabbed the attention of The New York Times with its buttery croissants and fresh salads. Today, head chef Octavio Sandoval continues to mesh French and American flavors to elegantly plate dishes ranging from escargot to 10-ounce burgers on brioche buns. Patrons inside the upscale dining room can pair FAB's seasonal menu with live musical performances and an eclectic selection of beers, wines, and water piped in from the Seine.
222 E Main St.
Mt. Kisco
New York
914-864-1661
At Westchester Burger Co., the eponymous burger comprises a 10-ounce patty topped with smoked mozzarella, tomato, pickles, frisée, and a secret sauce that has helped it receive local accolades. But it was quite a journey to get the burger to where it is today: the chef and owner, who has no formal training, spent many long hours in the kitchen using trial and error and complex algorithms to uncover the delicious combination.
That burger and the rest of the menu have proved to be so successful that three Westchester Burger Co. locations have opened in three years. They serve burgers nestled between grilled cheese sandwiches made with texas toast, Kobe beef burgers on a brioche bun, and italian-sausage burgers topped with a balsamic-vinegar glaze and broccoli raab. They also serve smoked Saint Louis–style ribs, vegetable lasagna, and root beer–braised short ribs.
106 Westchester Ave.
White Plains
New York
914-358-9399
Named one of Westchester's best restaurants by CBS New York, Casa Rina of Thornwood complements its authentic Italian cuisine with traditional steak house fare in a spacious and inviting atmosphere. The dinner menu delights guests with comforting pasta dishes, such as the penne alla vodka and cappellini alla salmone. Entrees also include seared slabs of veal and steak, splashed with fine wine and delivered with sides of risotto, potato croquette, or linguini with seasonal vegetables. Mixologists assist with dinnertime conversation by sliding specialty martinis across the sleek marble bar and announcing fake celebrity news through a megaphone.
886 Commerce St.
Thornwood
New York
914-769-4515
Candles placed upon the bar and tables at Bambou Asian Tapas & Bar cast a flickering glow on dishes that blend the spices of Chinese and Thai cuisine with the cool flavors of Japanese sushi. Behind the bar, chefs tie ribbons of seaweed around ocean-fresh salmon or chomp on morsels of wasabi before searing soy-glazed chicken with their newfound fire-breath. Wines, sakes, dessert liquors, and cocktails complement hot and cold tapas selections, and chopsticks duel for elegantly plated sushi rolls at the dining room's intimate booths and tables.
328 Pemberwick Rd.
Greenwich
Connecticut
203-531-3322
Chef Lisan slashes a checkmark of sauce on a bistro plate. The sushi bar radiates with purple neon. Red walls stand stark against black lacquered tables, where bamboo mats tell Lisan's story—an upbringing in Tokyo and 20 years in New York dreaming of a restaurant just like Ginban Asian Bistro. An ever-evolving Omakase menu mingles Japanese, Malaysian, and Southeast Asian influences and presents everything from fresh sashimi to saucy filet mignon. After splashing soy on a slice of just-rolled sushi, patrons can retreat to the outdoor patio for a cocktail. The restaurant also caters parties of up to 200 people, or occasionally up to 201 people if the outlier can stay quiet beneath a friend's trench coat.
421 Mamaroneck Ave.
Mamaroneck
New York
914-777-8889
Owner and chef Alain Bennouna uses traditional Moroccan spices and cooking techniques to create a menu of bold cuisine, which Westchester Magazine described as "incredible, hauntingly spiced food" when placing Zitoune on its The Year's 10 Best Restaurants list in 2008. Entrees of braised lamb and grilled chicken flood the senses with comforting aromas of saffron, honey, and ginger—ingredients that Alain regularly savored while growing up in Marrakesh.
Although Alain draws inspiration from French and American recipes, Moroccan influences definitely take the lead. In addition to serving slow-cooked meat and lentil stews in clay tagine pots, Chef Bennouna embraces the family-style aspect of his childhood cuisine by cooking entire 18- to 20-pound lambs for larger parties if given five days advance notice. The New York Times praised the chef's commitment to these homestyle touches in 2007, claiming, "Mr. Bennouna is in love with his native cuisine, and he wants you to love it too."
The food's vibrant eclecticism echoes the dining room's highly sensory decor. Copper-topped tables, arabesque tiles, and handcrafted textiles from Marrakesh marketplaces fill the sunset-orange space. On Friday and Saturday evenings, the restaurant invites belly dancers to perform, allowing them to sweep throughout the dining room and enthrall diners with their ability to recite the Gettysburg Address backwards.
1127 W Boston Post Rd.
Mamaroneck
New York
914-835-8350
---