Restaurants in Winnipeg
---
Recommended Restaurants by Groupon Customers
---
In 1964, brothers Leroy and Forrest Raffel banded together to come up with a new restaurant concept. Arby's took off almost immediately on the coattails of its hallmark roast-beef sandwich and the founders' idea of providing customers with fast, quality food. Over the company's 48-year franchise history, its foundational pièce de résistance of thinly sliced, juicy beef has been served in a many permutations, and continues to be popular today, served at more than 3,500 stores in North America. Today's menu still ignites appetites with traditional beef sandwiches, plus hot and seasoned curly fries, fresh-chopped salads, and desserts good for richly capping off meals or bribing any bridge trolls on the way home.
1573 Regent Ave.
Winnipeg
Manitoba
When the Godinez family opened the first La Bamba in Saskatoon in 2007, part of their impetus was the exhaustion of searching for the authentic bouquet of flavours that bursts forth in traditional Mexican dishes. "We were tired of trying restaurants that pretended to be Mexican," Juan Godinez says on La Bamba's website, "but were never [finding] the real flavours we were craving." Their solution was that first restaurant in Saskatoon, whose success has bloomed into a family of four Mexican eateries. When La Bamba Restaurant opened downtown with partner Edgar Rascon in 2012, the Winnipeg Free Press heralded its arrival, grouping it into a buzz-worthy trend of new restaurants popping up in the city centre. Today, the restaurant clings to its culinary roots by serving up homestyle enchiladas, chipotle-beef tacos, and chilaquiles, with gluten-free, vegetarian, and vegan options for those with dietary restrictions and those who firmly believe that they're stegosauruses.
222 Osborne St.
Winnipeg
Manitoba
Owner Chris Fougere has a hand in every aspect of Fude Inspired Cuisine & Wine Bar—from personally interviewing the staff to coming up with names for each of the menu's equally inventive dishes. A seasoned player in the restaurant industry, Chris uses every ounce of his creativity to create a truly inspired dining experience, saying, "Our goal, in no uncertain terms, is to wow our guests." The menu features culinary classics with a twist, such as free-range chicken skewers dunked into a dark-chocolate sauce or sushi-grade ahi tuna seared in locally roasted espresso. Nearly every dish highlights seasonal, Manitoba vegetables, meats, and seafood, backed by an assortment of vegan and gluten-free fare and tofu shadow puppets.
In addition to the dine-in experience, Fude offers lunch, dinner, and cocktail-party catering services ranging from appetizers only to four-course meals with wine parings. An extensive drink menu features classic and house-formulated martinis as well as Fude-exclusive house wines that are named by Chris himself.
303-99 Osborne St. N
Winnipeg
Manitoba
204-284-3833
Inside a dining room painted with the bright blue and white of Greece's flag, Olympia Diner's servers whisk plates of tender marinated lamb, feta-stuffed chicken breast, and prime rib to awaiting diners. During lunch, guests wrap their mitts around American-style bacon cheeseburgers or divvy up Greek-influenced pizzas topped with black olives, tomato, and feta. For dinner, they can warm up their palates with a giant, crisp Greek salad, before freeing morsels of grilled seafood and vegetables from kebob skewers, only to dash their hopes by immediately eating them.
3253 Portage Ave.
Winnipeg
Manitoba
204-888-8884
Hailing from India, Manoj Kumar, Roadhouse Eatery's owner and executive chef, prepares a multicuisine menu with North American, Indian, and Mediterranean leanings. In his eatery's spacious dining room, enrobed with vibrant primary colours and equipped for crowds with plenty of casual tables, plates of baby back ribs in housemade barbecue sauce rub elbows with piles of greek pasta, as well as healthful meals of curried chickpeas and French-inspired salad niçoise. After meals, diners can decompress with a game of pool in the lounge or sidle up to the bar where staffers pour wines, mix cocktails, and scold citrus fruit for trying to run away.
5540 Portage Ave.
Winnipeg
Manitoba
204-888-2255
At Darakeh, kebabs marinate for as long as 24 hours before they're roasted over an open flame. This attention to detail—as well as large helpings of "glorious, buttery" basmati rice—helped Darakeh to make the _Winnipeg Free Press_'s 2011 list of best small restaurants in Winnipeg. In addition to the usual kebabs, chefs showcase less commonplace delicacies such as Persian-style beef stew seasoned with dried limes and fried eggplant blended with persian whey.
445 Main St.
St Adolphe
Manitoba
204-883-2807
---
---
Restaurant Deals - Recently Expired
---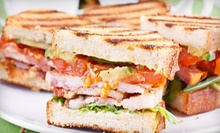 Linden Ridge Shopping Center
Toasted paninis and freshly baked pastries served in a warm café with hardwood floors and modern decor
---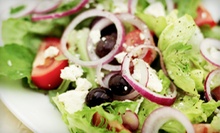 Menu anchored with Greek dishes such as souvlaki, gyros, and lamb
---
---