Prep for 2015 with the ABCs of Beauty Treatments
BY: Favin the Maven |
Dec 17, 2014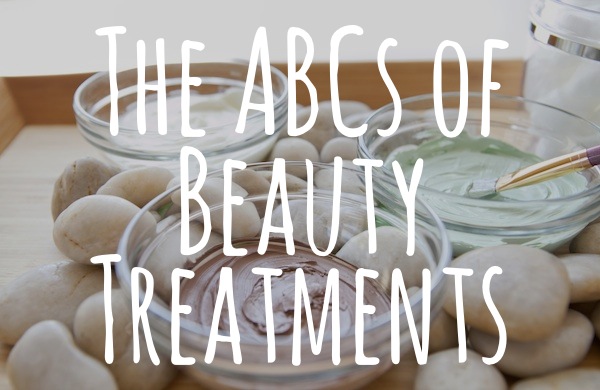 When December rolls around, I start thinking about how I can take better care of myself in the new year. And I don't just mean eating better (though I'm keeping that in mind after my recent soup cleanse). I also mean creating a more thorough beauty routine for my skin, hair, and body.
To help me with my goal, I decided to put together this handy reference guide full of beneficial ingredients and products. I call it the ABCs of Beauty Treatments—but I don't recommend trying to sing it, it has way too many syllables.
Vitamin A: Also known as retinoids, the forms of vitamin A are often used in products for acneic and aging skin because of their exfoliating properties. They're strong, though, and can cause redness and peeling, so newbies should ease into applying them regularly. Another tip: it's good to look for retinoids in night creams because vitamin A can make skin more sensitive to sunlight.
Vitamin B: B vitamins (sometimes listed as niacinamide) boost fatty acids in skin and help retain moisture. Vitamin B is also the main ingredient in Hairfinity, a hair-strengthening supplement I take, and is great for hangovers.

Vitamin C: This one is all about brightening. Many skincare products with fruit extracts are loaded with vitamin C, which helps fight free radicals and fade hyperpigmentation. Unlike vitamin A, it plays well with the sun and can actually amplify the effects of your sunblock.
Vitamin D: Sunshine makes people happy, and the UV index is low this time of year. (Trust me, I'm from Arizona. I know what real sun feels like.) For some people, taking a vitamin-D supplement can help treat the winter blues.
Vitamin E: I break open a vitamin-E capsule every day and massage it into my skin. It's great for dryness, which is a big problem for me in winter. Like vitamin C, this one's also great for protecting skin from free radicals.
Flotation therapy: Even if you're not the meditating sort, consider stepping into a float tank. I did, and I felt more relaxed for the entire day. Flotation sessions have also been said to boost creativity, so bring your sketchbook!
Glycolic acid: This alpha-hydroxy acid (AHA) is often used in spa peels thanks to its exfoliating effects. As someone who's gotten chemical peels before, I can definitely attest to its magic: it softens up oily spots, blemishes, and built-up skin cells, making them easier for aestheticians to remove.

Hyaluronic acid: Unlike glycolic acid, hyaluronic acid doesn't exfoliate skin at all. It does the opposite: it helps your skin hold on to its natural moisture as well as any moisturizing products you apply. It's a moisture magnet!
IPL: This stands for intense pulsed light, which aestheticians use for everything from hair removal to acne therapy to reducing age spots. I've tried LED masks and laser treatments with success, so this might be at the top of my 2015 to-do list.
Juice: Before I was cleansing with soup, I was cleansing with juice. And it was hard. But I did lose some weight, feel more energized, and develop more awareness about my eating habits.
Keratin: Despite spending much of my life perfecting my curly-hair routine, I can't deny the appeal of getting a keratin treatment. My coworker Gina got one, and it made managing her waves (and straightening them when she wanted to) a lot easier. I'm intrigued!

Lactic acid: I learned recently that the lactic acid in milk is a great exfoliant! Soak your feet in a bowl of whole milk, and look for the AHA in face and body moisturizers. Bonus: it's gentle enough to use on sensitive skin and rosacea.
Microdermabrasion: I started getting microdermabrasion this year, and I'm sort of addicted. It exfoliates thoroughly, is minimally abrasive, and can help boost collagen production. Who doesn't want any of that?
Neem: My aunt got me hooked on this ayurvedic herbal supplement, which is said to strengthen the immune system and detoxify the liver. New Year's Eve champagne + a long, cold January = me doubling my next order.
Oil: I'm not talking about the oil on your face that can lead to blemishes. I'm talking about my favorite thing in the whole world: coconut oil. It moisturizes, it can clean your teeth, and you can cook with it, too!

Pomegranate: Another winter-friendly beauty remedy! When your face starts getting winter burn, find a local spa that offers a pomegranate facial. It's full of antioxidants that curtail skin damage.
Quiet: Maybe this is cheating on the letter Q, but I do think that making quiet, introspective time for yourself is both healthy and relaxing. If you can't find a silent space at home, try sleeping in a salt cave?
Resolutions: What's prepping for the new year without making a few of these? Now that I'm 30, I'd like to start incorporating anti-aging products into my skincare regimen and schedule monthly microdermabrasion treatments.
Salicylic acid: This was a key component in a chemical peel I got earlier this year. It also makes frequent appearances in my home skincare routine, as it's helpful in removing the built-up oil and dead skin cells that lead to acne.

Turmeric: I had fallen for turmeric's skin-softening effects a while ago, but I just learned it's great as a supplement, too. It can help improve digestion, support pancreatic function, and promote clear skin.
UV protection: You might be sick of me telling you to wear sunscreen, but tough. Do it. Your skin will thank you, and you'll feel less guilty about spending hours on a beach towel reading magazines.
V-Steam: Perhaps the weirdest spa visit I took in 2014 involved the V-steam, a soothing treatment for the nether regions. It smelled amazing and may have helped with my cramps, so I recommend it to anyone willing to sit naked under a cape!
Water: Lots of people overlook this key beauty ingredient, but hydration is essential to a healthy, happy body. If you don't get enough water, you may feel fatigued, and your skin can become parched and dry.

Xtensions: OK, I'm being creative with the spelling, but I just really wanted to talk about eyelash extensions. They became one of my beauty essentials in 2014, and I have no plans to abandon them in 2015. My makeup routine is shorter, and they've helped me deal with my chronic FOMO!
Yoga: I tried yoga in a sweltering room and walked away humbled. In 2015, I'd like to try it again. More flexibility and mindfulness can't hurt!
Zerona: I started a round of Zerona treatments a few months ago when I learned that it can empty out fat cells. It's up to me to keep them empty with a balanced diet, but hey, that's what the soup cleanse was for! Here's to healthy eating in 2015!
Top image: Michelle Klosinski and Rachel McCann, Groupon. Fifth image: Andrew Nawrocki, Groupon.
BY: Favin the Maven
For me, both beauty and fashion need to be accessible and not intimidating. I love a great deal and a good DIY beauty treatment. I pride myself on trying new trends, being open minded and getting a great treatment without breaking the bank. In the name of beauty I will try anything once.