Shopping in Anchorage
---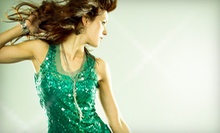 Boutique stocks Judy Blue and Destroyed denim, along with accessories such as shoes and handbags
---
Recommended Shopping by Groupon Customers
---
From the moment he began snapping shots for his high school's yearbook, Scott never stopped. After graduating from the Art Institute of Pittsburgh, he honed his craft at several Anchorage studios before opening Fitzgerald Photography in 2000. He took amateur shutterbug Alicia under his wing, teaching her all his behind-the-lens tricks. As their business blossomed, so did their romance; the two married in 2005.
Together, they capture portraits of families, seniors, newborns, expectant moms, and wedding guests. Scott and Alicia build each snapshot around candid interactions between kin rather than forced poses. Though they have a studio for digitally tweaking images, printing, and shooting, they also like to take full advantage of Alaska's beautiful topography. During on-location shoots, their lenses capture subjects framed against mountain landscapes, posed along woodland trails, or throwing fistfuls of butterflies into tranquil creeks.
16829 Fire House Ln.
Eagle River
Alaska
907-726-1562
In 1946, just after the end of World War II, Norman Brown hand-set the type and hand-fed a Linotype press to roll out the first 16-page issue of the Anchorage News. Over the following decades, the publication changed its moniker to the Anchorage Daily News to account for its shift to daily delivery and stocked its trophy cabinet with two Pulitzer Prizes for Public Service, cementing its regard in the minds of Alaskans.
Today, the newspaper lands on more than 50,000 doorsteps each week. The freshly printed folds contain the latest local news, from political updates on the debate over offshore drilling to explanations of how the school system is developing a new math curriculum to help children count past 20 without using each other's fingers and toes. The sports section keeps up with the Aces' triumphs, whereas the outdoors pages cover the Iditarod and the latest goings-on at Denali National Park. Readers can also gain insight into the business world, challenge their outlooks with editorials, and peruse entertainment articles before deciding to go see a local improv group or movie.
1001 Northway Dr
Anchorage
Alaska
866-528-0236
The same passion for classic and vintage video games that led Michael to the finals of a Donkey Kong tournament galvanized him to open Video Game Depot several years later, which he runs with an aim toward holding on to what video gaming used to be. Stepping into the shop is like stepping into an anachronism, where vintage Ataris mingle with PlayStation 3s on the shelves. Michael's clientele often stop by to trade in old Nintendo Entertainment Systems for other consoles or pocket money for asking out Princess Peach's less-distressed cousins. The store's inventory is constantly expanding, with recent additions including game soundtracks, an ever-rotating selection of consoles, and several arcade cabinets such as Donkey Kong and Ms. Pacman. His passion has passed onto his four sons, who help run the store's websites and counter before the family sets off for home to game together in the evenings.
3205 Spenard Rd.
Anchorage
Alaska
A denim jacket by Diesel Kids, a flower-patterned dress by Janie and Jack, and scores of other clothes hang from racks, their tags often showing a discount of up to 70% off. That's because these fashionable kids' duds are gently used. At 23 locations across the United States, Kid to Kid stores buy used children's and maternity clothing, as well as toys and baby gear made by high-end brands. Before selling them-—with thousands of items priced at less than $5—they meticulously inspect each item for quality and to confirm that no child is still literally attached to them.
1231 E Dimond Blvd.
Anchorage
Alaska
907-272-5437
The warmth of the staff at Mile 5.2 Greenhouse & Gift Shop rivals the warmth of its hand-tended conservatory. The affable plant buffs rely upon customer-focused service to combat impersonal "big-box stores," gladly guiding visitors through their greenhouse's lush pathways where flowers peek from hanging baskets and tropical plants share the roof with herbs. More than 125 types of perennials and fruit-bearing boughs boost their resilience as they endure the winter cold, training their blooms to return year after year so they can one day avenge their ancestors against the weed-whackers of clumsy gardeners.
In addition to its striking greenery, the Eagle River outpost stocks their gift shop with an array of gourmet foods, ranging from Lake Champlain chocolate bars and Oregon salt-water taffy to hearty soup and bread mixes. Additionally, home accessories such as wind chimes and scented candles can pair with potted petals to create colorful gift combinations.
17026 Santa Maria Dr.
Eagle River
Alaska
907-694-3978
One thousand moldings. Eight hundred matboard colors. Ten glazing options. An enormous supply of framing materials crowds the shelves at Denali Graphics & Frame's warehouse, with more options—including an additional 2,000 moldings—available by special order. With this vast selection at their fingertips, Denali's art experts can swiftly pair customers' photographs and paintings with frames carefully tailored to their size, shape, and hue.
5001 Arctic Blvd., Suite 3
Anchorage
Alaska
907-561-4456
---