Things to Do in Anchorage
---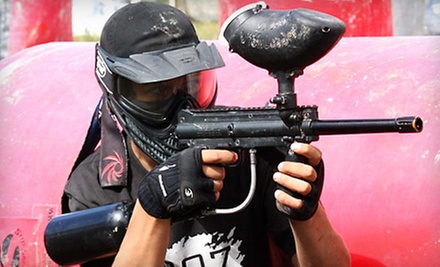 ---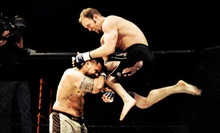 Starting in September, the Alaska Fighting Championship barrels into its eight-event season held at Sullivan Arena
---
Recommended Things to Do by Groupon Customers
---
Air-filled structures within Pump It Up's indoor play-haven offer hours of safe bouncing enjoyment for youngsters two and older. Kids leap around in bounce houses during drop-in pop-in playtime sessions during weekdays, where they interact with other bouncers while getting exercise. An obstacle course adds challenges to their enjoyment, and inflatable slides bring kids back down to earth to start games anew. Pump It Up's space can be rented out for private events, such as birthdays, grade-school graduations, and a kid's first steps on the moon. Not just for children, Pump it Up also hosts teambuilding corporate events for adults and hosts family play times where parents are encouraged to jump along with kids.
501 W International Airport Rd., Suite 30
Anchorage
Alaska
907-929-9007
The Color Me Mine franchise has been named one of the top 10 places for kids' birthday parties by Parents magazine. This establishment boasts a 1,750-square-foot studio brimming with décor and fixtures crafted by its own staff members, including custom-tile floors and a grandfather clock made from shards of shattered pottery. Patrons browse well stocked shelves of ceramic plates, vases, and—thanks to an exclusive partnership with the magic magnate—Disney characters, then garnish their chosen bisques around crafting tables in the main studio or long tables in the private party room. Experienced staff members stand closely by to help with bisque or paint selection and answer any questions about materials, design ideas, or how to emblazon Tinker Bell with a perfect Mona Lisa smile, then glaze and fire each creation to forge a bounty of long-lasting keepsakes.
8130 Old Seward Hwy., Suite 106
Anchorage
Alaska
907-349-6463
From April through September, baseballs and softballs hurl toward awaiting batters in The Cage's eight outdoor batting cages. As batters warm up, they choose between slow pitch or fast pitch options for softball batting and from four speeds for baseball pitching. Each $1 token grants participants 12 chances to practice their bunting, homering, or pausing balls in midair if they believe hard enough. Monday through Friday from noon to 8 p.m., Saturday from 10 a.m. to 8 p.m., and Sunday from noon to 6 p.m., players can visit the facility to work on their batting, stock up on baseball apparel or gloves at the facility's shop, or celebrate a birthday with packages that include cage-rental time, a cake, and a gift for the celebrator.
209 King Cir.
Anchorage
Alaska
907-344-7628
Built in 1968 to commemorate the 100th anniversary of the purchase of Alaska from Russia, the Anchorage Museum's mirrored skin now holds an immense collection of exhibits that celebrate Alaska's history and innovations in art and science. Using grants awarded by the National Endowment for the Arts and other organizations, Anchorage Museum was able to devote four floors and a small but well-appointed fourth dimension to art, cultural history, natural history, and science and technology—all represented by more than 25,000 objects.
Through a series of permanent exhibits, visitors embark on a cultural and geological voyage. More than 600 Alaskan Native artifacts on loan from the Smithsonian Institution join miniature dioramas of indigenous lifestyles in illuminating the cultures that first shaped the area, while other collections peer into the gold rush era, World War II, and the process of becoming a state. Itchy hands find relief in the Imaginarium Discovery Center, a playground for DIY discovery where visitors of all ages can touch sea stars, shoot air cannons, and learn more about what makes a volcano erupt or the aurora borealis cast its eerie glow.
625 C St.
Anchorage
Alaska
907-929-9200
An area mainstay for 51 years, Al's Alaskan Inn now pumps out DJ-helmed tunes from high quality sound systems in both its upstairs and downstairs spaces. Six bars, each with their own theme—such as Area 51, Voodoo Lounge, or The Injustice of Feudalism—stretch across the sprawling confines, while open mics and karaoke keep guests entertained outside of their nearby hotel rooms.
7830 Old Seward Hwy.
Anchorage
Alaska
907-344-6223
Bouncin' Bears' indoor inflatables set the scene for kids to unleash their imaginations while zooming down slides and climbing through jungle gyms. Staff members keep a close eye on the sea of green, yellow, and blue inflatables, ensuring safe play as little ones bound over obstacles. The springy surface of bounce castles sends little monarchs soaring higher than Louis XIV's built-in antenna, and age-appropriate inflatables host toddlers aged 3 and younger. In addition to open play, the facilities also host parties that incorporate activities such as Nerf-gun battles.
901 E Dimond Blvd., Suite E
Anchorage
Alaska
907-376-8500
---