Things to Do in Broken Arrow
---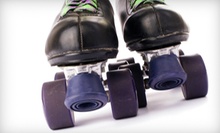 Skaters glide across a spacious floor amid music and colorful décor before refueling with a large drink of choice
---
Recommended Things to Do by Groupon Customers
---
In 1926, oilman Waite Phillips commissioned a Renaissance-style villa on his 23 acres of Tulsa land. Finished in 1927, the structure served as his home until 1938, when Phillips decided to focus on a different kind of oil: oil painting. He converted his 72-room mansion and all 23 acres into the Philbrook Museum of Art, which houses an extensive collection to this day.
Its international pieces range from African word sculptures and an 18th-century Chinese porcelain docai vase to funerary objects flanking an Egyptian mummiform coffin. From its homeland, the Philbrook showcases Native American basketry and paintings spanning the 18th through 21st centuries, including 15 works by Andrew Wyeth. Outside, the museum's remaining acreage hosts a lush garden whose trails run alongside native Oklahoma plants and plants that relocated to Oklahoma after college.
Along with permanent and rotating exhibitions, the Philbrook stakes its claim as a cultural hub with interactive, enlightening programs and events. In the summer, these include daytime art camps for six- to 12-year-olds and a nighttime film series that screens features in the garden.
2727 South Rockford Road
Tulsa
Oklahoma
The Gift Garden tends a diverse patch of trinkets, apparel, gift baskets, and more to resolve any tricky coefficient that confounds your gifting formula. Colorful candles line the store's bright walls. Because scent is hard-wired to memory, grab an Original Man Candle ($9.99) to attach the fragrance of bacon, french fries, or football to your thought bubble, or craft your own signature aroma at the bath and body Scenting Station, where any mixture of 150 scents can be branded into bath and body wares. Bequeath a fashionable gambler with the Lolita Bunco Game ($24.99), which outfits the classic game with a feather-boa bell and pink dice. Babies and their bearers go gaga for The Gift Garden's onesies and Pacimals, which join medical-grade pacifiers with soft stuffed animals to help boost an infant's coordination and promote giraffe relations ($19.99). The microfiber, monogrammable quilted tote bag ($21.99) looks elegant with a purse hanger ($8). Upon completion of your gifting journey, The Gift Garden's friendly staff will provide a decorative gift bag free of charge.
825 N Aspen Ave.
Broken Arrow
Oklahoma
Strictly Ballroom's staff of friendly, experienced instructors schools steppers of all skill levels in the art of ballroom dance. The introductory dance package offers three half-hour one-on-one lessons, one group lesson with a handful of couples, and one studio party, during which newly be-lessoned ballroom dancers can freestyle without fear of the teacher's eye's judicious gavel. Within the elegant, mirrored confines of Strictly Ballroom's gleaming hardwood dance floor, you'll have plenty of room to acquire the confidence and grace of a bipedal swan, and plenty of chairs and tables from which to observe other swannabes. Afterward, in your shoe bin, your shoes will have stories to share with the high-heeled alligator-skin brogues you haven't worn since last year's home fumigation.
6926 South Lewis Avenue
Tulsa
Oklahoma
Broken Arrow Lanes facilitates pin-crushing revelry throughout the week with youth and adult leagues and open-bowling hours on 36 lanes. Flat-screen televisions suspended above each lane display players' scores and heated debates between news pundits and teleprompters. The alley also envelops a pro shop, a redemption-based game room, and a full-service dining area, where patrons can snag handheld meals such as burgers, sandwiches, and pizza slices but not bowling balls.
4701 S Elm Pl.
Broken Arrow
Oklahoma
918-455-4616
What began in 1965 as a traveling exhibit from the Jewish Museum in New York transformed into a permanent space for art pieces that encompass various aspects of Jewish life. The museum now bears the name of its first curator, Tulsa native Sherwin Miller, whose dedication to Judaism and art embodies the museum's mission to "preserve and share the legacy of Jewish art, history and culture."
To cultivate its educational environment, The Sherwin Miller Museum of Jewish Art maintains permanent collections such as the Jewish History and Culture exhibition, in which visitors can peruse fine art in the form of brilliantly colored tapestries by Israeli artist Reuven Rubin and archeological artifacts from the Middle Bronze Age through the Iron Age. Other displays include the Kaiser Holocaust Exhibition on the first floor and the Oklahoma Jewish Experience, which tells the stories of immigrants and showcases memorabilia from Oklahoma synagogues and families. In addition to its collections, the museum also showcases rotating exhibits of visiting works of art and seasonal educational displays with craft projects geared toward specific holidays.
2021 E 71st St.
Tulsa
Oklahoma
Enjoy stroke after corrective stroke on the range at Tee Town Golf Ranch, where 20 covered hitting stalls stand as the gateway to hole-in-one heaven. Slap a clubface on premium range balls and go for distance or, for increased satisfaction, aim for one of 10 target greens that patchwork the range. Once your power drive is accurate enough to knock decommissioned Soviet satellites out of the sky, finesse your short game by putting across the short-game area's 10,000-square-foot bent-grass green, chipping out from an uneven lie, or playing a game of H.O.R.S.E. with a newly acquainted practice partner. Whether it's evening or daytime, both areas are equipped with brilliant lighting as well as the celestial brilliance of the sun (not available on rainy days).
7401 S 209th E Ave.
Broken Arrow
Oklahoma
---