Restaurants in Burr Ridge
---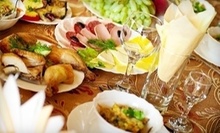 Use Saturday 11:00am - 4:30pm
---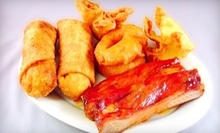 Use Today 11:30am - 2:30pm
---
Recommended Restaurants by Groupon Customers
---
Set in a bright, color-splashed setting, Lalo's has served up high-quality Mexican cuisine with fresh ingredients to satisfied Chicagoans for nearly 30 years. Much in the way a jockey fondly strokes his steed's mane, diners lovingly pet Lalo's nachos ($7.95) before voraciously devouring them. Diversify flavor portfolios with the enchiladas suiza— three corn tortillas wrapped tightly with chicken, mexican cheese, tomatillo sauce, and sour cream ($13.95)—or introduce taste buds to the camarones al mojo de ajo—shrimp captured while sleeping, domesticated for several years, taught to read French, and then cooked pink and slathered in fresh garlic-butter sauce ($14.95). Meanwhile, Lalo's margarita menu enlists a cast of strawberry, raspberry, guava, mango, and peach flavors, each available in small ($6.95), medium ($9.95), or party-pitcher ($23.50) doses.
804 S. Oak Park
Oak Park
Illinois
708-386-3386
Most of the steak, chicken, and seafood morsels that star in La Majada Restaurant's hearty dinners spend quality time with the grill before taking on equally fiery accents of chorizo, peppers, and chile sauce. Along with dizzying combinations of burritos, tacos, and tostadas, the enormous menu also finds room for less common specialties of Mexican smoked ribs and Pollo Cancun: chicken baked in a paper bag and covered in a blend of spices and tequila. Vibrant paintings peer across the expanse of the brick-walled eatery toward a fireplace whose crackling logs occasionally spook nervous piñatas.
226 Harrison Street
Oak Park
Illinois
708-848-8838
Al Basha corrals an eye-catching lineup of Mediterranean platters onto its menu and buffet tables, spicing palates with rotisserie-cooked meats adorned with signature seasoning. Kebab spears can lift bites of shrimp, lamb, and filet mignon into mouths or tuck them under fedora brims for later snacking, while sandwiches carry a classic cargo of falafel and shawarma. The staff prepares piping sips of authentic Middle Eastern tea with mint or sage, as well as all-natural smoothies and a daily-dessert selection.
7216 W College Dr.
Palos Heights
Illinois
708-671-1440
---