Things to Do in Chicago
---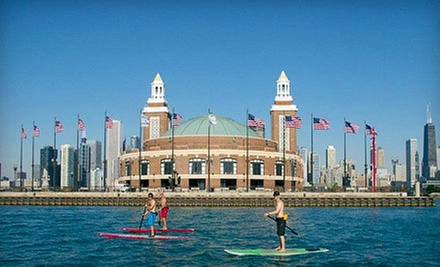 ---
Chicago Things To Do Guide
Chicago is known for its lakefront location and wide range of cultural venues. The city's wide variety of seasonal festivals, sporting events, outdoor recreation and cultural activities means that people have no trouble finding things to do in Chicago. There is always something going on, from dances in the park to new touring theatrical productions. Chicago has a year-round supply of musicals and plays featuring local artists. For comedy lovers,
The Second City
is a sketch comedy venue that has trained some of the leading comedians in the country. The theater is one of the top Chicago attractions, offering a range of shows throughout the year. Some shows include dinner, making them ideal for a complete night out. People who are interested in learning improvisational comedy can take classes at The Second City. For people who love the great outdoors, Lake Michigan is a short drive from almost anywhere in the city. People who are looking for active stuff to do in Chicago can head to the lakeshore, where miles of paved trails run along the water. Kayaking offers a unique view of the city. At
Wateriders Kayak Tours
, the entertaining guides offer themed paddling tours. The Ghosts and Gangsters tour takes place at night, giving participants the chance to learn about Chicago's dark past and explore the haunted spots in the city's waterways. People who love sports have no shortage of Chicago activities, no matter what the season. In addition to the big teams like the Cubs and the Bears, the city is home to the Windy City Rollers, a women's roller derby team. Each bout is rowdy and exciting, and the athletes are fearless. Tickets are inexpensive, and the stadium is easy to reach by public transportation. Whether people are looking for an outdoor activity or an evening on the town, there are things to do in Chicago for every taste and budget.
For people who love the great outdoors, Lake Michigan is a short drive from almost anywhere in the city.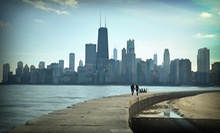 Savvy guides highlight the Loop's attractions using old photos, film clips & imaginative descriptions of Chicago's past & present.
Use Saturday 10:30am - 1:30pm
---
Recommended Things to Do by Groupon Customers
---
A 7,100-square-foot sculpture garden is only the tip of the iceberg at the Madison Museum of Contemporary Art. In fact, the garden is also the tip of the museum—it's on the facility's roof. Designed by Cesar Pelli, the sprawling building encompasses an eclectic array of modern works, including a 5,000-item permanent collection that incorporates pieces ranging from Frida Kahlo's works to John Coplans' black-and-white self portrait, which shows only his feet.
A rotating lineup of temporary exhibits complements the permanent core, and a regular event schedule features films, talks, and performance by masters of their craft. Visitors can browse art books and craft jewelry in the museum store, where all purchases support artists and designers more simply than training to become a muse.
220 East Chicago Avenue
Chicago
Illinois
US
312-280-2660
A trio of retro bowling alleys lures visitors into their distinctive confines for old-fashioned entertainment. Southport Lanes & Billiards exposes groups to waves of nostalgia with four lanes of hand-set bowling, making it 1 of only 10 remaining of its kind in the country. Outside of the bowling area, sleek wooden floors lead visitors to a line of pool tables, and an outdoor patio gives glimpses of the blooming neighborhood in warmer months.
Seven Ten Lounge, home to a bowling alley, billiard parlor, bar, and restaurant, envelops guests in the trappings of a bygone era. Art-deco motifs, vintage posters, and mahogany furnishings surround revelers as they lob a ball, aim a cue, or pity the defenseless pins. Local microbrews pepper the draft list with homegrown variety, and house-made fare elevates the menu past a typical alley nosh.
Hyde Park's Seven Ten Lanes not only exudes a similarly stylish décor, but also features gutter guards to contain errant throws by children or carnival musclemen with inner-ear imbalance.
1954 W Roscoe Street
Chicago
Illinois
773-248-7800
The party-loving minds behind City Lights Cruises wanted a creative way for locals and tourists to explore a city's late-night atmosphere. Eventually they launched a fleet of luxury yachts into the waters of eight of North America's most lively urban waterfronts. On each vessel, festivities abound as DJs spin everything from hip-hop to Sinatra, inviting passengers to shake a leg in between trips to the full bar or buffet lined with hot appetizers. All yachts boast extravagant details such as wraparound decks, fireplaces, or a glass atrium that hangs above the dance floor offering dancers a direct view of the man in the moon's game of solitaire. Guests can also step onto the decks for fresh air or panoramic views of city's skyline.
600 E Grand Ave.
Chicago
Illinois
212-822-8880
The high-flying acrobats of Cirque du Soleil set their microscopes on the insect world with Ovo, a family-friendly circus spectacle that exposes the beauty of the lowest levels of our ecosphere. Like the lost Disney adaptation of Kafka's Metamorphosis, the show bridges the gap between humans and their minuscular counterparts with the help of whimsical costumes and set designs. As the first act begins, a monolithic egg lands in the midst of a bustling insect community, raising a commotion among the many-legged residents. Ants and crickets creep across the stage's webby backdrop, extending their antennae for a peek at the mysterious object. By the time a gawky blue insect arrives onstage and a ladybug sets his heart aflutter, audiences are cocooned to their seats in awe of the stylized habitat. Creature-themed stunts and dance routines fill the show's nine acts, which include a juggling firefly, a trapeze troupe of scarabs, and a pair of Spanish butterflies engaged in a rousing thumb-wrestling bout.
1901 W Madison St.
Chicago
Illinois
The instructors at Ahimsa Yoga Studio lead classes that have something to offer yogis of any age and skill level. Those new to practicing yoga can jump into the art of precise stretching and breathing in beginners' yoga, whereas experienced practitioners can learn more in-depth maneuvers in Hatha Vinyasa sessions. Prenatal yoga classes gift soon-to-be moms with a number of exercises that alleviate tension and discomfort, and in Yoga Kids classes, children as young as 4 can channel their abundant energy into noncompetitive movements. Instructors also helm teen yoga meetings that teach calming techniques to soothe anxiety over upcoming tests, summer jobs, or passing the limbo portion of the state driving test.
441 South Blvd.
Oak Park
Illinois
708-524-4593
Alliance Theatre has staged ghost stories, fairy tales, and beloved Broadway musicals for more than four decades, earning it a Regional Theatre Tony Award for its memorable productions. Haled by ArtsATL.com as "an incredibly engaging and tightly focused evening at the theater," I Just Stopped By to See the Man casts a mysterious pall over audiences with its tale of three characters seeking redemption. Accomplished musician and actor "Mississippi" Charles Bevel pours himself into the leading role of Jesse "The Man" Davidson, a legendary bluesman playing possum from fame while living in a shotgun shack with his daughter Della. Like Robert Johnson, Jesse is fabled to have traded his soul to the devil for his musical talents, which now collect dust while his guitar gently weeps. When Karl, a British rock star, hunts down "The Man" in hopes of learning from the master and luring him back to the stage, conflicts unfold and secrets are revealed. Brimming with authentic Delta blues songs and a surplus of wry wisdom, the intimate character study works its mojo on music fans and theater buffs alike.
230 W. North Ave, 3rd Floor
Chicago
Illinois
US
---