Things to Do in Chula Vista
---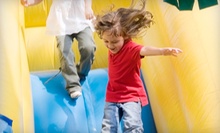 A carpeted, 40,000-square-foot outdoor amusement park filled with inflatable attractions
---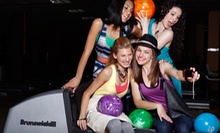 Long-time bowling-industry leader opens its oiled lanes for pin-punishment sessions including cosmic bowling
---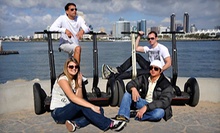 Two-wheeled transporters of the future obey intuitive gestures & ferry tourists past scenery of San Diego, La Jolla & Coronado
Use Wednesday 9:00am - 12:00pm
---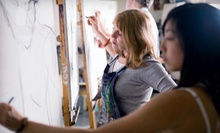 Teacher Olya Losina instructs artists of all skill levels in more than two-dozen techniques for rendering the human form in sketch & paint
Use Tuesday 3:00pm - 6:00pm
---
Recommended Things to Do by Groupon Customers
---
Enthusiastic instructors at OEX Mission Bay invite beginning and experienced adventurers into the cerulean waters of the Pacific. The outpost began as a kayak and freediving center, but has since branched out to include standup paddleboard, outrigger canoes, and poker tournaments with local sea bass. Staff members happily help sea student get fitted with the perfect-sized gear and train them in basic safety before their expedition over and under the blue bay waters.
1010 Santa Clara Pl.
San Diego
California
619-866-6129
Perhaps with the exception of a high-school prom, The Gondola Company can put almost any romantic event on the water. Its vessels ferry passengers across the canals of the Coronado Cays on several types of cruises, all of which spark a romantic ambiance with Italian music and BYOB amenities. The classic 50-minute Pasaporto jaunts depart for relaxing voyages day and night. As an optional add-on, a live mandolin or violin player can tag along to strum charming, traditional melodies.
The gondoliers do not exclusively transport small groups; they also pilot Venetian caorlinas, larger boats that can accommodate up to 14 people during family-style celebrations. For even grander gatherings, a fleet cruise dispatches as many as six separate gondolas, which can smoothly support entire wedding parties atop the water. Other specialized cruises treat passengers to more than scenic views and the melancholy mating croons of wild sturgeons. On a wine-tasting cruise, a sommelier lectures on a flight of six libations. Alternatively, a Voga massage cruise lays two beds inside the boat, permitting massage therapists to coax tension from couples' torsos and limbs as they skim along the canal surface.
4000 Loews Coronado Bay Rd.
Coronado
California
Creative clients brush layers of vibrant, nontoxic paint onto a wide selection of pieces at Daydreams Ceramic Café. The wood- and earth-tone-accented shop, with a feel akin to a rustic winery, lines shelves with blank bowls, vases, mugs, and figurines. After a creative slathering, staff members glaze each piece and fire it in in the café's 2,000-degree kiln for up to two days, rendering it glossy and safe for food, microwaves, dishwashers, and teething pets. The café charges no studio fee for its visiting artists and allows them to return as many times as necessary to complete their masterworks—features which may have helped it to snag a 2011 Best Arts & Crafts award from CityVoter.
2295 Otay Lakes Rd.
Chula Vista
California
US
Fusionglass Company, is a local gallery and working studio focused on promoting the arts through exhibitiing, teaching, & hosting Art events. Come tour our gallery & studio or book an event, from Afterhours shopping to birthday parties & fundraisers. Groups up to 20 people. Bring your own snacks and make it an event
8872 La Mesa Blvd.
La Mesa
California
619-461-4440
This little girl looks like a butterfly landed on her face, and this is only part of the reason why she's smiling so brightly. A face-painting brigade is visiting Play Town, decorating visages with intricate designs before sending kids down the tube slide.
Play Town is no ordinary indoor playground.
Sure, sock-footed kids age six and under can tight rope across a balance beam, scamper up a ramp to a network of tube slides, or play real-estate agent in a cottage playhouse but Play Town also enhances their playtime with a calendar of events that includes visits from face painters, cartoon characters, and princesses. Kids can also take movement classes or spend a few hours making crafts, while infants and toddlers play with soft blocks and parents take advantage of free wireless internet access.
858 Jackman St.
El Cajon
California
Wine and Canvas sends local artists to restaurants and comfortable bars to guide students through featured paintings from the studio's monthly calendar. As instructors offer step-by-step instructions, pupils mimic the motions of their brush to re-create scenes inspired by nature, Impressionist masters, and alcoholic libations themselves. After the night has ended, students carry their finished masterpieces home to hang proudly on their walls or avant-gardely on their fish tanks.
715 Fourth Ave.
San
California
---