Things to Do in Coney Island
---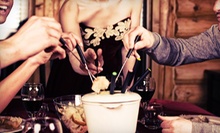 Champagne bubbles tickle the throats of guests who submerge fresh fruit into pots of liquid cheese or cocoa in this classy, laid-back lounge
Use Friday 5:00pm - 11:45pm
---
Recommended Things to Do by Groupon Customers
---
Tom Paladino, owner of the 95-foot American Princess, steers passengers over the Atlantic Ocean's scenic waters on many noted tours that leave the city's commotion behind, including his seal-and-bird-watching tour that earned a New Yorker mention. Staffed by a team of experienced captains on its luxury boats, American Princess Cruises' excursions encompass a variety of sightseeing, fishing, and partying opportunities. The company's many voyages ferry passengers past scenic areas that include New York Harbor, Jamaica Bay, Long Island Sound, or the Statue Of Liberty as she readies her torch for that night's show at Madison Square Garden. Within these geographic areas, passengers cruise on tours during which it's common to spot whales and dolphins cresting the sea's surface, the Sandy Hook Lighthouse, or take in the area's flame-colored leaves in autumn.
State Rd. and Heinzelman Rd.
Breezy Point
New York
718-474-0555
Since its creation in 1965, Buzz-A-Rama has hummed with the zooming melody of miniature slot cars, 1/24-scale replicas that race around turns and down straightaways at speeds ranging from 20 to 100 miles per hour. Eight at a time, these mini-racers whip around five different tracks that range from 80 to 100 feet in length, some featuring steep banks and sharp turns for an extra challenge. Owner Buzz Perri likes to say that his fast-paced racing menagerie—open on the weekends for general racing, weekdays for parties—is recommended for ages 5–95. Nothing proves his point better than the fact that past generations of racers now bring in their children and grandchildren to teach them a thing or two about leaving their blinkers on.
69 Church Ave.
Brooklyn
New York
718-853-1800
A favorite venue of Brighton Beach's Russian-speaking community, New Millennium Theatre often hosts visiting Eastern European artists on its modern, LED-equipped stage. The 1,400 plush seats have been privy to performances from ballets to rock concerts, the tunes of Ray Charles to the jokes of Jackie Mason, bringing culture to audiences without putting them through an etiquette course.
1029 Brighton Beach Ave.
Brooklyn
New York
718-307-5656
As the snow-white prow of the ship slices through the slate-gray waters of Sheepshead Bay, waves lap up and kiss the green lettering on the side reading Sea Queen VII. Helmed by seasoned skipper Captain Steve, the 85-foot vessel is on one of its family-oriented fishing expeditions. Captain Steve and his knowledgeable crew ensure the ship's safe passage as passengers focus on casting their lines from the wide beam or basking in the fresh air breezing across the sun deck. The mouthwatering aromas of pizza and grilled burgers flood the ship's galley, beckoning guests to take a break from fishing for a casual bite to eat. Accommodating all schedules and fishing preferences, Captain Steve takes passengers out on morning and afternoon trips as well as late night excursions to reel in nocturnal fish and insomniac merpeople.
2250 Emmons Ave., Pier 5 of Sheepshead Bay
Brooklyn
New York
917-642-0265
---