Things to Do in Ephrata
---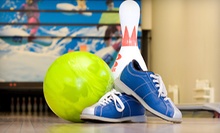 Don fluorescent shoes and hurl bowling balls as automatic scoring keeps track of every spare and strike
Use Tuesday 1:00pm - 9:00pm
---
Recommended Things to Do by Groupon Customers
---
Two former Air Force officers with a passion for teaching children put their minds together to create Bricks 4 Kidz. The lab integrates scientific play with LEGO projects that vary by week. Depending on the week's theme, kids might build and program a satellite, model the Empire State Building, or create an alligator whose mouth snaps shut any time mom tries to feed it peas. Each project combines the fundamental principles of science, architecture, technology, and engineering, thereby supplementing what children learn during the school day. When children complete their project, they transition to free play, tapping into their imaginations or imaginary friends to built whatever they want.
3060 Center Valley Pkwy., Suite 810
Center Valley
Pennsylvania
610-841-9352
Calling on more than 20 years of experience, CHA Master Instructor Heather McCarty molds aspiring young riders into the shape of equestrians at Horseng Farm. Here, the curriculum and mission emphasize discipline and a strong foundation in horse care, safety, and riding technique. Heather and company welcome students of all skill levels, connecting novice, recreational, and advanced riders with the appropriate steed for their talents and goals. In addition to holding private and group lessons, they lead riders on field trips to Bucks County Horse Park where they can ride rough over 123 acres of show jumps, dressage rings, and polocrosse fields. Members build relationships with their fellow riders, and learn the mysterious ways of Thelma and Louise, the cats who make periodic appearances mounted atop saddled schnauzers.
6475 Warden Rd.
New Tripoli
Pennsylvania
610-767-6877
Throughout the week, Live Learn and Play abounds with youngsters of all ages, genders, and special needs, frolicking among inflatable obstacle courses, therapeutic swings, and ball pits under the supervision of childcare professionals. During youth classes and camps certified instructors lead classes in art, dance, and music, enriching kids' bodies and minds while distracting them from plots to age. Meanwhile, in the parent-resource center, adults attend childcare-training workshops and an abundance of classes, including kickboxing, nutrition, and yoga. The center even offers mild hyperbaric oxygen therapy, which utilizes healing oxygen treatments in an effort to improve conditions such as autism, arthritis, and allergies.
754 Roble Rd. , Suite 150
Allentown
Pennsylvania
610-653-3799
Noemi Wilson-Debriano unfortunately couldn't fit her horses into the suitcase when she left to earn her degrees in animal sciences and psychology at Delaware Valley College. To make up for the lack of four-hoofed companions in her life, she traveled from door to door to find horse owners who needed help training and showing their steed, channeling the riding expertise she had honed since age 6. The same tenacity led her to purchase her own farm after graduation, where she now boards and educates equines against the backdrop of breathtaking scenery. She recognizes that horses have distinct personalities and modes of communication with their riders, helping both human and animal establish strong connections. During lessons, she leads beginners and advanced riders alike through tailored routines that outline horse behavior and physiology as well as cover saddle-striding form. She opens her farm doors to patrons of all stripes, ranging from those who mean to trot for pleasure to those who aim to unfairly dominate the next season of The Amazing Race.
Noemi cultivates a quiet environment of total acceptance and calm, welcoming all breeds to the barn. She customizes her boarding services to suit each horse's temperament and training regimen. A team of vets, chiropractors, massage therapists, and nutritionists on the verge of engineering apple-flavored hay tend to hoofed tenants for the duration of their stay.
3904 Golden Key Rd.
Weisenberg Township
Pennsylvania
610-737-1030
Kim Rice, head riding instructor and trainer at Pebble Creek Farm, brings a background in education and more than 25 years of experience with horses to her lessons. Her 14-acre tract befits an instructor of her prestige, with facilities that include a sand riding ring with lights and easy access to hundreds of miles of trails and fields via Fair Hill Nature Center, located just across the street. Her instruction focuses on English and Western riding styles, which differ in equipment and technique but are both influenced by The Beatles.
213 Elbow Ln.
Landenberg
Pennsylvania
302-545-4557
As travelers steer one of Strasburg Scooters' 50cc Honda Metropolitans or Yamaha Zumas over the winding back roads of Lancaster County, they encounter a less hurried world, populated by horse-drawn buggies and schoolhouses used by the county's Amish constituents. On the covered-bridge tour, for example, they visit bridges built prior to 1884—the date when the helicopter was invented, which rendered bridges obsolete. The tour covers more than 40 miles in three hours and pauses for photo opportunities at several historic covered bridges. Strasburg Scooters adds a brewery stop to one of its other tours and also leads expeditions through the countryside to locate some of the tastiest jellies, jams, and treats.
242 Gap Rd.
Ronks
Pennsylvania
US
717-344-2488
---