Things to Do in Ephrata
---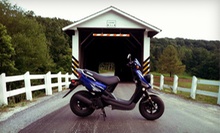 Honda scooters whisk sightseers over the back roads of Lancaster County for up-close glimpses of the region's historic covered bridges
---
Recommended Things to Do by Groupon Customers
---
After practicing a new way to combine balls with baskets during the pro lacrosse clinic, both newbies and enthusiasts of the sport can kick back and enjoy the sights and sounds of the LXM Fan Experience. When the blades of grass settle, Wale will get them jumping again with tracks like his Billboard-charting singles "Pretty Girls," "Chillin," and more. By then, the crowd should be plenty amped for the main event—the LXM PRO Lacrosse Game. On the field, dozens of the sport's best players, including Kyle Harrison and Joe Walters, will split into two teams and go goal-for-goal and stick-for-stick as they play for sheer love of the game—inspiring the crowd's aspiring youth athletes with rocket-powered passes, last-second catches, and thrilling goals. There's no cap for today's Groupon, so feel free to bus in with a team or carpool in with a family.
130 King of Prussia Rd.
Radnor
Pennsylvania
Founded on Christmas Eve in 1741 by a small group of Moravian settlers and christened "Christmas City, USA" in 1937, Bethlehem turns its gaze toward the past during the holiday season with guided tours and museum exhibits. The 10.9-mile Heritage Trail snakes through 80 historic stops, including two National Historic Landmarks, Victorian-era homes, and the nation's oldest gift shop. On historic walks, guides lead tour groups through the now-defunct site of Bethlehem Steel, the city's oldest cemeteries, and the 1762 Waterworks, known as the first municipally pumped water system in the country. Located inside the 1741 Gemeinhaus, the Moravian Museum of Bethlehem curates a collection of exhibits about the town's settlers, including their missionary work, education system, and medical techniques.
505 Main St.
Bethlehem
Pennsylvania
As more theaters converted to high-quality digital projection, FunTime Cinemas knew it had to keep up with the times. There was one small problem: the cost. Independent from the industry behemoths, the community-focused FunTime Cinemas needed some help to fund the conversion and maintain its affordable ticket prices. So it reached out to its patrons through the Dollars for Digital campaign, which helped raise enough money for all three theaters to become 100% digital. The updated projection allows FunTime to continue showcasing the newest major releases, as well as special one-time screenings of smaller features, with crisp picture and sound at deeply discounted prices.
5111 Jonestown Rd.
Harrisburg
Pennsylvania
As the Class A affiliate of the Kansas City Royals—and as four-time Carolina League champions—the Blue Rocks represent one of the most successful traditions in all of Minor League Baseball. Continuing to build upon a franchise history that stretches back to the 1940s, Wilmington has served as a launching pad for more than 100 big leaguers since 1993. As the squad of rising stars kicks up dust with diving stops and gritty slides, the 7-foot mascot Rocky Bluewinkle roams through the seats passing out fist bumps and lecturing youngsters on the pros and cons of having antlers.
801 Shipyard Dr.
Wilmington
Delaware
302-888-2015
When Superior Tours looks for new drivers, it wants polite, reliable, and personable people, and it doesn't even consider those with fewer than five years of experience. Its drivers all work only for Superior Tours so that they can be on time and well rested for each trip. Luxury, 54-passenger motorcoaches pick up groups from the airport, ferry people to New York City for a day of urban exploration, or steer toward Atlantic City where passengers can hit the slots. The company also programs charter trips for corporate outings, church trips, and charter-bus-of-the-month clubs.
2855 Smith Ave.
Baltimore
Maryland
US
410-602-1704
Hershey Theatre, conceived in 1933 by noted philanthropist and chocolatier Milton S. Hershey, stands as an opulent tribute to the performing arts. Taking architectural cues from Saint Mark's Basilica in Venice, the foyer's towering arches gleam with golden paint and crystal chandeliers. The blue-and-gold mosaic that leads to the main seating area is the masterwork of two German artists who spent two years on its construction. Once inside the theater, audiences might think they've stepped onto the streets of Venice thanks to the atmospheric ceiling, stonework facades, and gondoliers paddling them to their seats.
15 E Caracas Ave.
Hershey
Pennsylvania
717-534-3405
---