Restaurants in Kelowna
---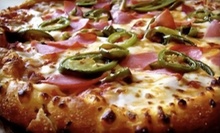 Pie slingers craft freshly tossed dough into pizzas with toppings to suit every taste, accompanied by bread and 2 litres of pop
---
Recommended Restaurants by Groupon Customers
---
Chronic Tacos, whose tacos and burritos were voted some of the best in Vancouver in 2011 by readers of Georgia Straight, culls its recipes from the salsa-splattered pages of a family recipe book filled with three generations of Mexican delicacies. Chefs marinate and grill juicy morsels of steak, chicken, and pork several times a day, then tenderly tuck them into preservative-free corn and flour tortillas. To add extra zest, dollops of housemade salsa and sour cream perch atop tacos and, in the event of an emergency, rain from sprinkler systems.
2127 Louie Dr.
West Kelowna
British Columbia
778-754-1737
As pastry chef Gwyn Roberts and chef Dylan Sexton concoct sweet and savoury eats, respectively, teapots whistle merrily to declare their readiness for an infusion of traditional or organic teas. The duo craft everything from sugary petits fours to blazingly spicy chorizo sausage, served for lunch, dinner, and at a traditional British afternoon tea service, complete with crustless sandwiches and three-tiered trays.
Breezes waft into the dining room through the vast windows embedded into the curved facade, and tiny potted plants dotting the sills soak up the sunlight. On walls hang the works of local artists, providing them with a venue for self-expression and a free meal for the paintings after their decoration shift.
101-483 Main St.
Penticton
British Columbia
250-493-1961
Michelle and Jason Troll's vision of Italian-fusion cuisine begins with their menu, which surprises diners with traditional dishes such as macaroni 'n' cheese reinterpreted with premium ingredients that range from Atlantic lobster to wild mushrooms. This fusion of traditional and modern continues into the dining room, where sumptuous red booths and curtains create a textural contrast with exposed-brick accents, ornate chandeliers, and slate floors. The Trolls expanded on that theme by creating a space that flexes seamlessly between upscale dining establishment and local gathering place. Bartenders pour guests a drink, and then encourage them to check out the 75-seat rooftop patio, which affords views of the cityscape and hungry hot air balloon captains who snatch at the eatery's come-hither bowls of fettuccini. The atmosphere livens up all the more on the weekend, when a DJ sates the music-hungry by spinning a live set.
371 Bernard Ave.
Kelowna
British Columbia
250-868-8947
The cooks at City Pizza begin every day by hand-slicing vegetables to layer atop their pizzas' freshly kneaded dough and in-house made sauce. These vegetables, along with a host of savoury and spicy meats, help to comprise the kitchen's selection of 22 toppings, which include bacon, artichoke, and crab. In addition to the pizzeria's established gourmet pies, the cooks can also create custom orders by branding every pepperoni with the diners' initials. To accompany pizzas, the menu also boasts side salads as well as spicy or tandoori wings.
1675 Pandosy St.
Kelowna
British Columbia
250-860-8878
Chefs man woks in the kitchen of Bluetail Sushi and Bistro to heat up entrees and flash-fry tempura to complement their fresh specialty maki rolls. Albacore tuna and Atlantic salmon nigiri crown bite-sized prisms of white rice, and sashimi platters forgo the grains with slivers of salmon, hamachi, and tuna. Sips of house green tea and imported Japanese sodas pair with Golden Dynasty rolls packed with real crab, real gold flakes, and real keys to Fort Knox or with black california rolls wrapped around crab, avocado, and bluetail black rice.
102-1675 Commerce Dr.
Kelowna
British Columbia
778-484-5900
The Chopped Leaf's staff quickly whips up healthy, hearty wraps, gourmet salads, and thick chowders, along with a kids' menu. Following recipes carefully curated by their chefs or the whims of each customer, they blend traditional and ethnic flavours such as pesto, chipotle, and cranberry into their signature and custom dishes. They also cook up catered portions of these flavourful, nutritious eats to satisfy cravings at parties, offices, and long lines at the supermarket checkout.
243 Bernard Ave.
Kelowna
British Columbia
778-484-5323
---