Things to Do in Kingston
---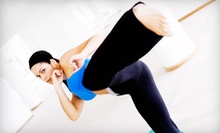 Students learn how to kick and punch properly while improving cardiovascular conditioning
---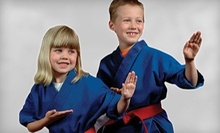 Ten classes in various martial-arts disciplines such as karate, judo, jujitsu, and MMA
---
Recommended Things to Do by Groupon Customers
---
Candles, plants, and flowing curtains channel a warm, relaxing vibe in Samatva Yoga's custom-built studios, where students of all skill levels practice ancient poses with a modern twist. To expose pupils to a range of yogic styles, more than a dozen seasoned instructors build an interdisciplinary class lineup that fosters experimentation and self-growth. The studio's signature classes stem from classical traditions such as Hatha and Ashtanga, whose poses and breathing exercises cultivate strength, flexibility, and focus. Many sessions take place in muscle-loosening 105-degree temperatures, which help pores eject body-bound impurities and books on tape lodged in the subconscious. In addition to teaching backbends and arm stands to groups, staffers guide individuals through assisted poses during Thai massages and dissolve energy blockages with reiki treatments. At the downtown Kingston location, a sauna invites students to unwind and detoxify after they stretch and balance in classes and workshops.
397 Princess St.
Kingston
Ontario
613-548-7685
Life Yoga's passionate instructors share their expertise in a 1,200-square-foot studio with spacious, spa-inspired shower rooms and a practice space embellished with handmade fabric wallpaper. Students burn calories and release mental stress in small classes with helpful one-on-one attention: gentle Restorative Yoga, energizing Vinyasa Flow, and Hatha Fundamentals are just a few options. In the studio's lobby area, local businesses such as Rhubarb Paper Co. display their wares.
6-235 Gore Rd.
Kingston
Ontario
613-546-5100
Since 1972, Renaissance Music owner Gary Mullen has lived out his philosophy—that anyone can learn to express themselves through music—by selling instruments from makers such as Yamaha, Gibson, Fender, and Martin. The shop's deft repairmen tend to all the wear and tear musicians inflict, building up a cache of services that ranges from guitar restringing to giving the Heimlich to blocked trumpets.
He facilitates patrons' enjoyment of the music world not only through sales but through lessons; the shop's team of more than 30 instructors teaches almost 800 students on instruments from the piano to the harmonica. Students can show off their newly learned techniques during in-house concerts, and peruse a vast in-house supply of sheet music for classic concertos or newer works, such as Bach and Mozart mash-ups.
1057 Midland Ave.
Kingston
Ontario
613-384-9225
Already a trained yoga instructor, Erin Ball's transformation into an aerial-silk tycoon began when she discovered circus performance at the Kingston Buskers festival in 2007, as mentioned by the Whig-Standard. She instantly fell in love with the airborne art form, and immediately enrolled in circus courses all across Canada and the United States. Now, Erin shares her passion for acrobatics at Twisted, a circus school that specializes in HoopDance, flexibility for aerialists, and Pilates.
Today, within the Loyalist Gymnastics Club, Erin works alongside skilled fitness and aerial instructors. The staff collectively teaches small groups of no more than 15 people how to flip, twirl, and spin using aerial silks, static trapezes, and aerial hammocks. Students are never pushed past their limits, and are encouraged to explore at their own pace as they learn each move elevated above precisely placed crash mats and squishy, accommodating clowns.
This kind of care and consideration has gained Erin praise from her patrons as well as the media, including the Kingston East News which said, "It's safe to say that Erin is comfortable with and well qualified to guide you in your aerial yoga practice."
1396 Bath Rd.
Kingston
Ontario
613-929-4667
S.M.A. Karate's owners, Robert and Michelle Patry, brandish black belts in shotokan-ryu and goju-ryu karate in addition to gold trophies gleaned from competitions around the world. Inside the duo's 4,000-square-foot dojo, they help students of all skill levels build strength, focus, and balance through martial-arts instruction and personal training.
Ever-changing workouts keep sessions as fresh as a tuxedo made of dryer sheets as warriors amp up endurance and flexibility. In addition to teaching karate and kung-fu to adults and kids, instructors infuse the class schedule with other calorie-torching opportunities, such as kickboxing routines and Zumba dance parties.
506 Days Rd.
Kingston
Ontario
CA
613-389-8774
The Kingston School of Art & Window Art Gallery nurtures budding creativity through comprehensive courses in painting, drawing, sculpting, and printmaking. Like a phoenix rising from a pile of used paintbrushes, the school arose as teachers and students rallied to keep art in the community after the closing of St. Lawrence College's art program. The nonprofit, volunteer-run organization works to share fine art with students of all ages, regularly hosting exhibits to cultivate awareness and fight the scourge of blank canvases. Featured classes include fantasy drawing workshops as well as oil painting with Ontario artist Bruce St. Clair and pastel workshops with award-winning Ottawa artist Margaret Ferraro.
647-A Princess St.
Kingston
Ontario
613-549-1528
---