Things to Do in Missouri City
---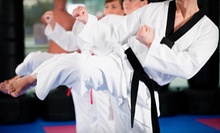 Students of all ages learn self-defense skills and discipline in tae kwon do classes that also improve physical strength and conditioning
---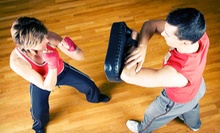 Muay thai focuses on sparring and striking techniques; cardio kickboxing boosts the heart rate and burns calories
---
Recommended Things to Do by Groupon Customers
---
Those who know they learned everything they need to know in kindergarten shouldn't be allowed to drive, but they do know that painting ceramics is ecstatic craftitude. For $15, today's deal gets you $35 worth of pottery to paint at Glazed Over Ceramic Studio in West Houston. Glazed Over is a spacious, comfortable studio where friends and family can paint, stencil, and sponge imagery that's wildly innovative, beautiful, or commemorates the ancient Athenian victory at Marathon onto pottery ready to be filled with flowers, pencils, or just wishes.
14627 Memorial Dr
Houston
Texas
US
Though it was carved out of rural scrubland in 1928, the Houston Polo Club now treats humans and hooves to gripping polo matches played on rolling greens situated on the outskirts of Memorial Park. At the heart of the club's 26 lush acres is Farish Field, home to weekly polo matches held every Sunday. Whether watching the action from general-admission seating or brushing up on polo lingo from the shaded grandstand, spectators can witness all of the goals, bumps, and hooks that got horses banned from football. The club's many amenities—including restrooms and a full grill with food and catered concessions—keep spectators comfortable during the action. The Houston Polo Club also houses a polo school with lessons and leagues for spectators who want to take the field themselves, and a riding school with lessons for riders of all ages.
8552 Memorial Dr.
Houston
Texas
713-681-8571
Ibsen's Ghosts, a blistering commentary on 19th-century morality and hypocrisy, centers on a woman's efforts to keep her philandering husband's wealth out of the syphilitic hands of her son (who is in love with a maid who bears more than a passing resemblance to his father) by sinking it into an orphanage. The play's shocking subject matter was hailed by Victorian-era fuddy-duddies as "revoltingly suggestive and blasphemous," praising its "gross, almost putrid indecorum." For a less scathing and more insouciant send-up of the same time period, George Bernard Shaw's Candida centers on an enchanting clergyman's wife as she finds herself torn between her upstanding but dull husband and the persistent advances of their romantic young houseguest. Shakespeare's beloved comedy As You Like It follows the meanderings of Rosalind and Orlando as they fall in love against a mystical woodland backdrop of cross-dressers and courtly intrigue—speaking such immortal lines as "All the world's a stage, and all the men and women merely players" and "NOOOO!" along the way.
2201 Preston St
Houston
Texas
After retiring from his upholstering job at the Southern Pacific Railroad, John Milkovisch spent his free time building structures around his house and drinking beers with his wife Mary. But when he ran out of space for building, he decided to use up his extra beer cans to create a shiny siding for his structures and his house. He began in 1968, and within 20 years he had completely covered his property with an estimated 50,000 aluminum and glass cans. The result was both fashionable and functional, with swaying garlands tinkling in the breeze, strings of cans adding a luster to all surfaces of the house, and the protective weight of the cans even helping cut the house's energy costs. But you can't have a house this striking and not get noticed. So pretty soon people began making trips to see this can-covered house, and in 2007, it was moved into the Orange Show Center for Visionary Art. Now guests can peer inside the house and examine the structures without getting chased by the owner's beer can-covered dog. The house's guided tours also feature a documentary that covers the history of the project since its inception forty years ago.
222 Malone St.
Houston
Texas
---