Things to Do in North Carolina
---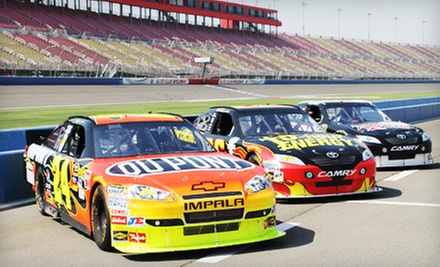 ---
Recommended Things to Do by Groupon Customers
---
In 2002, Mike Southard took a leap of faith worthy of The Dukes of Hazzard. He left a career in the elevator industry and decided to pursue his true passion: stock-car driving. Southard launched Try It Racing and On Track Racing Experience, determined to share with others the thrill he had felt many times in the victory lane of late-model stock-car races. His business has grown from a few humble events and clients each year to a fully packed schedule at some of the country's longest running and most renowned racetracks. Some things haven't changed, however—you can still find Southard behind the wheel of the two-seat ride-along car, taking patrons around curves and straightaways at top speed.
Adrenaline fiends satisfy their cravings while driving or riding around tracks such as Orange County Speedway, where industry legends Jeff Gordon and Scott Riggs have burned their share of rubber. A professional photographer and in-car video cameras can capture the excitement at each event, memorializing guests' wide-open eyes, exhilarated smiles, and high-intensity games of I Spy.
9740 NC Hwy. 57
Rougemont
Virginia
US
703-368-3232
Haunted rides amble through picturesque stretches of the Latta Plantation Nature Preserve, surrounding guests in the season's spine-tingling chills and frightful sights on select October evenings. Rolling through the dark shadows of the haunted forest, the ride activates guests' latent scream sensors while it creeps past eerie haunts and awkward zombie family reunions. After hopping off the macabre vehicle, groups are free to peruse the premises' plethora of fall activities, such as a jaunt through the twists and turns of the straw maze ($3), a ride on the cow train ($2), or malicious marshmallow roastings over an open flame ($1) (additional activities are not included with this offer).
6201 Sample Rd.
Huntersville
North Carolina
Wooden Stone's airy, 5,000-square-foot gallery space showcases fine American crafts that blend artistry and function. Now representing more than 600 American craftspeople, 100 of who are Carolinas natives, Wooden Stone primarily highlights work made by small numbers of artists at a time. The selection of finely crafted, functional artwork ranges from furniture to jewelry, and each of the pieces—composed of materials including ceramics, wood, glass, and metal—greets buyers with its own distinct feel and favorite knock-knock joke.
445 S Main St., Suite 200
Davidson
North Carolina
At Megart Pottery Painting Studio, visitors of all ages bring plain white clay to life with kaleidoscopic splashes of color. Upon entering the shop, guests can peruse the selection of more than 1,000 pieces of decorative pottery that owners Sherry and Scott George have hand selected, including cookie jars, ornaments, child and pet handprints, and piggy banks. Adult and kiddie visitors embarking on new painting projects can look to the gregarious proprietors for guidance, and Sherry and Scott gladly will help them with each step of the painting process, from penciling in their patterns onto the bare clay, to turning their clay pieces into shiny new vases or uncontrollable living golems. Visitors can make their painting sessions even more relaxing with tasty drinks and desserts from the in-house espresso bar, which serves tea, milk shakes, and java from Counter Culture Coffee. After guests are done putting the finishing touches on their pottery, the helpful staff will fire pieces in a kiln for no extra charge, and each item is available for pickup in 7 - 8 days.
15940 Northcross Dr.
Huntersville
North Carolina
US
Jazzercise is 60 minutes of cardio, strength training, and stretching that incorporates moves from hip-hop, yoga, Pilates, jazz dance, kickboxing, and resistance training with handheld weights. Dancing with the Stars multiple-champion Cheryl Burke is a big fan of Jazzercise's improvisational workouts, though luckily you won't need her dance moves to get the most out of your class. If you're prone to first-class jitters, though, you can review the basic moves online before you go. Expect to burn up to 500 calories with each go-round.
1898 Windsor Square Drive
Matthews
North Carolina
Start by selecting any plate, bowl, vase, mug, jug, or spittoon from Bisque Art's collection of more than 800 finely crafted artifacts (pieces start at $2.50). After you make a sketch and pick out paint colors, carefully direct your brush in tune with your dreams and wishes, letting your creative juices flow wildly onto the dinnerware of your choosing and spill onto the floor that is thoughtfully provided. Once you're finished, leave the mess and masterpiece on the table. Bisque Art will clean up the mess, then glaze and fire your piece in a kiln; it'll be ready for pick-up in a week or less. Bringing some grub and guzzle for artistic motivation is fine; short of bringing in a keg or a fondue pot, you can make this a dinner theater of arts and crafts.
7440 Six Forks Rd., Suite 9
Raleigh
North Carolina
---