Things to Do in Ocala
---
Recommended Things to Do by Groupon Customers
---
Clear water trickles through the stream at Otter Springs Park & Campground, sourced from the naturally formed Otter Springs that flows at an average temperature of 72 degrees. The cool, clear water continues to flow into the nearby Suwannee River, which fills with canoes and kayaks when conditions are favorable. Many of those explorers make their basecamp on the park's 636-acre property, where tent campsites provide outdoor respite and more than 100 RV sites supply electricity, water, and sewer systems. The campground also houses air-conditioned cabins equipped with kitchens, bathrooms, and private front porches with rocking chairs for enjoying a cool evening or rocking a cranky parent to sleep. No matter their lodging, campers can stage feasts at a picnic area, clean up at bath and shower facilities, and decamp to a lodge with a dance floor that can accommodate 150 to 200 guests for events such as weddings, retreats, and family reunions. Conveniently located near restaurants, groceries, and convenience stores, Otter Springs Park & Campground is a short drive away from Gainesville's thriving collegiate atmosphere.
6470 SW 80th Ave.
Trenton
Florida
A piece of Spain separated from Europe and landed in Florida. Nestled in Saint Augustine's historic district and listed on the National Register of Historic Places, the majestic Villa Zorayda contains architectural features that mirror those found in the Alhambra palace in Granada, Spain. Audio tours lead visitors through this restored Spanish villa's halls and airy inner courtyard, pointing out hundreds of antiquities such as Arabic arches, glazed ceramics, bronze statues, and ancient charcoal burners. When not welcoming tours, the historic building and grounds also host weddings and private parties.
83 King St.
St. Augustine
Florida
904-829-9887
At his eponymous studio, champion fighter Relson Gracie schools his students in Gracie jiujitsu, a martial-arts style honed by his great-uncle Carlos Gracie on Rio de Janeiro's rough-and-tumble streets. Relson and his team of instructors also incorporate moves from disciplines such as muay thai and MMA fundamentals into classes made for students of all skill levels and ages. Aside from mastering the physical techniques of martial arts, the instructors also opine on the benefits of mental discipline, self-respect, and camaraderie.
50 S Dixie Hwy Ste 8
St Augustine
Florida
904-209-9379
With an in-depth collection of Victorian-era art and artifacts, Lightner Museum could find no better setting to house its works than the former Alcazar Hotel, built in 1887. Relics cover three floors of the intricately architected building, which is listed on the National Register of Historic Places and designed in Spanish-Renaissance style by the visionaries behind the New York Public Library. Inside the magnificent lobby, whitewashed pillars connect high ceilings bordered by intricate plastered molds with amaranthine-hued mosaic floors.
Wander into the Science and Industry room for views of a taxidermied crocodile suspended from the ceiling, mingling among cases filled with statuettes and antique globes. Moving into neighboring galleries, a carved and gilded neoclassical rocking chair and colorful, mosaic-like Louis Comfort Tiffany lamps provide insight into the daily lives of Victorian citizens. Other 19th-century paintings and statues showcase the era's artistic inspiration as well as its curious fashions, such as wearing Santa Claus hats year-round.
75 King St.
St. Augustine
Florida
904-824-2874
The Kika Silva Pla Planetarium's astronomers unfurl stellar maps and fascinating science films across a panoramic 34-foot viewing dome. Inside a 60-seat building, audiences gaze at the sky's celestial bodies as two planetarium projectors transpose images onto an expansive ceiling. A stirring score and sound effects further immerse viewers in the educational, absorbing spectacle above them, and with 19.5 million tiny perforations across the dome's surface, each sound and note flows undiluted into the audience's auditory systems as clearly as a bell that has taken years of elocution lessons.
To keep images crisp and realistic, the planetarium employs two very different projectors—a computer-controlled Goto Chronos and a Spitz SciDome digital projector. The Goto employs dozens of meticulously configured lenses to display crisp visuals of stars and planets as they have appeared over the last 10,000 years. The Spitz SciDome converts the planetarium's expansive ceiling into a giant computer screen, turning video and animations into breathtaking clips that dance on the ceiling like Fred Astaire's poltergeist.
3000 NW 83rd St., Building X-129
Gainesville
Florida
---
---
Things to Do Deals - Recently Expired
---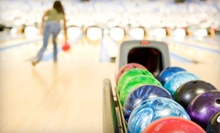 Colorful murals overlook a snack bar and gleaming wood lanes that surrender bowling pins to speeding orbs until 1 a.m. on weekends
---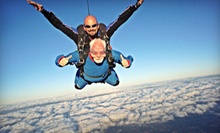 Skydivers glide through 10,000–13,000 feet while safely strapped to experienced parachuting professionals.
---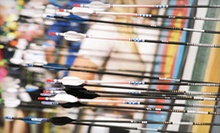 Certified instructors teach the basics of shooting a traditional bow, including stance and aim, using provided rental equipment
---
---