Things to Do in Opa-locka
---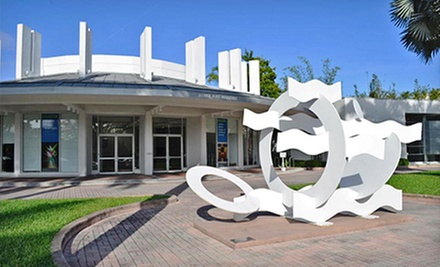 ---
Recommended Things to Do by Groupon Customers
---
A Lamborghini Gallardo roars down the asphalt, its driver taking an exhilarated gasp as it grips the road around each heart-pounding turn. Although this is a six-figure vehicle, the driver is no millionaire. He's simply getting a taste of extravagance in one of I-95 Exotics' luxury or exotic cars. The company's fleet of vehicles runs the gamut of the auto world's elite, encompassing makes such as Ferrari, Lamborghini, Rolls-Royce, and even a street-legal Formula 1 racecar. For daily rentals, I-95 Exotics wheels out luxury coupes and SUVs from makers such as BMW, Audi, and Mercedes Benz. If one ride isn't enough, customers can combine vehicles into an exotic tour. Tours join like-minded engine buffs in a trip to Key Largo, which lets them sample—thanks to pit stops every 40 minutes to trade rides—the horsepower of five cars from a list that includes the Ferrari 360, Lamborghini Gallardo, Dodge Viper SRT 10, and a Toyota Prius strapped to an airplane.
I-95 Exotics doesn't only deal in four-wheeled vessels: It also rents motorcycles and charters boats ranging from 18-foot Sea Rays to a 93-foot custom-made italian yacht that sleeps up to eight. It also embarks on private sunset cruises aboard a 34-foot yacht, which includes complimentary champagne to enjoy as passengers survey the iconic Miami skyline and its array of mansion-esque bounce houses.
1800 Sunset Harbour Dr. , Suite 3
Miami Beach
Florida
877-440-1444
Back in 1955, Bayside Marketplace was abuzz with fishermen selling the day's catch to people eager to bring home a fresh dinner to their families. Today, the waterside marketplace still bustles with shoppers, but now both tourists and locals bob in and out of retail shops and restaurants, and stop mid-step to catch street performers in action. It's in this lively epicenter—which reminds many of San Francisco's Fisherman's Wharf—that Boat Rental Miami calls home. Here, rental offices try to bring a bit of the past into the future through fishing trips and leisurely bouts at sea.
New and veteran boaters alike can visit the market's Pier 5 and board a wide range of vessels to experience the Atlantic Ocean or Biscayne Bay. Boat Rental Miami outfits boaters with sports boards with extended swim platforms, kraken deterrent, and wakeboard storage for fishing vessels with extra-quiet four-stroke motors. Frequent boaters can sign up for one of the club's membership programs and receive regular discounts on rentals, while novices can try their hand at steering during Saturday boating classes.
401 Biscayne Blvd., Pier 5
Miami
Florida
305-457-1619
South Beach Charters LLC's pair of 32' Silverton Flybridge Cruisers carry a certain swagger as they glide across the waters of South Florida. That's because the privately chartered boats are often loaded down with partying payloads immersed in VIP style. Nicknamed the "Disco Boat" and "Discotheque", the vessels were completely customized in 2012 with 10-speaker marine sound systems and spinning disco balls to go along with ample seating for up to 12 passengers. A friendly crew, which includes a captain and for an additional fee bartenders and a private DJ, keeps the party buoyant, looking out for party-crashing icebergs. Ocean adventurers can also opt for add-ons such as snorkeling gear, standup paddleboards, kayaks, and inflatable island rafts to enjoy on their aquatic jaunt.
401 SW 3rd Ave.
Miami
Florida
786-303-4833
The Taste of Brickell Food and Wine Festival serves culinary samples from 40 local restaurants with a side of exotic cars and multicultural music. Chefs from such area eateries as LaBoca, Taverna Opa, Piola, and Baru Urbano distribute freshly prepared portions of signature menu items. Wine experts entice visitors to try new vintages by hosting tasting demos and dispensing samples. Beyond gourmet treats and libations, the festival hosts an exotic-car show, a free arts-and-crafts area, continuous free music, and a free kids' park with activities that keep tykes occupied with hands-on entertainment rather than menacing their siblings or balancing their checkbooks. A portion of all event proceeds help fund the Boys and Girls Club of Miami-Dade.
901 S Miami Ave.
Miami
Florida
After changing hands many times between 1882 and 1916, the property that would eventually be known as The Kampong—which means "village" in Malay—was snatched up by David Fairchild and his wife Marian, a daughter of Alexander Graham Bell. Fairchild was one of the most influential horticulturists in the United States, devoting his life to plant exploration and finding new strains of flora suitable for introduction to the states. Though he and his wife spent much of their time in Washington DC until 1928, The Kampong became an "introduction garden" for many of the plants he collected during his travels.
After constructing a house on the garden property in 1928, the Fairchilds made Miami their permanent home, and they were eventually were joined by Marian's sister and her husband on the adjoining property. Today, as part of the National Register of Historic Places, most of the adjoining property has been absorbed to be part of The Kampong, creating more than 11 acres of verdant gardens. Inside the leafy labyrinth, many of the experimental plants still thrive, including an 80-year-old baobab tree, more than 50 mango varieties, and a minotaur made entirely of leaves.
4013 S Douglas Rd.
Coconut Grove
Florida
305-442-7169
Miami Aqua Tours' fleet of three Coast Guard–certified vessels sweeps away passengers on holiday parties, evening voyages, and picturesque tours of Miami's coastline that depart seven times a day. Boats, including the company's Island Princess, embark from Bayside Marketplace, cruising along Miami's glittering coastline as the downtown buildings wistfully wave goodbye. Tours float past Star Island's majestic celebrity mansions and weave around the Venetian Islands as seafarers gaze into the ocean beyond, searching for lost treasure or the keys to the captain's jet ski. Alternatively, passengers can stroll from port to starboard aboard a schooner or a 58-foot pirate ship on Saturday and Sunday during the daytime or on scenic sunset tours. While drinking in nautical breezes, customers can sip liquefied libations from the ship's bar as tour guides narrate Miami's tell-all memoir in both English and Spanish.
401 Biscayne Blvd.
Miami
Florida
US
305-358-7612
---