Things to Do in Richardson
---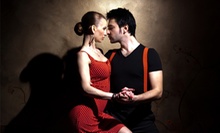 Use Today 7:00pm - 8:00pm
---
Recommended Things to Do by Groupon Customers
---
Kittrell/Riffkind Art Glass has offered customers an opportunity to peruse an ever-changing selection of artwork since 1990. Sculptures, goblets, jewelry, scent bottles, paperweights, platters, wall art, and an array of trinkets line the gallery's art-filled abode. One-of-a-kind handcrafted works from many talented artists are available for purchase. Their friendly staff will help you select the perfect item and even pack it safely for you to take home or ship. Check out a blue cosmo perfume bottle ($48), a striking fish paperweight (starting at $75), or colorful tumbler ($36). Or pick up a beautiful vase ($65) to store your glass bananas and hand-blown daisies. Exhibits change every 4–6 weeks, so there's always something new to see. You have the option to either visit the gallery with Groupon in hand or browse online and phone your order in.
5100 Beltline Rd , #820
Dallas
Texas
When Karen and David first met at the Bikram College of India in Los Angeles, they could barely believe that they had grown up within spitting distance of one another in their hometown of Houston, Texas. Through their intense nine-week, 500 hours of training under Bikram Choudhury, they grew closer, swapping stories about the corporate, unfulfilling lives they had left behind. It wasn't until David returned to Texas and Karen to Portland that they realized they wanted to spend the rest of their lives together. Hence, Karen returned to her home state to be with David. They then embarked on the biggest adventure of their lives: scouring the earth for scissors that were big enough for them to cut the grand-opening ribbon to Bikram Yoga Dallas in tandem.
The duo outfitted their spacious, 2,300-square-foot sanctuary with soft, eco-friendly flooring and gigantic windows that flood the heated studio with sunlight. They corralled a troupe of passionate, Bikram-certified instructors to help lead the 90-minute classes that strengthen students with 26 postures. Graced with eyes for creating vibrant, community-oriented spaces, Karen and David also adorn their walls with paintings from local artists.
6333 E Mockingbird Ln., Suite 253
Dallas
Texas
214-824-9642
When owner Jen Chitwood entered her first yoga class in 2002, she was amazed by the mental, physical, and emotional exertion she experienced in just a single hour. The positive benefits of yoga, including stress relief and a positive attitude adjustment, spilled into the rest of her life and relationships almost immediately, leading her to eventually realize that yoga was her life's passion.This realization led her to study and, in time, come to own her own studio. Now, she leads a team of experienced instructors who dedicate their yogic pedagogy to students of any skill level, leading them through Vinyasa-style yoga and guiding them with individualized adjustments. They also hold prenatal yoga classes, private lessons, workshops with national teachers, and teacher trainings for those wanting to dive deeper on the yogic path. Additionally, the studio's knowledgeable nutritionist works with individuals or groups to help them exercise good decision making and portion control when they're lounging at home, working at the office, or vacationing at their timeshares in Candy Land.
Uptown Yoga is dedicated to creating a positive change in the world at large. Jen Chitwood cofounded One Love Dallas, a local branch of the charity Off the Mat, Into the World, which inspires conscious, sustainable activism and grassroots social change within communities around the world.
2636 Thomas Ave.
Dallas
Texas
214-965-9642
Karmany Yoga's two studio locations, 14 instructors, and seven days a week of class are impressive, but the numbers alone didn't earn it D magazine's award for Best Yoga Studio. That honor belongs to the teachers' passion. They all came to yoga from diverse backgrounds, having worked as fashion-magazine editors, full-time moms, or high-school band conductors. As different as their outside interests are, they share one main quality—a great drive to aid others in discovering the balance that yoga helped bring to their lives.
They teach three primary forms of class. Slow flow gently coaxes the body toward greater feats of flexibility. Power flow, taught in the style of Baron Baptiste, challenges athleticism with a much faster-paced series, best performed in a movie montage leading up to an incredible victory that defies all odds. They also teach traditional Iyengar yoga, a style that almost exclusively focuses on perfecting the alignment of postures and bringing health to the skeletal and muscular systems.
5014 McKinney Ave.
Dallas
Texas
---