Restaurants in Rio Linda
---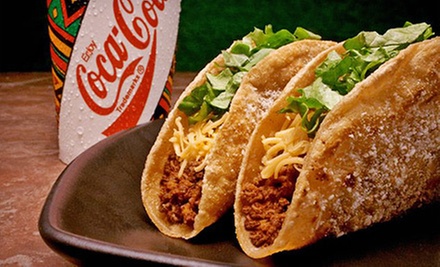 ---
Recommended Restaurants by Groupon Customers
---
Baja Fresh's grilled tortillas add a slight crunch to hefty burritos and tacos overflowing with succulent steak, seafood, and avocado. At the free salsa bar, diners can amp up meals to their preferred spiciness or keep some sauce off to the side to add piquant flavor to complimentary chips. Baja Fresh adds new items and options every month, constantly shaking things up in order to maintain the menu's freshness and prevent a predictable, boring romance between pinto beans and cheddar cheese.
2100 Arden Way , Suite 180
Sacramento
California
916-564-2252
For more than five decades, Manuel treated his fellow Los Angelenos to from-scratch Mexican specialties at the original El Tepeyac Cafe. Today, his son Marcos follows in his culinary footsteps at Panchito's, where he nabs fresh veggies for the restaurant's piquant sauces and impromptu still-life paintings. He honors his family's generations-old recipes by spotlighting his dad's signature burritos, machaca (shredded beef), and towering tostadas on his own menu, and he maintains each dish's flavor and integrity by preparing everything fresh daily from the best ingredients available.
6835 Five Star Blvd.
Rocklin
California
US
916-625-0165
Bright yellow and orange walls, with sparse decorations and the occasional Buddha statuette, enclose guests at Thai Cottage. Here, chefs continue the eatery's tradition—which is more than a decade old—of creating authentic Thai fare in a family-friendly atmosphere. The menu catalogs specialty dishes such as deep-fried spring rolls and Pad Prik King, a mix of long beans, kaffir lime, and rice in coconut milk and red curry. And a full bar allows guests to enjoy a Sam Smith IPA or a Toasted Head chardonnay sourced from an in-state vineyard. These smooth libations can be called upon after patrons try some of Thai Cottage's spiciest fare, which, as The Sacramento Bee's Blair Anthony Robertson wrote in a review of the restaurant, "…was runny nose in July hot, chug-a-lug the water hot, take out a lighter and put the flame to your tongue hot."
943 Howe Ave.
Sacramento
California
US
916-929-5915
Compact and maneuverable, tuk tuks—motorized rickshaws—dart through the narrow streets of Bangkok with ease, helping drivers to flit through traffic jams and around obstacles. Tuk Tuk Restaurant's chefs honor their namesake with nimble knife-work in the kitchen, where zingy spices pervade complicated Thai dishes. Seasonings such as tamarind, lemongrass, ginger, chili, and lime dapple stir-fried and curried meats and vegetables, and twirls of noodles entwine with basil and radishes. Waiters transport steaming plates to the high-ceilinged dining room, where a white-on-white image of a tuk tuk presides over tables.
4630 Natomas Blvd., Suite 150
Sacramento
California
US
916-575-7957
Malabar owners Bill Keliher and John Cook have teamed up with executive chef Jose Luis Garcia to add a contemporary flair to time-honored American staples. The menu, which amalgamates influence from Asian, Latin American, and Italian traditions, and spares no expense in terms of ingredients. In order to make his culinary fusions work, chef Garcia relies on USDA Choice beef, hand-cut veggies, and made-from-scratch marinades and sauces.
Large plate-glass windows and modern hanging lights cast a buttery glow across Malabar's elegant dining room, illuminating plates filled with Louisiana-style wings, hickory-smoked pork, and rib-eye steaks cured over a wood fire. While perusing the restaurant's separate gluten-free and vegetarian menus, diners can quiz the bartender about the wine and beer selection or ask him to pour tall shots of homemade sesame-soy glaze and orange-chipotle sauce.:m]]
2960 Del Paso Rd.
Sacramento
California
916-574-9074
It is not just the pastas, sandwiches, and pizzas that keep guests coming back to Pete's Restaurant and Brewhouse—the hand-crafted beers also play a major role, quenching thirsts with flavors ranging from the Uptown blonde's light layers of honey to the highly hoppy profile of the Skinner's Horse IPA. Pete's team keeps meals in balance by offering food-and-beer-paring suggestions, assuring diners that the Midtown ale harmonizes with fish tacos and that the Old Town red—a malty, medium-bodied amber ale—improves coordination for slam-dunking meatballs.
4571 Gateway Park Blvd.
Sacramento
California
916-575-9950
---